Eachine RatingKing F14 FPV 1/14 4WD Buggy - RC Car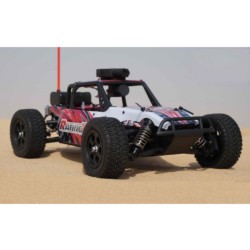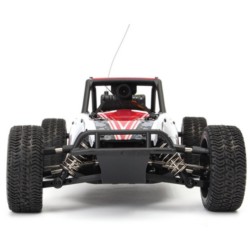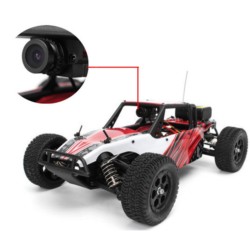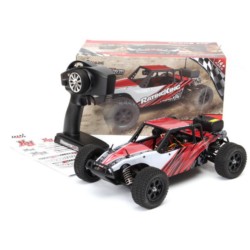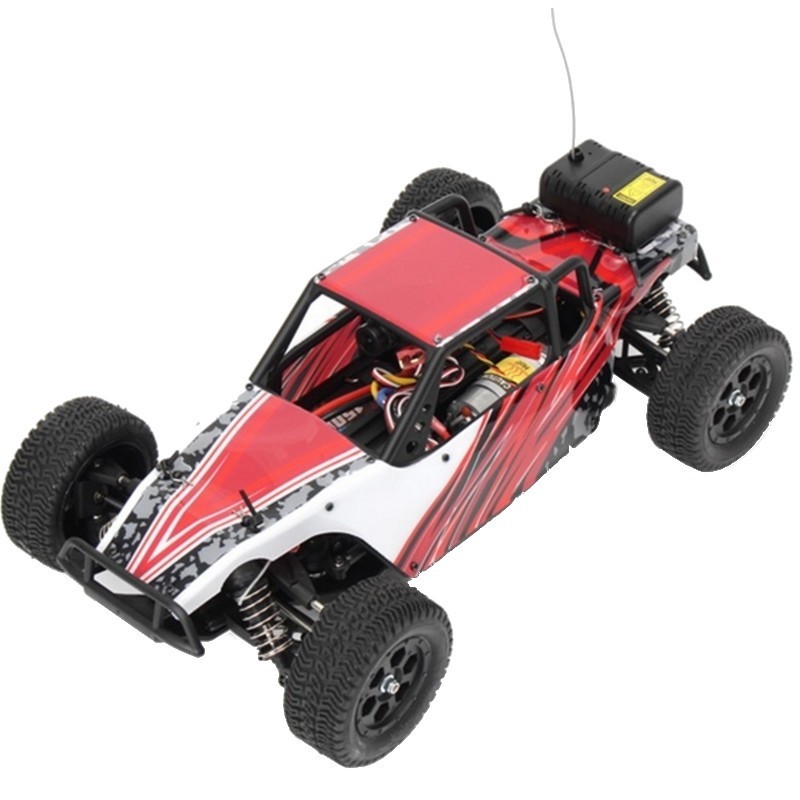 Send me an alert by email
---
RC Car Eachine RatingKing F14 1/14 4WD FPV Buggy
Cámara FPV incluida - Hasta 150 metros de alcance - Motor 550 Brushed - Compatible con gafas FPV - Batería LiPo 1500 mah - Buggy RC Car - 4WD (Tracción 4x4) - RTR
Lo que todo el mundo esperaba ha sucedido, Eachine se lanza de lleno al mundo del automodelismo por radiocontrol tras conquistar el mercado de los drones gracias a su gran relación calidad/precio que sin duda no deja indiferente a nadie. Si estás interesado en iniciarte en el mundo de los coches teledirigidos sin duda alguna te recomendamos apostar por el Eachine RatingKing, y a continuación verás por qué.
Cámara FPV. Conduce en primera persona
Éste coche tipo Buggy está diseñado en una escala 1/14 respecto a un modelo real, guardando todo el estilo con su carrocería fabricada en policarbonato termoconfortado. La característica que más llama la atención de primeras es su mini cámara FPV incorporada, pues muy pocos coches RC disponen de cámara de fábrica. Esta cámara es el modelo 1000TVL CCD 110 de la propia Eachine, la cual hemos podido ver en drones de la propia marca. Dicha cámara va conectada a un transmisor FPV que trabaja a 25 mW en la frecuencia de 5.8GHz para ofrecer una imagen nítida y sin pérdidas conectando unas gafas FPV, como las Eachine EV800 para que podamos gozar de una vista en primera persona como si estuviéramos en la cabina de nuestro Buggy Eachine F14. También dispone de una cámara secundaria que se puede colocar en la parte superior de la carrocería y que graba en Full HD a 24 fps, permitiendo recopilar nuestras andaduras en otro ángulo en una tarjeta MicroSD debido a que cuenta con lector de tarjetas compatible con tarjetas MicroSD de hasta 16GB.
Ahora Eachine conquista la tierra
Y no queda ahí la cosa, puesto que no es un coche radiocontrol solamente con cámara, pues en su interior alberga el motor 550 Brushed con una potencia de 14000 revoluciones por minuto (RPM), lo que nos permite alcanzar 35 Km/h con éste vehículo en terrenos tales como arena, gravilla, tierra, barro, pista y todo lo que se te ocurra. Dispone de un LED trasero que podremos configurar, pues es RGB, para dar luminosidad a nuestras carreras nocturnas o solamente para fardar de luz LED en nuestro coche Eachine. A destacar queda su batería de tipo LIPO de 1500 mAh de capacidad, algo que nos permite una autonomía importante con una media de 15 minutos en uso intensivo.
A continuación te dejamos un vídeo en el que puedes ver un test sobre campo en primera persona desde su cámara 1000TVL:
Visita la sección de accesorios para coches RC y compra repuestos para tu modelo
Especificaciones Coche RC Eléctrico Eachine RatingKing F14 1 FPV:
Marca: Eachine
Modelo: RatingKing F14
Versión: Normal
Tipo: Eléctrico
Categoría Buggy
Escala: 1/14
Modo: RTR
Terreno: Rocoso, arena, grava, tierrra, pendiente, obstaculos, llano, pista
Carrocería:


Material: Policarbonato termoconfortado
Alerón: No
Faros: LED trasero RGB (Programable mediante Switch)
Parachoques: Delantero y trasero
Desmontable: No

Chasis:

Principal: Policarbonato
Sub-chasis: Policarbonato
Rodamientos: Sí

Motor:

Modelo: 550
Tipo: Brushed
Potencia: 14000 RPM
Disipador: Sí

Velocidad máxima: 35 KM/h
Sistema de tracción: 4WD (4x4)
Alcance máximo: 150 metros
Ruedas:

Material: Goma
Tipo: Buggy - SemiBlando

Amortiguación:

Tipo: Independiente
Disposición: Delantera y trasera
Material: Hidráulico de muelle
Ajustable: Sí

Funciones: Acelerar, Marcha atrás (Frenar), Girar a la izquierda, Girar a la derecha
Variador (ESC): 320A Brushed
Dirección (Servo): 2Kg
Tipo de giro: Proporcional
Diferencial: Policarbonato
Receptor: 4 Canales 49MHz
Waterproof: No
Emisora:

Pantalla LCD: No
Frecuencia de funcionamiento: 2.4 GHz
Canales: 2
Codificación: CFSK
Alcance máximo: 150 metros
Modo: Modo 1 / Modo 2
Ajuste de dirección (Trimmer): Sí
Control mediante smartphone: No
Alimentación: 4 x Pilas AA (No incluidas)

Cámara:

Resolución: 1920 x 1080 px / 24 fps
Ángulo: 127º
FPV: No
Lector de tarjetas: MicroSD hasta 16GB

Cámara FPV:

Modelo: 1000TVL CCD 110 Mini
Sensor: CCF 1/3"
Apertura focal: f/1.2
Resolución: 1280 x 720 px / 30fps
Ángulo: 127º
Formato: NTSC - PAL
FPV: Sí

FPV:

Frecuencia: 5.8 Ghz
Transmisor: Race band 25mw en cámara 1000TVL
Receptor: Gafas FPV (Se recomienda gafas FPV Eachine)

Batería:

Tipo: Li-Po
Voltaje: 7.4V
Capacidad: 1500 mAh
Conector: T-Dean
Autonomía media: 15 minutos
Tiempo de carga: 200 minutos

Dimensiones:

Total: 36.5 x 23 x 20 cm
Diámetro de rueda: 56 mm
Distancia entre ejes: 232 mm
Distancia hasta suelo: 25 mm

Peso: 987 gr
Embalaje incluye
1 x Coche RC Eachine RatingKing F14 1/14
1 x Emisora Radiocontrol 2.4GHz
1 x Batería 1500 mAh Li-Po
1 x USB Cargador conector T-Dean
1 x USB Conector para carga balanceada (No incluye cargador balanceado)
1 x Transmisor FPV 5.8GHz
1 x Cámara FPV 1000TVL
1 x Cámara Secundaria Full HD con lector de tarjetas
1 x Batería 250mAh para cámara secundaria
1 x Manual
* Shipping prices may vary depending on the weight and destination of the package. Check the shipping conditions on our delivery site. Shipping rates on PowerPlanetonline
All items are shipped from Spain, so won't have to worry about customs fees.


And, as always, a 2-year warranty and VAT included.
---
1.- All items have a 2-year warranty and a 14-day return policy. (Except for reconditioned products with only a 1-year warranty, fungible products with a 6-month warranty and items included as exclusions of withdrawal).
2.- In case of malfunction or breakdown covered by warranty, transportation costs, for both collection and delivery, shall be borne entirely by Powerplanetonline.com.
3.- Repairs under warranty will be performed in our own highly specialized and qualified Technical Service unless the manufacturer offers its own repair service, either national or European, or if Powerplanetonline.com considers it as the best option.
At PowerPlanet you can buy the best brands in the market at the best price. Buy your Meizu, Xiaomi, Elephone at the best price with two-year warranty. And, if you prefer, we also have a drone section, where you can find the best brands: Syma, Eachine...