Nikon D5600 + AF-P VR 18-55 mm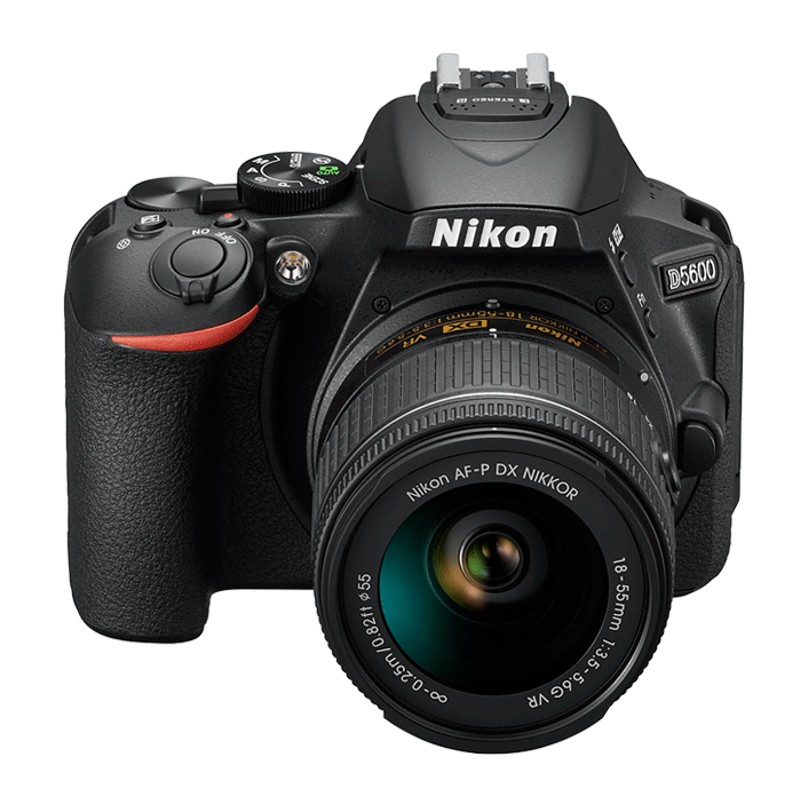 Send me an alert by email
---
Specifications Nikon D5600 + AF-P VR 18-55 mm:
Type: Single-lens reflex digital camera
Lens mount: Nikon F mount (with AF contacts)
Effective viewing angle: Nikon DX format; focal length equivalent to approx. 1.5 times that of the lenses with an FX format viewing angle
Image sensor: DX, CMOS, 23.5 mm x 15.6 mm
Total pixels: 24.78 million
Dust reduction system: Image sensor cleaning, image dust removal reference data (Capture NX-D software required)
Effective pixels: 24.2 million
Image size (pixels): (G) 6000 x 4000, (M) 4496 x 3000, (P) 2992 x 2000
Storage - File format: NEF (RAW): 12 bits or 14 bits, compressed; JPEG: compatible with the JPEG baseline with good compression (approximately 1: 4), normal (approximately 1: 8) or basic (approximately 1: 16), NEF (RAW) + JPEG: individual photographs are recorded in both formats, NEF (RAW) and JPEG
Picture Control System: Standard, Neutral, Intense, Monochrome, Portrait, Landscape, Plane; the selected Picture Control can be modified; storage for custom Picture Control
Storage - Media: SD, SDHC (compatible with UHS-I), SDXC (compatible with UHS-I)
Card slot: 1 Secure Digital (SD) card
File system: DCF 2.0, Exif 2.3, PictBridge
Viewfinder: Single-lens reflex viewfinder with penta mirror at eye level
Frame coverage: Approx. 95% horizontal and 95% vertical
Extension: Approx. 0.82 increases (objective of 50 mm and f / 1.4 adjusted in infinity, -1 m-¹)
Front sight: 17 mm (-1 m-¹; from the central surface of the eyepiece of the viewfinder)
Diopter adjustment: From -1.7 to +0.5 m-¹
Focus screen: BriteView Clear Matte Mark VII Type B screen
Mirror reflex: Fast return
Aperture of the objective: Instant return with electronic control
Shutter type: Focal plane shutter and electronically controlled vertical travel
Shutter speed: From 1/4000 s to 30 s, in steps of 1/3 or 1/2 EV; Bulb and Time options
Flash sync speed: X = 1/200 s; synchronizes with the shutter at a speed of 1/200 s or slower
Shooting mode: S (Frame by frame), CL (Continuous at low speed), CH (Continuous at high speed), Q (Silent shutter), Self-timer; Compatible with Photography with interval shooting
Frame advance rate: Up to 5 fps, CL: up to 3 fps, CH: up to 5 fps (JPEG and NEF / RAW of 12 bits) or 4 fps (NEF / RAW of 14 bits). Note: Frame rates assume a Continuous Servo AF, a Manual or Automatic Exposure with shutter priority, a shutter speed of 1/250 s or faster, the Shooting option selected for the a1 element (Select AF-C priority) of the Custom Settings and other settings at their default values.
Timer: 2 s, 5 s, 10 s, 20 s; from 1 to 9 exhibitions
Exposure measurement: TTL exposure measurement using the 2016 pixel RGB sensor
Measurement mode: Matrix measurement: color matrix measurement in 3D II (objectives of type G, E and D); Matrix metering in color II (other lenses with CPU). Central weighted measurement: 75% of the measurement is assigned to the 8 mm circle in the center of the frame. Spot metering: measures the 3.5 mm circle (2.5% of the frame) located in the center of the selected focus point
Measuring range (ISO 100, objective f / 1.4, 20 ° C): Matrix or center-weighted measurement: from 0 to 20 EV. Spot measurement: from 2 to 20 EV
Exposure meter coupling: CPU
Mode: Automatic modes (Automatic, Automatic (flash off)); Automatic programmed with flexible program (P); Automatic with priority to the seal (S); Automatic with priority to the diaphragm (A); Manual (M); Scene modes (Portrait; Landscape; Child; Sports; Close-up; Night portrait; Night landscape; Party / indoor; Beach / snow; Sunset; Dawn / dusk; Pet portrait; Candle light; Flowers; Fall colors ; Gastronomy); Special effects modes (Night vision, Superintensive, Pop, Photo illustration, Toy camera effect, Mockup effect, Selective color, Silhouettes, High key, Low key)
Exposure Compensation: Can be adjusted from -5 to +5 EV in steps of 1/3 or 1/2 EV in P, S, A, M, SCENE and Night Vision modes
Exposure lock: The brightness is blocked at the value detected with the AE-L / AF-L button
ISO sensitivity: ISO 100-25600, in steps of 1/3 EV; Automatic control of ISO sensitivity available
Active D-Lighting: Automatic, Extra High, High, Normal, Low or Off
Autofocus: Nikon Multi-CAM 4800DX autofocus sensor module with TTL phase detection, 39 focus points (including 9 cross sensors) and AF-assist illuminator (range from 0.5 to 3 m approx.) Autofocus is available along with the AF-S, AF-P and AF-I lenses.
Detection range: From -1 to +19 EV (ISO 100, 20 ° C)
Servo lens: Single servo AF (AF-S), Continuous servo AF (AF-C), Automatic AF-S / AF-C (AF-A) selection; Predictive tracking of the focus activated automatically according to the state of the subject, Manual focus (MF): it is possible to use the electronic rangefinder
Focus points: 39, it is possible to select between 39 and 11 focus points
AF area mode: Single point AF, Dynamic area AF of 9, 21 or 39 points, 3D tracking, Auto area AF
Focus lock: To lock the focus you can press the shutter button halfway (single servo AF) or the AE-L / AF-L button
Built-in flash: Auto, Portrait, Child, Close-up, Night portrait, Party / indoor, Pet portrait, Superintensive, Pop, Photo illustration, Toy camera effect: automatic flash with automatic display. P, S, A, M, Gastronomy: manual deployment with trigger
Guide number: Approx. 12 m, 12 m with manual flash (ISO 100, 20 ° C)
Flash control: TTL: i-TTL flash control, which uses a 2016 pixel RGB sensor, is available with the built-in flash; the i-TTL balanced fill flash for digital SLR cameras is used with center-weighted and matrix metering, while the standard i-TTL flash for digital SLR cameras is used with spot metering
Flash mode: Auto, Auto with red-eye reduction, Auto slow sync, Auto slow sync with red-eye reduction, Fill-in flash, Red-eye reduction, Slow sync, Slow sync with red-eye reduction, Rear-view shutter with sync slow, Rear curtain sync, Off
Flash Compensation: -3 to +1 EV in steps of 1/3 or 1/2 EV, in P, S, A, M and SCENE modes
Flash ready indicator: Lights when the optional flash or built-in flash unit is fully charged; flashes after the flash flashes at full power
Accessory shoe: ISO 518 direct connection shoe with synchronization and data contacts, as well as safety lock
Nikon Creative Lighting System: Compatible with Nikon CLS
Synchronization terminal: Synchronization terminal adapter AS-15 (available separately)
White balance: Automatic, Incandescent, Fluorescent (7 types), Direct sunlight, Flash, Cloudy, Shadow, Manual preset, all except the Preset manual with fine adjustment.
Bracketing types: Exposure, White balance, Active D-Lighting
Live View - Lens Servo: Autofocus (AF): Single servo AF (AF-S); Permanent servo AF (AF-F); Manual focus (MF)
Live View - AF area mode: Face priority AF, pan AF, normal area AF, subject tracking AF
Live View - Autofocus: Contrast detection AF in any part of the frame (the camera selects a focus point automatically if Face priority AF or subject tracking AF is selected)
Live View - Automatic scene selection: Available in Automatic and Automatic modes (flash off)
Video: Measurement: Measuring the TTL exposure by using the main image sensor
Footage - Measuring mode: Matrix
Video - Frame size (pixels) and frame ratio: 1920 x 1080: 60p (progressive), 50p, 30p, 25p, 24p; 1280 x 720: 60p, 50p. The actual recording speeds for 60p, 50p, 30p, 25p and 24p are 59.94, 50, 29.97, 25 and 23.976 fps respectively; The options are compatible with the Normal and High image qualities
Footage - File format: MOV
Video - Video compression: Advanced video encoding H.264 / MPEG-4
Footage - Audio recording format: linear PCM
Video - Audio recording device: Integrated stereo microphone or external stereo microphone; adjustable sensitivity
Video - ISO sensitivity: ISO 100-25600
Other options: Time-lapse videos
Monitor: Flip-up TFT LCD touch screen with a 8.1 cm (3.2 inch) diagonal and a 170 ° viewing angle, approximately 100% frame coverage, brightness adjustment and eye movement sensor control Enabled /Disabled; approx. 1 037 000 points (720 x 480 x 3 = 1 036 800 points)
Playback: Full-frame and thumbnail playback (4, 12 or 80 images or calendar) wit
h Playback Zoom, Playback Zoom Trim, Face Playback Zoom, Playback of Videos, Photo Slideshows and / or Videos, Histogram display, Highlights, Photo information, Location data display, Auto image rotation, Image evaluation and Image comment (up to 36 characters)
USB: High-speed USB with Micro USB connector; the connection to the built-in USB port is recommended
HDMI output: Type C HDMI connector
Audio input: Stereo minicontact jack (3.5 mm diameter); supports optional ME-1 stereo microphones
Wi-Fi (Wireless LAN) standards: IEEE 802.11b, IEEE 802.11g
Operating frequency Wi-Fi (wireless LAN): From 2412 to 2462 MHz (channels 1 to 11)
Wi-Fi security (wireless LAN): Authentication: Open system, WPA2-PSK
Range (line of sight) Wi-Fi (Wireless LAN): Approx. 10 m without interference; the range may vary with the strength of the signal and the presence or absence of obstacles
Operation - NFC: Type 3 Label of NFC Forum
Bluetooth standards: Bluetooth specification version 4.1
Supported languages: German, Arabic, Bengali, Bulgarian, Czech, Chinese (Simplified and Traditional), Korean, Danish, Spanish, Finnish, French, Greek, Hindi, Hungarian, Indonesian, English, Italian, Japanese, Marathi, Dutch, Norwegian, Persian, Polish, Portuguese (Portugal and Brazil), Romanian, Russian, Serbian, Swedish, Tamil, Thai, Telugu, Turkish, Ukrainian, Vietnamese
Battery: A rechargeable lithium-ion battery EN-EL14a
AC Adapter: AC Adapter EH-5b; requires a connector to the EP-5A power grid (available separately)
Tripod connector: 1/4 inch (ISO 1222)
Dimensions (W x H x D): Approx. 124 x 97 x 70 mm
Weight: Approx. 465 g with the battery and the memory card, but without the body cap; approx. 415 g (only the body of the camera)
Operating environment - Temperature: Temperature: from 0 ° C to 40 ° C
Operating environment - Humidity: Humidity: 85% or less (without condensation)
Supplied accessories: Rubber eyepiece DK-25, Body cover BF-1B, Rechargeable lithium-ion battery EN-EL14a, (with terminal cover), Strap AN-DC3, Battery charger MH-24 (in the countries or regions where a connection adapter is required, one is supplied, the form depends on the country of sale
Package content:
1 x Nikon D5600 + AF-P VR 18-55 mm
* Shipping prices may vary depending on the weight and destination of the package. Check the shipping conditions on our delivery site. Shipping rates on PowerPlanetonline
All items are shipped from Spain, so won't have to worry about customs fees.


And, as always, a 2-year warranty and VAT included.
---
1.- All items have a 2-year warranty and a 14-day return policy. (Except for reconditioned products with only a 1-year warranty, fungible products with a 6-month warranty and items included as exclusions of withdrawal).
2.- In case of malfunction or breakdown covered by warranty, transportation costs, for both collection and delivery, shall be borne entirely by Powerplanetonline.com.
3.- Repairs under warranty will be performed in our own highly specialized and qualified Technical Service unless the manufacturer offers its own repair service, either national or European, or if Powerplanetonline.com considers it as the best option.
At PowerPlanet you can buy the best brands in the market at the best price. Buy your Meizu, Xiaomi, Elephone at the best price with two-year warranty. And, if you prefer, we also have a drone section, where you can find the best brands: Syma, Eachine...