ILife A6 Robot Vacuum Cleaner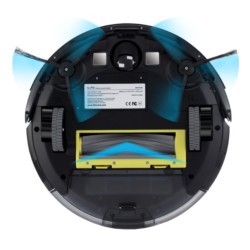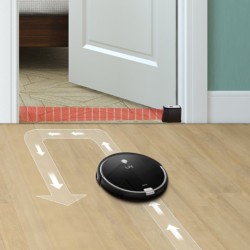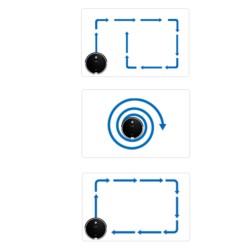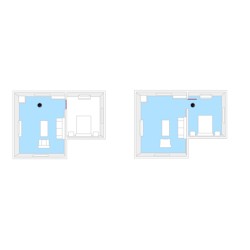 Send me an alert by email
---
ILife A6 Robot Vacuum Cleaner
Front Glass: Black High Gloss - Ultrafine Design - Virtual Walls - Compatible All Types Floor - 3 Steps Cleaning System - HEPA Filter - Suction Power 1000Pa - Load Base Return - Autonomy 160 min

The elegance and delicacy of glass
Discover the top of the range of iLife for cleaning your home. Your most sophisticated and efficient robot vacuum cleaner has reached PowerPlanetOnline, what are you waiting for? Let's meet him! Unlike his brothers, he comes made of black glass to get an exceptional finish, and boy does he get it! You will love it because besides being exceptionally powerful it has a very careful and polished design that will complement to the decoration of your home. Elegance is attitude. Its thickness of the only 7.11cm, combined with its cover in tempered glass with ultrabright finish in black, it will do it elegantly. The tempered glass top cover makes it more resistant and with a softer feel. The high gloss black finish was achieved through new technologies, anodizing and polishing in nine steps. With its front Q-shaped LED, it will not only be your perfect companion for day-to-day cleaning, but it will be one more at home. A new world to discover in cleaning for the home, invest your time in you and what you really want, the new iLife A6 Robot Vacuum cleaner will be your great ally for daily cleaning and keep your home impeccable. One of the improvements that the iLife a6 Robot Vacuum cleaner incorporates is the advanced system of cleaning in three steps of the second generation, this system will achieve 10 times more suction power so that the motor easily absorbs dust, pet hair and particles that are usually as difficult to vacuum as a field of crops! Its design is ultra-thin so you can go under all the furniture and get an even more effective cleaning of all corners of the house, with only 7.11cm it can walk the entire surface, even under sofas and beds.

The perfect harmony between power and design
The new iLife Robot Vacuum is a second generation design which boasts a 3 step cleaning system which will provide exceptional cleaning. Your new side brushes will capture dirt and dust from any corner. Later it will go through a spiral roller to extract the most difficult remains. Its compact size does not make it lose capacity, therefore it incorporates a large tank for dirt that will ensure that it maintains a good suction power from start to finish. Another improvement that you will appreciate will be the change of its wheels, larger wheels have been incorporated to overcome any obstacle more easily and can drive onto carpets, blankets or any other object you may find on your way. You will get a simpler and more stable cleaning so that your house is perfect every day. With the rubber spiral BladeAway brush, it not only has the ability to pick up difficult dirt and all types of soil, but it also solves the most difficult problem caused by the tangled brush that most robot vacuum cleaners face, It is an anti-fouling brush. What distinguishes it from the rest of the iLife vacuum cleaner robots is the possibility of placing virtual walls so that it only cleans the room or part of the house we want as well as to prevent it from passing to dangerous places, little by little you will find it adapts to your home and to go only where you want it to clean. The iLife A6 is specifically designed to help you take care of the domestic cleaning of carpets, wood and tile surfaces, dust, dirt and hair, under furniture, rooms and corners. Your iLife A6 Robot Vacuum Cleaner will be there when necessary.
Extraordinary functionality, keep your home perfect
It has several cleaning modes that you can select depending on the room, the quantity of dust, dirt, etc. You can choose the one that best suits each moment. You will have an automatic mode for which you will only have to make a single gesture, press the Clean button on your command, to activate it and it will start working automatically avoiding obstacles with its sensors. Another way is the concentric one in which it will spin in circles around a point, it is ideal for when we have the dirt located in an area since it will clean it more thoroughly. The last mode that we can program is special for corners in which it will go little by little through these corners that tend to accumulate dirt because of difficult access, do not worry, with this mode you will also keep them perfect. To clean your house perfectly, it will boast an autonomy of 160 minutes of working time, much more than the rest of the iLife vacuum cleaner robots, it will clean spaces of up to 200m2. It is completely autonomous, when it detects that your battery is low it will automatically return to the charging base to be always ready. Buy an iLife A6 Robot Vacuum Cleaner at PowerPlanetOnline, enjoy your time, you deserve a break, your time is priceless and now at your fingertips, there is the new Robot Vacuum Cleaner iLife A6.
It's perfect for you if ...
You want the best and most complete solution for cleaning your home
You need a high suction power (1000Pa)
You have carpets at home
You have pets at home
You want a good modern design
You have a big house and you need to put virtual wall to clean only where you need.
Specifications iLife A6 Robot Vacuum Cleaner:
Brand: iLife
Model: A6
Tank capacity: 0.3L
Power Suction: 1000Pa
Mechanical Buttons: yes, located on the front on the Q
Battery: 2600mAh
Charge Time: Less than 300 min
Autonomy: 160 min
Type of Load: Automatic / Manual
Cleaning modes:

Automatic
Concentric
Corners

Anti-collision: Yes
Anti-fall: Yes
Remote Control: Yes
Virtual Walls: Yes
HEPA filter: Yes
Side Brushes: 2
Range Remote Control: 4m
Voltage: 14.8V
Compatible Floors: Tile, Wood, Carpet
Cleaning Area: 200m2 approx.
Dimensions: 30.5 x 30.5 x 8 cm
Weight: 2.55Kg
Box contents:
1 x iLife A6 Robot Vacuum Cleaner
1 x Remote Control
1 x Load Base
1 x Cleaning Brush
1 x Power Adapter
2 x Side Brushes
1 x Manual Instructions English
1 x Virtual Wall
2 x AAA battery
* Shipping prices may vary depending on the weight and destination of the package. Check the shipping conditions on our delivery site. Shipping rates on PowerPlanetonline
All items are shipped from Spain, so won't have to worry about customs fees.


And, as always, a 2-year warranty and VAT included.
---
1.- All items have a 2-year warranty and a 14-day return policy. (Except for reconditioned products with only a 1-year warranty, fungible products with a 6-month warranty and items included as exclusions of withdrawal).
2.- In case of malfunction or breakdown covered by warranty, transportation costs, for both collection and delivery, shall be borne entirely by Powerplanetonline.com.
3.- Repairs under warranty will be performed in our own highly specialized and qualified Technical Service unless the manufacturer offers its own repair service, either national or European, or if Powerplanetonline.com considers it as the best option.
At PowerPlanet you can buy the best brands in the market at the best price. Buy your Meizu, Xiaomi, Elephone at the best price with two-year warranty. And, if you prefer, we also have a drone section, where you can find the best brands: Syma, Eachine...