Yi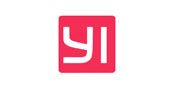 Discover YI cameras. 4K quality and dozens of accessories so you can have fun anytime, anywhere. Yi sports cameras are both action cameras and underwater cameras, as they can resist drops as well as water thanks to their protective casings and high-quality materials. You can enjoy unique moments and watch them on your smartphone even live. Live without limits thanks to Yi cameras.

Plus, you can also enjoy the power of Yi thanks to their home security cameras.

Thinking of Buying a Yi Camera?
Although it may seem simple, in the sports camera world there is an increasing number of options and prices. Knowing which model is the right one is not as easy as it seems. That's why we're going to help you. Yi cameras have high quality features, but one of their great strengths is the amount of accessories they have available. In addition to its protection case, Yi offers harnesses for pets, bandoliers, selfie sticks with floating surface... In short, an endless number of options that will allow you to capture unique moments whether cycling, running or in the depths of the sea.
Your Trips and Adventures in 4K
Yi cameras allow high quality recordings. The Yi Ultra Dash Camera 2.7K model records at the same or even better quality than higher-priced cameras, as it has high quality components such as the AXYS-G Bosch BMI160 stabilizer 6 AXYS-G that improves image capture and recordings. As if that weren't enough, the Yi camera has 7 optical parts in its lens and F=2.68 mm focal aperture, plus a 12.35 MP Sony IMX377 sensor. All this makes the Yi 4k camera one of the best options on the market in terms of price and quality.
High Quality Also in Home Security

Yi has also launched Home Security Cameras to keep your home safe. An example is its Yi Dome camera with a 360º vision at high resolution. For greater security, it has a mask mode with which you can cover the lens for when you do not want to record anything. You can connect it to other YI cameras and control it at all times from your phones thanks to the YI app, which will even allow you to take pictures in panoramic mode. It also has a motion sensor that records 10-second videos so you can watch them later and see what has happened. It also has audio and baby crying detector. YI Dome camera is a perfect choice for keeping your home safe and secure at a great price.