Xiaomi Yunmai Smart Skipping Rope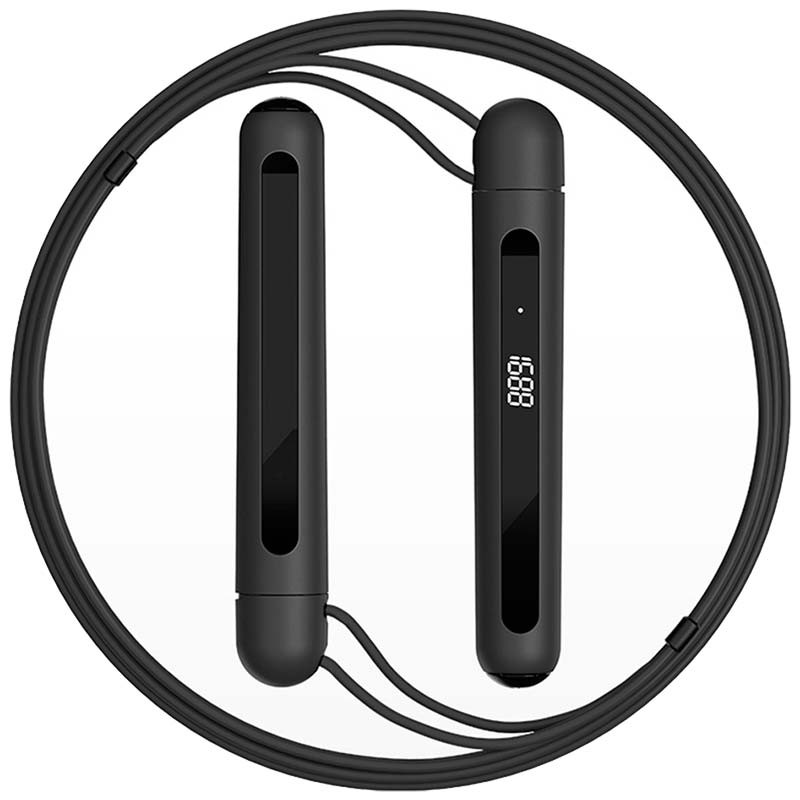 ---
Xiaomi Yunmai Skipping Rope: a Smart Training Skipping Rope
Smart jump rope - Comfortable and secure grip with rubber cover - Built-in display - Maximum length of 3 metres (adjustable) - Steel bearings - High precision sensor - Bluetooth 4.0 - Calculates rotation speed, number of turns, duration of exercise and calories burned - Effective for burning calories and increasing endurance - Wide range of muscles worK - 15 minutes equals 30 minutes of running
YUNMAI Skipping Rope. The smart skipping rope that Xiaomi brings to turn cardio sessions into a game.
The advantages of training with the YUNMAI Skipping Rope
Do you have little time for sport during the day and don't you work on your aerobic exercise enough? Then the Xiaomi YUNMAI Skipping Rope is for you.
The jump rope is an effective way to burn calories, lose weight, shape your figure and also to have a flat stomach. It is a simple, complete and fun activity that improves balance and promotes correct body posture and, when well controlled, is an effective sport for increasing endurance capabilities.
Jumping with your Yunmai Skipping Rope ensures the work of a wide range of muscles, as it mobilises the whole lower body and tones the arms, shoulders, back and abdominals. It will also save you a lot of time, as 15 minutes with it is equivalent to 30 minutes of running.
Comfortable and Safe Grips with Integrated Display
Also, the Yunmai Smart Skipping Rope features a stylish design and comfortable and safe grip, preventing it from slipping out of our hands in the most frenetic moments. These grips have a rubber coating that not only ensures grip and avoids slipping, but also prevents sweat from becoming a problem. In addition, they incorporate a screen to show us all the necessary information instantly.
3-meter Rope with Adjustable Length
Of course, the Xiaomi YUNMAI's smart skipping rope can be adapted to everyone, as the rope is up to 3 metres long, but it includes a buckle so you can adjust the length to your height.
Steel Bearings with up to 10-Million Revolutions Lifespan
On the other hand, if we look inside, we find high quality steel bearings with a service life of up to 10,000,000 revolutions. Also, these bearings allow you to turn the rope easily without slowing down, reaching higher rotation speeds than other ropes.
The Smart Part of the YUNMAI Skipping Rope
But... Why is the YUNMAI jump rope different from any other? Easy: the Xiaomi Yunmai Skipping Rope has a smart operation. It adopts a high precision sensor and a Bluetooth CC2541 chip. This system is able to monitor the movement of the handles and therefore perfectly calculate the number of rotations made, among other things.
Subsequently, once connected to your mobile phone via high-speed Bluetooth 4.0 technology, the data will be uploaded and automatically synchronised with the cloud. In this way, through the APP WeChat we can see both the rotation speed and the number of turns, the duration of the exercise and even an estimate of the calories burned.
Technical specifications Xiaomi Yunmai Smart Skipping Rope:
Brand: Xiaomi YUNMAI
Product: Smart rope
Model: YMSR-P701
Bluetooth version: 4.0
Autonomy: Around 150 days
Charging: Via USB
Length: 3 meters max. (adjustable)
Materials: Polycarbonate (PC) + Polyurethane (PU) + Steel cable
Grip dimensions: 161.7 x 25.6 x 25.6 mm
Weight: 140 g
Colour: Black
Packaging content:
1x Xiaomi Yunmai Smart Skipping Rope
1x USB Cable
1x Storage bag
1x User Manual
4 Xiaomi Yunmai Smart Skipping Rope reviews
4 customers have already reviewed the article
the Xiaomi Yunmai Smart Skipping Rope
What do you think?
4 global reviews

Review and win!
Every month we give away
300€ among all
the comments
We have no reviews in English
Select other languages
to see reviews of
Xiaomi Yunmai Smart Skipping Rope.