Soocas X3U Sonic Electric Toothbrush Black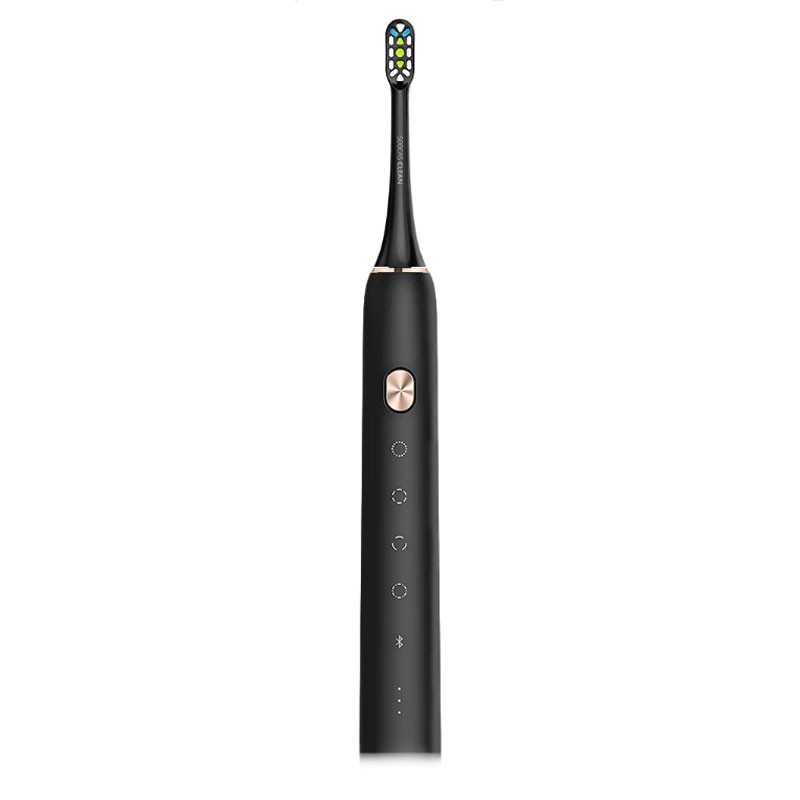 ---
Xiaomi SOOCAS X3U Sonic Electric Toothbrush Black
High-Efficiency Sonic Motor - DuPont Bristles - 4 Cleaning Modes - Cleaning Reminders - Type-C Charging - IPX7 Rating - Maximum Autonomy: 25 Days
Xiaomi continues its development in the oral hygiene market through its subbrand SOOCAS. In this case, Xiaomi presents the Xiaomi SOOCAS X3U Sonic Electric Toothbrush or Xiaomi SOOCAS X3 Upgraded Version. This time, though, some improvements have been added to the device to make your oral hygiene perfect. Stay with us and we'll tell you all about it!
Vibration up to 39600 Times per Minute and 4 Brushing Modes
Smart toothbrushes are here to stay, and that's unquestionable. They are able to offer us features that take the oral cleaning experience to a higher level. For example, SOOCAS X3U offers 4 brushing modes, covering a wide range of oral hygiene needs:
Cleaning Mode: high-frequency vibration to quickly remove accumulated dirt
Sensitive Mode: respectful of sensitive gums, dental appliance or other problems
Beginner Mode: with massage effect and slower performance for extremely sensitive teeth. Perfect to be used during the first week during the adaptation period
Whitening Mode: with a vibration of up to 39600 times per minute for deep tooth cleaning
Vibration is another feature that has been improved in the Upgraded version, from 38600 to 39600 times per minute. Also, this increase in vibration does not mean an increase in sound, because the reduction in emitted noise has also been optimised. But that's not all, as the Xiaomi SOOCAS X3U Sonic Electric Toothbrush is able to analyse our movements during the cleaning process, showing us the result of the cleaning efficiency through the mobile app. It will also emit a warning every now and then as a vibration so that we can vary the cleaning area of our mouth.
Minimalist Design and IP7X Splash Resistance Rating
Xiaomi takes care of the design of its products even when it comes to a toothbrush. Not only will it look great in your bathroom decor, but it will also be extremely useful. In addition to its minimalist style, there is an intuitive button in the central part, from which we can select one of the 4 brushing modes to adapt it to our hygienic needs. Similarly, the body of the SOOCAS X3U has icons that will light up to show the chosen mode, as well as the battery or charge level. And, of course, the design has a solid IPX7 certified finish, so exposing the brush to water or cleaning its structure will not be a problem (as long as it is turned off).
Three Different Heads and a Travel Case Included
The Upgraded version of the SOOCAS X3 also has two extra heads: a whitening brush, especially for removing stains caused by coffee or tobacco, and a soft brush, perfect if you have sensitive gums. On the other hand, its main head is copper-free, thus avoiding the possible oxidation of the part that joins the bristles and extending its life. In addition, both the back of the whitening head and the main head include a special silica gel coating to clean our tongue as well. We should also not forget the convenient travel case included in the SOOCAS X3U pack, another novelty in this version.
Long Battery Life and Faster Charging via USB Type-C
Here's the latest improvement to the SOOCAS X3U over its predecessor: charging via USB type-C cable, reducing the charging time from 16 hours to just 4 hours. This toothbrush is powered by a 1000mAh battery, which you will be able to use for up to 25-30 days. This way, we will always have it ready for action.
Keep your mouth clean and shiny with Xiaomi! Buy SOOCAS X3U Sonic Electric Toothbrush at Powerplanetonline.
*Note: The X3U version of the Xiaomi Soocas Sonic Electric Toothbrush does NOT incorporate Bluetooth connectivity, although on its official website it indicates otherwise
Specifications Xiaomi SOOCAS X3U Sonic Electric Toothbrush Black:
Design:

Brand: Xiaomi / SOOCAS
Model: SOOCAS X3U
Weight: 275g
Height (head included): 25.3 cm
Grip Area Width: 2.8 cm

Connectivity:
Features:

3 Heads Included: copper free, whitening and sensitive
4 Modalities: clean, sensitive, beginner, whitening
Multi-function button
Vibration / Alert: dial change
IPX7 certification: washable body
Voltage: 3.7V
Power: 2 W

Autonomy:

Battery: 1000 mAh
Charging Time (full): 4 hours
Maximum Duration: 25 - 30 days (depends on the mode chosen and the brushing time)
Charging: USB Type-C Cable

In The Box:

1 x Xiaomi SOOCAS X3U Sonic Electric Toothbrush Black
1 x Head without Copper
1 x Whitening Head
1 x Soft Head
1 x Charging Cable
1 x User Manual
Soocas X3U Sonic Electric Toothbrush Black Reviews
We have no reviews
of Soocas X3U Sonic Electric Toothbrush Black
Be the first!

Review and win!
Every month we give away
300€ among all
the comments