Roidmi Z1 Air - Cordless / Bagless Vacuum Cleaner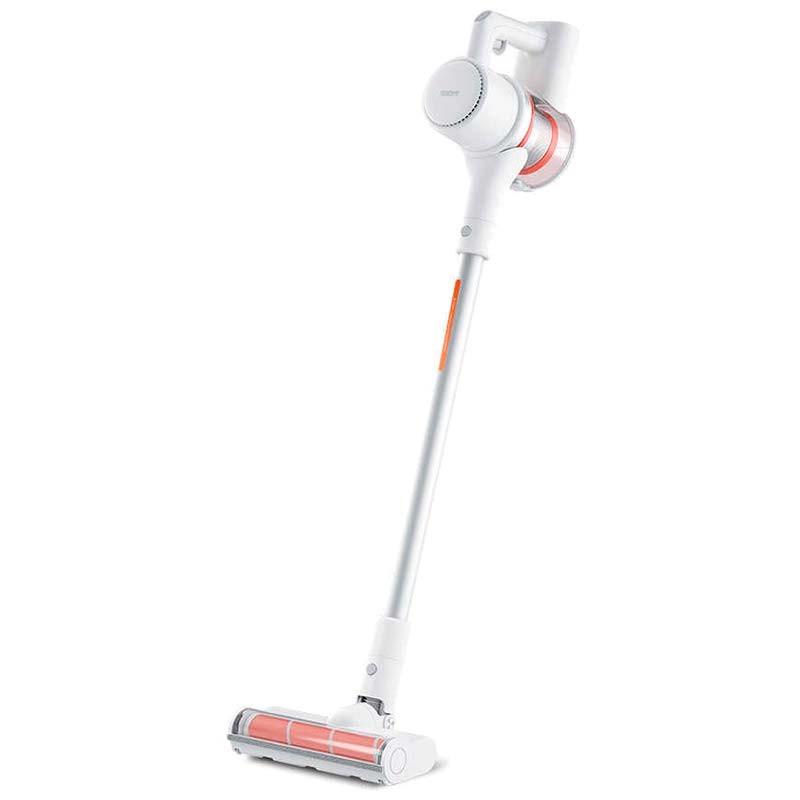 ---
Cordless Vacuum Cleaner Xiaomi Roidmi Z1 Air
For all types of surfaces - With various heads - Mop mode - 100,000 RPM/min - Air pressure 120W and 22000Pa - 650 ml dust tank - Autonomy up to 60 minutes - Easy cleaning - Wall mount
Xiaomi is one of the most versatile companies at the moment. We all know about different Xiaomi products, but you may not know Xiaomi's high quality vacuum cleaners yet. If you're already fascinated by Roborock, then you'll be amazed by the Roidmi, which keeps the same quality but at an even lower price.
Here we present you the Xiaomi Roidmi Z1 Air, a modern cordless vacuum cleaner with a powerful brushless motor (reaches 22000 Pa) and high autonomy. Isn't it interesting? Stay here, at Powerplanetonline, to find out more.
Powerful 120W 22000Pa brushless motor
If you're looking for a device to easily get rid of dirt and dust, the Xiaomi Roidmi Z1 Air is your vacuum cleaner. In addition to its attractive cordless design, it stand out for its powerful brushless motor, which spins at 100 000 rpm and achieves a suction power of 120 W or 22000 Pa. This means that the Xiaomi Roidmi Z1 Air can vacuum up all kinds of particles and dirt, even the largest ones.
Enjoy the silence
Despite the high suction power, the sound produced by the Xiaomi Roidmi Z1 Air is below 72 dB thanks to three fundamental factors. The first is that its brushless motor reduces friction and therefore emits less noise. On the other hand, the sound of the air moving inside our vacuum cleaner is balanced by separating it into 10 cyclones. And finally, the Xiaomi Roidmi Z1 Air has a rear filter that prevents noise from leaving the device.

Cyclone technology
The Xiaomi Roidmi Z1 Air, on the other hand, makes use of cyclone technology based on 10 separate cyclones. This system helps keep the filter clean so that it does not become blocked and keeps the suction capacity as the tank (0.65L) is filled, contributing to its effectiveness and efficiency.
Front and rear HEPA filtering system
Roidmi warns us that many pathogens can remain inside our vacuum cleaner if we don't clean it thoroughly frequently. This way, these pathogens are pushed out into the air we breathe, contaminating it and wreaking havoc on our health. That's why the Xiaomi Roidmi Z1 Air includes a HEPA filter on the front and another filter on the back, preventing dust and mites from entering it again. In this way, our Z1 Air vacuum cleaner will expel cleaner air.
Different brushes for different surfaces
As is often the case with this type of vacuum cleaner, the Xiaomi Roidmi Z1 Air has good flexibility to clean under furniture without having to overwork ourselves. In addition, its design concentrates the weight on the handle (1.55 kg only), so you can use it to clean all kinds of surfaces besides the floor, such as ceilings, curtains, sofas, etc. The latter is also helped by the inclusion of different nozzles and brushes, each with specific functions.
Motorised multi-surface brush
The mini motorised brush is designed to effectively capture dirt, hair, micro-particles and all types of allergens from softer, more delicate surfaces such as beds, sofas or pillows.
Flat tool
With the flat nozzle you can vacuum corners, cracks or hard-to-reach holes.
Small bristle brush
Finally, the round brush is perfect for vacuuming curtains and fabrics. Also for removing fine hair from sofas, beds, etc. Or even for smaller surfaces or with embedded dirt.
Up to 60 minutes of autonomy
The Xiaomi Roidmi Z1 Air cordless vacuum cleaner is powered by a 2500 mAh Li-ion battery, which provides up to 60 minutes* of autonomy on a single charge. Thanks to this and its large capacity reservoir, the Roidmi Z1 Air covers larger areas, not to mention the time and comfort savings offered by its cordless system.
*Working times are subject to certain parameters, such as the amount of dirt, the type of surface and the suction power.
Easy to store and comfortable tank emptying
Time to clean our vacuum cleaner? You probably have felt more than once that cleaning your vacuum is difficult and maybe you should start using the broom again... Don't worry, that's over with the Xiaomi Roidmi Z1 Air, as you can empty its tank at the push of a button.
In addition, the Xiaomi Roidmi Z1 Air includes a wall-mount dock, which will allow us to have it collected in a small space without taking up too much space.
Buy Xiaomi Roidmi Z1 Air - Cordless / Bagless Vacuum Cleaner at Powerplanetonline
Keep your house clean easily and don't waste time and energy! Buy Xiaomi Roidmi Z1 Air at Powerplanetonline, your trusted online shop.
Technical specifications Xiaomi Roidmi Z1 Air - Cordless / Bagless Vacuum Cleaner:
General parameters

Brand: Xiaomi Roidmi
Model: Z1 Air

Surfaces: All kinds of surfaces (carpets, wood, ceramic, marble, tiles, textiles, etc.)
Material: ABS

Motor

Maximum RPM: 100,000 RPM / min
Wind pressure: 22000 Pa
Suction power: 120 aW

Technical parameters

Dust tank capacity: 0.65 L
Noise: <72 dB
Nominal power: 335 W

Battery

Capacity: 2500 mAh
Type: Li-Ion
Autonomy time: up to 60 minutes
Charging time: 3 hours
Voltage: 100 ~ 240V

Dimensions and weight

Measurements: 119.1 x 25.9 x 15.8 cm
Product weight: 1.55 kg
Color: White / Orange

Package content

1 x Xiaomi Roidmi Z1 Air - Cordless / Bagless Vacuum
1 x metal tube
1 x Multi-Surface Motorized Brush
1 x Flat Tool
1 x Round brush
1 x Wall mount
1 x charger
1 x User Manual
1 Roidmi Z1 Air - Cordless / Bagless Vacuum Cleaner reviews
1 customers have already reviewed the article
the Roidmi Z1 Air - Cordless / Bagless Vacuum Cleaner
What do you think?
1 global reviews

Review and win!
Every month we give away
300€ among all
the comments
We have no reviews in English
Select other languages
to see reviews of
Roidmi Z1 Air - Cordless / Bagless Vacuum Cleaner.