Xiaomi Move It Volt Smart Skipping Rope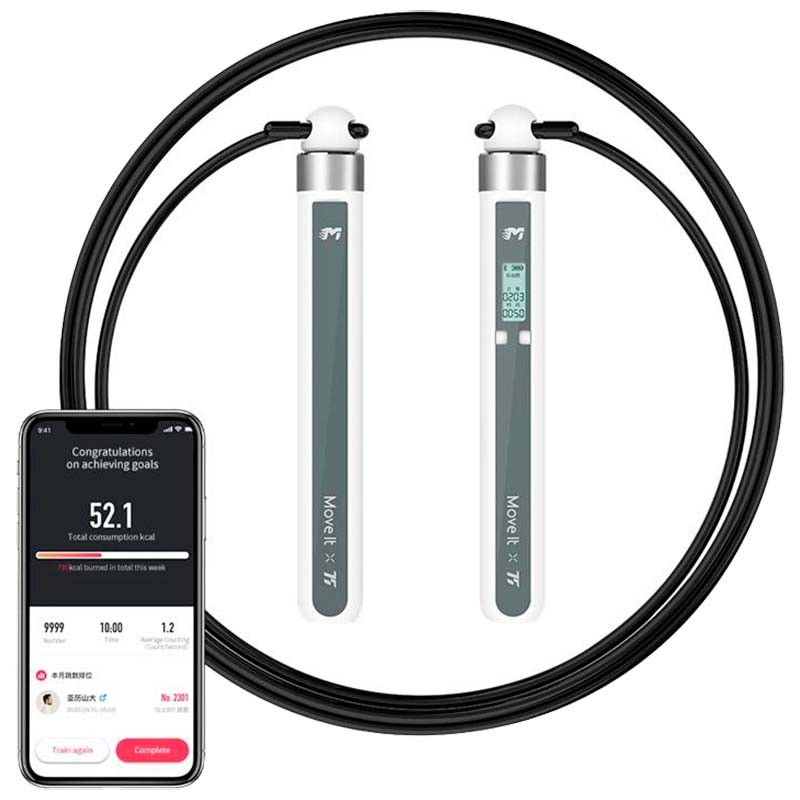 ---
Xiaomi Move It Volt, smart skipping rope with Bluetooth chip to count number of jump laps, exercise duration and calories burned
Built-in LED display - Maximum length 2.8 metres (adjustable) - Double metal bearings - High-precision Hall sensor - Bluetooth 4.0 - Effective for burning calories and increasing endurance - Work a wide range of muscles - 10 minutes is equivalent to 30 minutes of running
The Xiaomi Move It Volt Smart Skipping Rope is the perfect tool to reach your fitness goals anywhere, indoors or outdoors. It connects via Bluetooth to the Move It APP to keep track of all your workouts. Don't miss out! We give you all the reasons why you should buy the Xiaomi Move It at Powerplanetonline, so that you can turn your cardio sessions into a game.
Advantages of working out with the Xiaomi Move It Volt
Do you have little time to do sport during the day? Are you not working enough on your aerobic exercise? In that case, the Xiaomi Move It Volt is what you need.
The skipping rope, also known as a "jump rope", is an effective way to burn calories, lose weight, shape your figure and even get a flat stomach. It is a simple, complete and fun activity that improves balance and promotes correct body posture and, when well controlled, is an effective sport for increasing endurance capabilities.
Jumping with your Xiaomi Move It Volt rope ensures that you work a wide range of muscles, as it mobilises the entire lower body and tones your arms, shoulders, back and abs. It will also save you a lot of time, as 10 minutes of working out with it is equivalent to 30 minutes of running.
The smart part of the Xiaomi Move It Volt skipping rope
But... What does the Move It Volt skipping rope offer that nothing else does? Easy: the Xiaomi Move It Volt has smart operation. It adopts a high-precision sensor and Bluetooth chip with advanced counting algorithms. This system is able to monitor the movement of the handles and therefore perfectly calculate the number of rotations performed, among other things.
Subsequently, once connected to your phone via high-speed Bluetooth 4.0 technology, the data will be automatically uploaded and synchronised with the cloud. This way, through the Move It APP you can see both the rotation speed and the number of jump laps, the duration of the exercise and even an estimate of the calories burned, although you can also see some of this data in real time on the built-in LED display, or set goals and objectives to make it all much more fun and motivating.
2.8-metre rope with adjustable length and two bearings on each side
Of course, the Xiaomi Move It Volt smart skipping rope can be adapted to suit everyone, as the rope reaches 2.8 metres in length, although you can adjust it to your height.
On the other hand, if you look inside you will find two high quality metal bearings on each side, which allow you to rotate the rope easily without slowing down until reaching a higher rotation speed than other skipping ropes.
Technical specifications Xiaomi Move It Volt Smart Skipping Rope:
Brand: Xiaomi Move It
Product: Smart skipping rope
Model: Volt
Bluetooth version: 4.0
Battery: 70 mAh (3.7 V) lithium
Battery life: Around 30 days
Charging: Via Micro USB
Length: 2.8 metres max. (adjustable)
Materials: ABS + Acrylic + Metal
Dimensions of the handles: 170 x 22 x 22 mm
Weight: 160 g
Colour: White
Packaging content:
1x Xiaomi Move It Volt Smart Skipping Rope
1x USB Cable
1x User Manual
3 Xiaomi Move It Volt Smart Skipping Rope reviews
3 customers have already reviewed the article
the Xiaomi Move It Volt Smart Skipping Rope
What do you think?
3 global reviews

Review and win!
Every month we give away
300€ among all
the comments
We have no reviews in English
Select other languages
to see reviews of
Xiaomi Move It Volt Smart Skipping Rope.