Xiaomi Mi Robot Vacuum Mop - Robot Vacuum Cleaner Class B Refurbished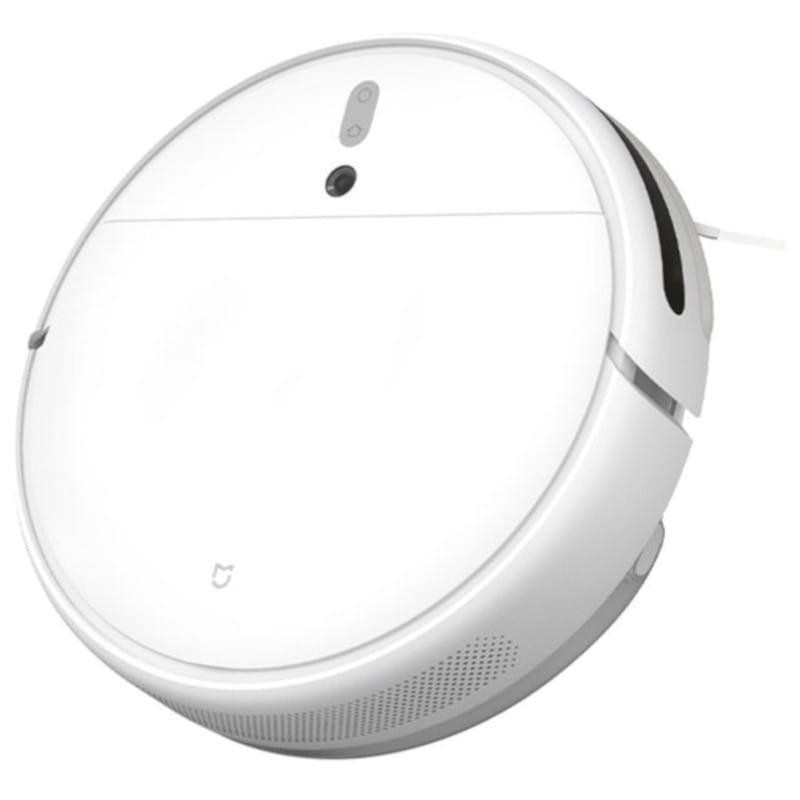 ---
Xiaomi Mi Robot Vacuum Mop - Robot Vacuum Cleaner
Robot vacuum cleaner - Autonomous vacuum cleaner - 600ml tank - 200ml water tank - 166º VSLAM sensor - 2500PA suction - Mop
*Refurbished Grade B: Previously used item that has undergone a repair. These items may show small signs previous of use such as scratches that do not affect its proper functioning and have a 1-year warranty.
*Turbo mode doesn't work

The new generation of Xiaomi Robot Vacuum Cleaners is here. With the new Xiaomi Mi Robot Vacuum Mop - Robot vacuum cleaner is the lightest version of the Xiaomi vacuum cleaners.

With increased suction power, greater capacity and the ability to mop around the house, it is the ultimate version of the Robot Vacuum Mop you have been waiting for.

Come and get the Xiaomi Mi Robot Vacuum Mop - Robot Vacuum Cleaner!
Increased cleaning capacity
The design of the new Xiaomi vacuum cleaner has maintained the classic lines and the characteristic white colour of the brand.

The laser sensor has been moved to the centre and the dust deposit has been enlarged to offer a capacity of up to 0.60L.

Another feature of the new Xiaomi engine is that it is capable of overcoming obstacles up to 2cm high, so a careless cable will no longer be an obstacle for the Xiaomi Mi Robot Vacuum Mop - Robot Vacuum Cleaner.
2400 mAh battery
It also has a 200ml wet cleaning tank. As for its battery, it has a 2400 mAh capacity, manufactured by LG and Panasonic, which will allow us a very wide autonomy, and when it has a 15% capacity left, it will go to its base to be able to charge up to 80% and clean again.
Improved motor with increased suction power
A new model requires improvements and Xiaomi has improved the suction capacity of the Xiaomi Mi Robot Vacuum Mop - Robot Vacuum Cleaner to 2500 PA of suction.

This new model of Xiaomi is able to trap a lot of dust and dirt and if there are pets in the house keep the annoying hair at bay.

In addition the new model of Xiaomi includes Mop, so it adds an extra cleaning as it first sweeps and vacuums and then passes the mop on the floor.
Water Tank for Precise and Efficient Cleaning
With a design inspired by nature, the water filter keeps the mop clean and controls the amount of water so that the floor is always left with the best result.

It has also been designed so that it is easy to recharge the water and replace the mop on your Xiaomi Mi Robot Vacuum Mop.

peaking of water, another new feature is the possibility of cleaning the dust filters with water, which makes it less necessary to replace them so that the efficiency of your new Xiaomi robot vacuum cleaner never drops.
Sensors everywhere
The first thing that comes to mind when talking about a stand-alone product is whether it will be able to clean effectively and efficiently on its own.

With the new Xiaomi Mi Robot Vacuum Mop you'll be left in no doubt that this is possible, as it has a visual navigation System VSLAM with 166º scanner that monitors everything around it to choose the most convenient cleaning route at any given time.

This laser is supported by a Cortex A7 processor for greater management of its capacity and its dual-core Mali 400 GPU.
Full control from your Smartphone
Thanks to the App of Xiaomi you can manually operate the Mi Robot, take the exact monitoring of the vacuum cleaner, the direction of cleaning and its exact position.

You can also turn the Xiaomi vacuum cleaner on and off from the app, change the cleaning mode and view the daily, weekly and monthly progress of all cleaning sessions.

Using the Xiaomi Mi Robot Vacuum Mop App is practically a game.

* It is recommended to use distilled water for the water tank of the vacuum cleaner. Lime blocks the tank and can cause the vacuum cleaner to malfunction.
Buy Xiaomi Mi Robot Vacuum Mop Robot Vacuum Cleaner at Powerplanetonline
Get your new Xiaomi Mi Robot Vacuum Mop at the best price at Powerplanetonline. 3-years-warranty, the best customer service and 24h shipment from Spain.
Technical Specifications Xiaomi Mi Robot Vacuum Mop - Robot Vacuum Cleaner Class B Refurbished:
Brand: Xiaomi
Model: Mi Robot Vacuum Mop (STY1J01ZHM)
Noise Level: Less than 50db in its quietest mode.
Functions: Aspiration, Mop, Scrub
Suction power: 2500 PA
Solid tank capacity: 0.6L
Liquid tank capacity: 0.2L
Filter: Washable HEPA - Double dust system, anti mites.
Cable Length (m): Wireless
Collision sensor: yes
Distance sensor: VSLAM 166º
Level Sensor: Yes
Gyroscope / Accelerometer: Yes
Control: Automatic mode and from App
App: Compatible with Android and iOS
Wifi: Yes
Battery: 2400 mAh LG Li-Ion
Charging time: About 250 minutes
Working time: 150 minutes - Can clean up to 250m with a single charge.
Weight: 3.6Kg
Size: 35.3 x 35 x 8.15 cm
Package content:
1 x Xiaomi Mi Robot Vacuum Mop - Robot Vacuum Cleaner Class B Refurbished
1 x Charging Base
1 x EU power adapter
1 x Filter
1 x Mopa
Xiaomi Mi Robot Vacuum Mop - Robot Vacuum Cleaner Class B Refurbished Reviews
We have no reviews
of Xiaomi Mi Robot Vacuum Mop - Robot Vacuum Cleaner Class B Refurbished
Be the first!

Review and win!
Every month we give away
300€ among all
the comments