Kingsmith Treadmill K12 Foldable Treadmill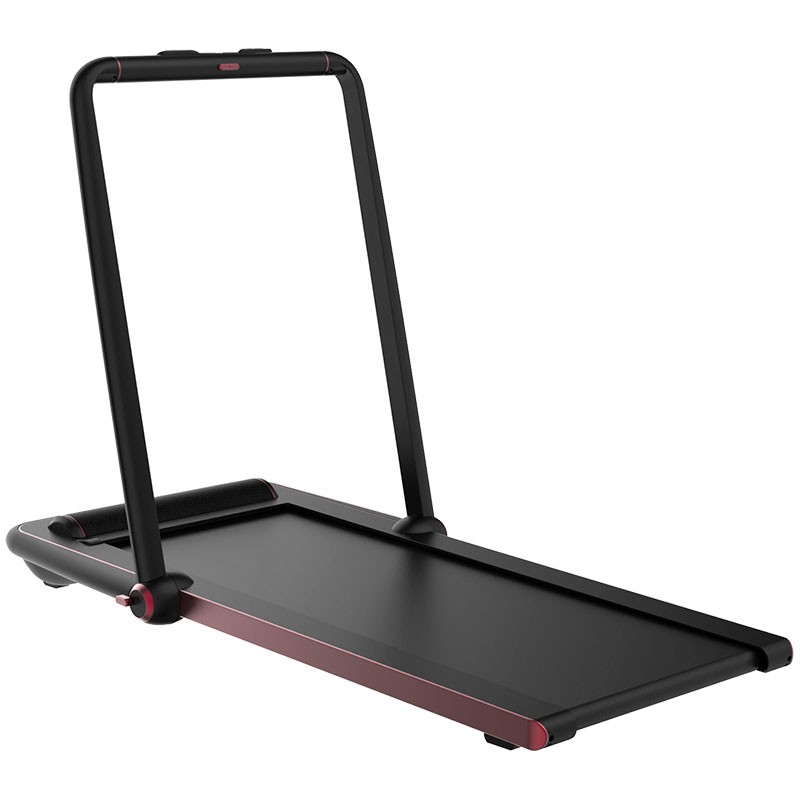 ---
Xiaomi Kingsmith Treadmill K12, Compact Treadmill with Excellent Manufacturing Finish
Suitable for walking and running - From 0.5 to 12 km/h - Small size - Easy to store - Remote control with built-in screen - Quiet - 5 levels of protection - Silicone cushioning
Kingsmith Treadmill K12. Keep fit with this amazing folding treadmill.
Its advantages? Its 5 levels of protection, its impeccable construction, its folding handlebar or its comfort in use, among other things.
If you want to know more about each of these parameters, read on and we'll tell you all about it! Here, in Powerplanetonline.
The Perfect Machine for Walking at Home
Do you have little time left to go to the gym during the day? Are you looking for a machine that you can have at home or in the office to use in those few free moments? If so, Xiaomi Kingsmith Treadmill K12 is what you are looking for.
It is a treadmill for running or walking, with a speed level ranging from 0.8 km/h to 12km/h.
It will be a great idea to place it in the living room and walk on it while watching your favorite series. You can even place it in your office to run at maximum speed, release tension, exercise your legs and avoid spending many hours in a row sitting down.
Easy to Transport and Store thanks to the Folding Design
If you don't have much space at home to store it, don't worry about it. Treadmill K12 has a folding front handlebar to reduce its size considerably. In fact, it will only take up 0.14 m2.
What's more, thanks to its 13.9 cm thickness, you can easily store it under the bed, the sofa or next to an empty wall area. And you won't even notice it's there!
On the other hand, it only weighs 33kg, so you can easily take it from one room to another.
Excellent Manufacturing Quality
Having already mentioned the two major advantages of the Kingsmith WalkingPad K12 treadmill, we will now focus on its perfect construction. Its strong aluminium construction significantly improves both the stability and durability of the product.
In addition, silicone cushioning also manages to reduce the impact of movements on your knees and ankles, preventing possible injuries to your joints. And its front bar will help you keep your balance when you need it.
Finally, the K12's renowned manufacturing quality supports loads of up to 100kg.
The silence of a Low Platform and a Brushless Motor
The height of the platform is only 53 mm, reducing the distance between the fuselage and the floor to make the treadmill more stable, as well as greatly reducing the noise generated during exercise.
Plus, it comes with a powerful but quiet brushless motor so your downstairs neighbours won't even notice what an athlete you are.
Automatic and/or Manual Speed Adjustment
To adapt the speed to your training needs, the Xiaomi Kingsmith Treadmill K12 can be controlled in 2 different ways.
On the one hand, there is the manual mode, which allows you to increase and decrease the speed, as well as start or pause its operation through the included remote control. This is also provided with a screen to see all the information in real time, such as speed, distance, steps, calories burned, etc.
On the other hand, the automatic mode works thanks to a high precision sensor, being your own pace the one that adapts the speed. In this way, it will increase it if it notices you are too far ahead and decrease it if you fall behind.
5 Protection Levels
Xiaomi Kingsmith WalkingPad K12 will be totally safe for any family member to use. This is possible thanks to the 5 levels of protection added. Here are the details:
Anti-slip: Quite a large walking area, of 124 x 48cm.
Auto stop: Stops automatically when no load is detected.
Children's safety: No more than 3km/h
Speed limit: Marks a speed limit
Overload protection: Stops automatically when it detects an overload.
Bring all your exercise data together with KS Fit App
Download the APP KS Fit to your Android or iOS smartphone. This way, when your Kingsmith WalkingPad K12 is synchronised, all the data from the registered exercise will be transferred to the mobile application, and you will be able to know in depth the progression of your routine, generate statistics and set goals.
Buy Xiaomi Kingsmith Treadmill K12 Folding Treadmill at Powerplanetonline
In short, Xiaomi Kingsmith WalkingPad K12 Folding Treadmill is the perfect choice for exercising at home or in the office. Get it for the best price here at Powerplanetonline. With shipping from Spain and 3 year warranty.
Technical specifications Xiaomi Kingsmith Treadmill K12 Foldable Treadmill:
Brand: Xiaomi Kingsmith
Product: Treadmill
Model: K12
Nominal voltage: 220V
Nominal power: 746W
Motor: Brushless
Speed range: 0.8 ~ 12km / h
Maximum load supported: 100kg
APP: KS Fit
Dimensions (unfolded): 148 x 79.2 x 106 cm
Dimensions (folded): 153 x 79.2 x 13.9 cm
Dimensions of the tape area: 124 x 48 cm
Weight: 33kg
Colour: Grey / Black
Packaging content:
1x Xiaomi Kingsmith Treadmill K12 Folding Treadmill
1x Power cable
1x Remote control
1x User Manual
7 Kingsmith Treadmill K12 Foldable Treadmill reviews
7 customers have already reviewed the article
the Kingsmith Treadmill K12 Foldable Treadmill
What do you think?
7 global reviews

Review and win!
Every month we give away
300€ among all
the comments
Leave a review!