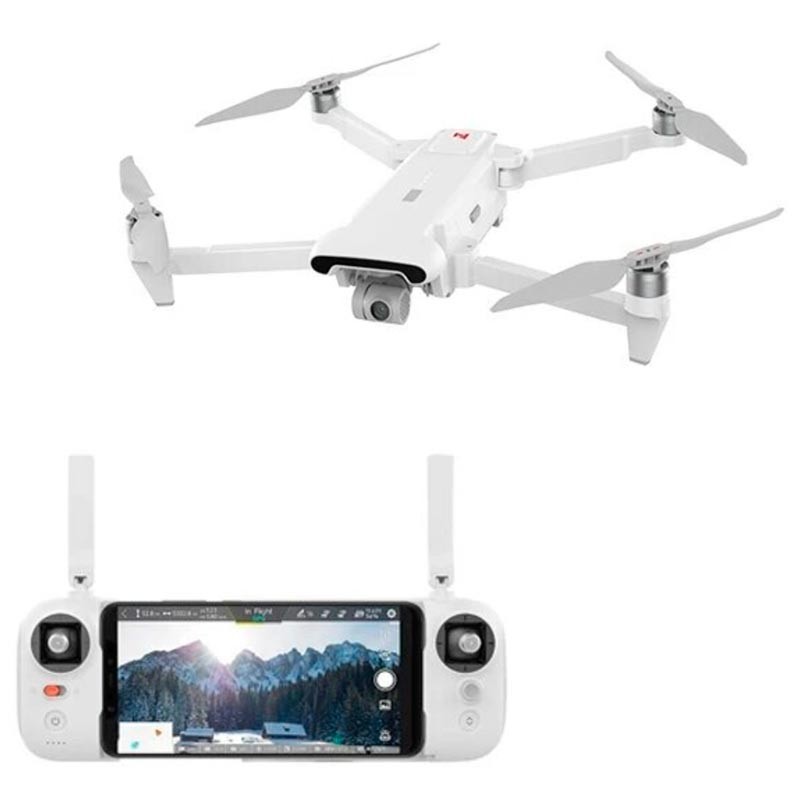 ---
Xiaomi FIMI X8SE 2020, the most value for money drone on the market
Drone FPV - 3 axis mechanical gimbal - Foldable and portable design - Smart flight modes - Control range up to 8000 meters - 35 minutes flight time - Precise visual position system - 4K camera - RTF
Fimi X8se 2020, the most value for money by Xiaomi. The best features to enjoy the best video and aerial photography.
We know you're a drone lover. You love the thrill of flight and the freedom to see everything from a bird's eye view.
That's why we're introducing the new Xiaomi drone, the Xiaomi FIMI X8 SE 2020, an upgrade of its incredible folding drone with an improved 4K camera, up to 8000 meters of control distance and a three-axis gimbal.
Stay at Powerplanetonline for an in-depth look at the drone that's going to become your new passion!
Sony Sensor, 4K Videos and Images
The main function of this drone, besides entertaining you by traveling through the clouds, is to take pictures and videos. That's because the Xiaomi FIMI X8 SE 2020 features a 1/2.6", 12MP, wide aperture f/2.0 Sony CMOS sensor.
This camera is also equipped with the latest Hisilicon ISP chipset, resulting in videos with 4K UHD 100Mbp resolution and high quality detail.
In addition, an F-log mode, a DNG RAW format and an updated settings panel give enthusiasts access to a more creative system. With the Dng Raw format we will be able to give a touch of creativity to our shots with a processing with many more possibilities.
HDR for videos and photos
In addition, the Xiaomi FIMI X8 SE 2020 supports high dynamic range (HDR) recording and photography. This mode gives us the opportunity to preserve all the original details of the scene, such as light or colour tone. We could always take the best photos.
Video on HEVC codec, less space, same quality
You can also capture video on H.265/HEVC codec, preserving image quality and detail but occupying 40% less memory than videos recorded on the H.264/AVC codec.
3-axis mechanical gimbal for total stability
There is no doubt that this drone is special for use in professional photography, not only because of the quality of the integrated 4K camera, but also because of the many technological features it incorporates so that the clarity of what is captured in snapshots or videos is ideal.
This is why the Xiaomi FIMI X8 SE 2020 is equipped with a 3-axis mechanical gimbal with professional control algorithms, which ensure the stability of the camera during flight whatever the weather conditions, and guarantee smooth videos.
Feel like you're flying thanks to its FPV system
One of the most interesting features of the new Xiaomi FIMI X8 SE 2020 is that it allows you to view in real time everything that your camera films through your smartphone or tablet, living an FPV experience. You'll feel like you're in the air!
Remote controller
In addition, you can place your smartphone on the transmitter to view images while controlling it, with a transmission distance of up to 8000 meters, 3000 meters more than in the previous version of this drone.
The remote control or transmitter is an ergonomically designed device for a better grip and is compatible with smartphones of all sizes, and even with some tablets, such as iPad Mini.
Foldable and easy to transport design
Take your Xiaomi FIMI X8 SE 2020 with you wherever you go and stay on top of your favourite hobby, as it's one of the easiest drones to transport.
Thanks to the folding capacity of its legs, you can carry it freely and take it anywhere you want to fly, so you can take it to the beach and the mountains without any problem!
Improved aerodynamics, for greater autonomy
You'll also be able to enjoy it for a long time, since an efficient aerodynamic design, a lightweight body, highly efficient engines and propellers.
A high-density Li-Po smart battery, combined to the other features to give your Xiaomi FIMI X8 SE 2020 drone a range of up to 35 minutes.
Different flight systems, ideal for beginners and professional pilots
But, as we said, this drone is mainly suitable for making professional videos and images, so you won't need to be an expert pilot to control the Xiaomi FIMI X8 SE 2020.
In fact, this one has different smart flight modes and image captures, even being able to mark a route for him to follow automatically, and even make circular movements, tracking planes, spiral movements, panoramic photography, Time-Lapse... Artificial Intelligence at your service.
High-precision GPS, with a large number of functions
It also has a very precise GPS positioning system, which will allow you to find out where your drone is and where it has gone, as well as tools to make the flight totally safe and to ensure that your drone does not get lost.
These include return to home, low battery reminder for return, wind warning, and resistance to water splashes and dust.
Buy Xiaomi FIMI X8SE 2020
By purchasing the Xiaomi Fimi X8se 2020 drone, we will have the best customer service. three year warranty. With shipping from Spain and delivery in 24 hours.
Technical Specifications Xiaomi FIMI X8SE 2020:
Drone

Vertical shift accuracy: ± 0.1m (within ultrasonic detection range) ± 5m (when GPS positioning is active)
Horizontal displacement precision: ± 1.5m
Maximum upload speed: 5m / s
Maximum descent speed: 4m / s
Maximum cruising speed: 18m / s
Flight limit height: 500 m
Maximum flight time (no wind): approximately 35 minutes (at a constant speed of 8 m / s)
Wind resistance: ≤50kph
Satellite positioning systems: GPS + GLONASS + BEIDOU
Operating Frequency: 5,725-5,850 GHz
Dimensions: 204 x 106 x 72.6 mm
Diagonal size: 372mm
Weight: 765 g

Remote control

Operating Frequency: 5,725-5,850GHz
Maximum controllable distance: about 8000m
Battery: 3900mAh lithium battery
Nominal Voltage: 3.7V
Charging port type: Micro USB
Input: 5V -2A
Dimensions: 203.8 x 91 x 46.6 mm
Weight: 370g

Gimbal

Controlled range of rotation: 0 ° ~ -90 ° Tilt angle
Angle control precision: ± 0.005 °
Stabilization: 3-axis gimbal

Camera

Lens: FOV 80 °
Aperture: f2.0
Focal length: 3.54mm
Equivalent focal length: 26mm
Sensor: 1 / 2.6 "SONY CMOS
Effective Pixels: 12M
ISO range: 100 - 3200
Shutter speed: 32 ~ 1 / 8000s
Maximum bit rate: 100 Mbps
Video resolution:

4K UHD 3840 x 2160 30/25 / 24fps
2.7K 2716 x 1524 60/50/30/25 / 24fps
1080P 1980 x 1080 90/60/50/30/25 / 24fps
720P 1280 x 720 120 / 200fps

File system: FAT32 / exFAT
Image format: JPG; JPG + DNG
Video format: MP4
Memory card type: Micro SD (U3 or higher) 8 - 256GB (Sandisk / Kingston U3 recommended)

Charger:

Nominal output: 13.05V / 3A
Nominal power: 39.15W
Nominal input: 100-240V ~ 50 / 60Hz 1.5A

Battery:

Charging limit voltage: 13.05V
Capacity: 4500mAh / 51.3Wh
Voltage: 11.4V
Weight: about 270g

Propeller:

Length: 8.5inch
Pitch: 3.3 inches

Package content:

1 x Xiaomi FIMI X8SE 2020
1 x transmitter
1 x Battery
6 x Propeller
1 x AC Cable
1 x charger
2 x Instruction Manual
9 Fimi X8 SE 2020 reviews
9 customers have already reviewed the article
the Fimi X8 SE 2020
What do you think?
9 global reviews

Review and win!
Every month we give away
300€ among all
the comments
Leave a review!
You might be interested in