Enchen Aurora T+ Electric Toothbrush Blue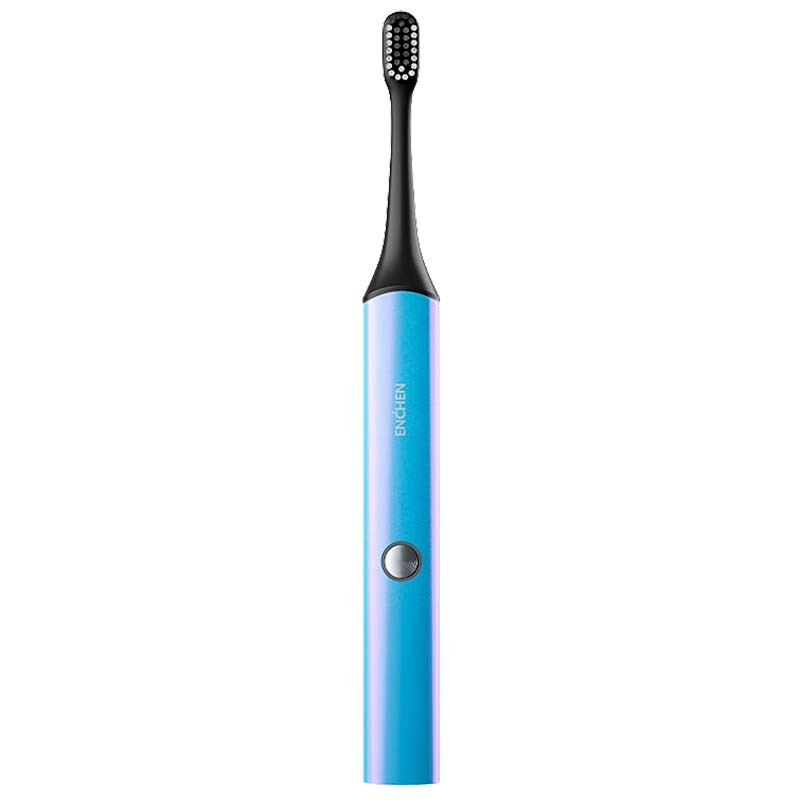 ---
Xiaomi Enchen Aurora T+, the Electric Toothbrush that Adapts to the Sensitivity of your Gums
Magnetic levitation motor - DuPont bristles - 3 cleaning modes - Timer - Wireless charging base - IPX7 certification - Maximum autonomy 14 days
Xiaomi is doing its best to improve our oral health, and we at Powerplanetonline are happy about that. With models like the new Xiaomi Enchen Aurora T+ toothbrush we have everything we need. With its magnetic levitation motor, DuPont bristles and various cleaning modes, all of which last up to 14 days, it is one of the most spectacular models you will find. Silent as few others. Stay with us and we'll tell you why it's so good!
Adapt It to Your Needs
Smart toothbrushes are here to stay, and that is unquestionable. They are capable of offering us functionalities that take the experience of oral hygiene to a higher level. Adapting to you, to your characteristics and to your needs. Thus, this new Xiaomi model has 3 brushing modes:
Standard mode: for daily cleaning, it works at a high vibration frequency.
Gentle mode: gentle on sensitive gums, dental appliances or other problems, also to help your mouth adapt.
Health Mode: a rhythmic frequency that will eliminate damage to your teeth like coffee, tea or tobacco.
Magnetic Levitation Motor for about 4000 Times per Second
Optimal cleaning of your teeth is also guaranteed by the magnetic levitation motor of the new Xiaomi Enchen Aurora T+, which achieves 40,000 movements per minute. Sonic toothbrushes create pressure waves resulting from the mixture of saliva, water and toothpaste, and are capable of reaching areas where other brush variants cannot, eliminating all the plaque and achieving a sensation of cleanliness and freshness from the first use. You don't need to apply any kind of pressure to achieve a spectacular cleaning of your gums, just let the brush do what it has to do.
It will tell you when to change (and finish)
We will not tire of saying it, Xiaomi's devices are meant to improve our lives. This is an IPX7 waterproof model so you can use it for a long time without any problems. And so you can keep track of your cleaning and have everything just the way you want it, this model has a timer that will alert you to change zones every 30 seconds of brushing and also warn you when 2 minutes have passed and you can finish brushing. Its long-lasting battery, ensures up to 14 days of cleaning approximately with just one charge, and you will be able to enjoy it like never before.
Trust the new Xiaomi Enchen Aurora T+ Blue electric toothbrush, which you can find at Powerplanetonline
Enjoy oral health. In addition, you can have it with three years of warranty and shipping from Spain and home delivery within a few days,
Technical specifications Xiaomi Enchen Aurora T+ Electric Toothbrush Blue:
Brand: Xiaomi Enchen
Model: Aurora T +
Magnetic levitation motor
3D curved head
DuPont bristles
40000 times / minute vibration (high frequency)
3 cleaning modes
IPX7 certified
Reminder at 30 s (area change) and 2 minutes (cleaning)
Usage time: up to 14 days
Body Material: ABS
Dimensions: 25 x 2.6 cm
Colour: Bluie
Package content:
1 x Xiaomi Enchen Aurora T+ Electric Toothbrush Blue
1 x Head
1 x Charging base
1 x Charging Cable
Enchen Aurora T+ Electric Toothbrush Blue Reviews
We have no reviews
of Enchen Aurora T+ Electric Toothbrush Blue
Be the first!

Review and win!
Every month we give away
300€ among all
the comments