Dreame XR - Cordless / Bagless Vacuum Cleaner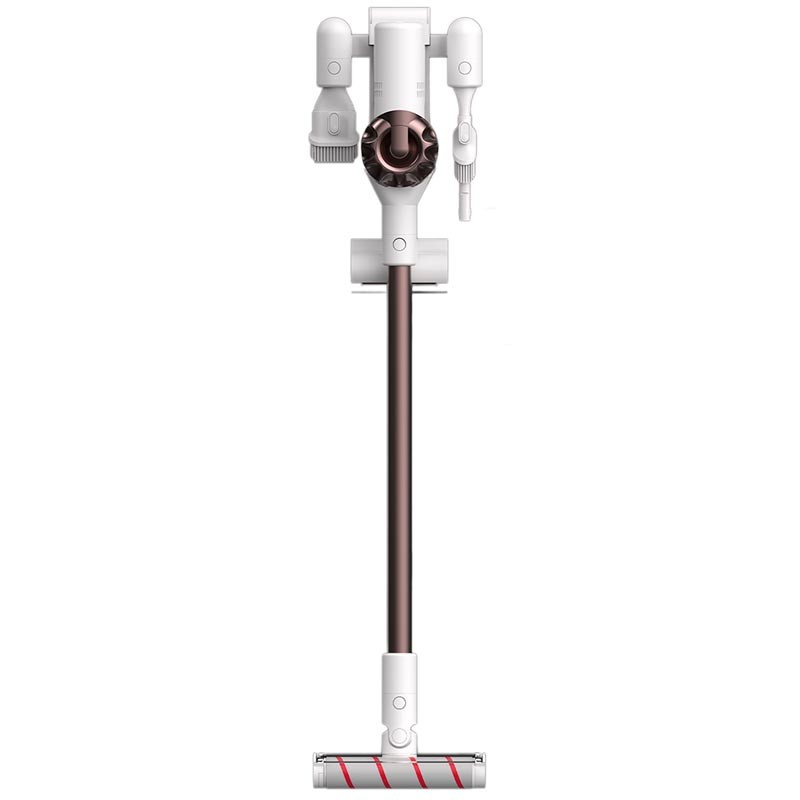 ---
Dreame XR - Cordless / Bagless Vacuum Cleaner
For all types of surfaces - With various heads - 100000 rpm maximum - Wind pressure 22000 Pa - Usage time 1 hour - "SmartCool" cooling system - Quiet operation
Dreame is one of the most versatile companies at the moment. We all know about various Dreame products, but what you may not have known is that the brand's vacuum cleaners are of exceptional quality. If you're already fascinated by the old Dreame vacuum cleaner saga, then this year you're going to be thrilled with the Dreame V10 and, of course, the one we present here, the Dreame XR. So the XR is a top model, based on the latest Space 3.0 Turbo engine technology, where power and hydrodynamics have been taken a step further. This way, the XR will offer you the highest performance everywhere and on any surface, adapting perfectly to any nook and cranny, achieving a great capacity to absorb dust and leaving your house much cleaner.
Super suction power with four independent motors
Of course, one of the features that makes this new Dreame XR vacuum cleaner stand out is its suction power. This can reach a wind pressure of 22000Pa, to leave everything clean with very little effort. This is also due to its composition of 4 independent motors: a main motor that reaches 100,000 revolutions, a large diameter motor for the main brush, another double spiral motor for the brush (especially for carpets and fabric surfaces) and a motor for the deep removal of mites. This motor system is capable of optimizing both the efficiency and the effectiveness of the device, maintaining a stable and strong use of power, being able to handle any type of surface.
MES system with cooling system
The full name of the MES system is "MES cooperative engine, resistance and cooling system", composed of the powerful 100,000rpm engine (which we talked about in the previous paragraph), an electric circuit with turbo Boost and 2500mAh battery (which we will talk about later) and an autonomous cooling system, called "SmartCool". It performs its function thanks to an exhaustive channel, achieving a real-time heat dissipation and ensuring the perfect working state of both the engine and the battery.
2500mAh high capacity battery
One of the most important aspects when choosing our new vacuum cleaner is its autonomy. That's why the Dreame XR comes with a high-capacity 2500 mAh battery that can give you up to 60 minutes in standard mode*, 28 minutes in efficient mode and 10 minutes in high power mode. Plus, you can conveniently charge it in its 2-in-1 wall mount and charging support, saving time and space.
*Running times are subject to certain parameters, such as the amount of dirt or the type of surface.
Perfect for all types of houses
It is also important to note that at Dreame they are prepared for anything and adapt their vacuum cleaner to any type of home and surface. Something quite important if it is a cordless and bagless vacuum cleaner since, in general, we will want it to clean also little accessible areas, with curves or very narrow. The Dreame XR was not going to be less and is specially designed so that you can use it in all possible situations, that is why it has a reduced weight and size, as well as various heads, which allow you to use it on softer or harder surfaces, the top of the wall rollers, the holes of the sofa, etc. Especially thanks to the independent motors for the brushes, there will be nothing to resist. In addition, it achieves a purification rate of 99.9%, with 5 stages of dust filtering. And, thanks to its HEPA filter, it can capture particles down to 0.3µm. Dust mites won't be a problem either, as the XR vacuum cleaner is capable of removing 99.9% of the dust you have around the house.
Reduced noise and ergonomic design
While all of the above is fine, Dreame knows that what really makes the difference is the small details. That's why the Dreame XR has been carefully designed, taking into account noise reduction in each and every part, starting with a fibre composition in its main housing, an optimised brushless motor and perfect finishes so that vibration and resonance are not a problem. I also dare say that the perfect ergonomic design of the Dreame XR will be the key point in your decision to buy it, as it is the most comfortable to hold while doing your cleaning tasks.
Keep your house clean easily thanks to the new Dreame XR vacuum cleaner in Powerplanetonline!
Technical characteristics Dreame XR - Cordless vacuum cleaner / Bagless:
Brand: Dreame
Model: XR
For all types of surfaces: carpets, wood, ceramics, marble, tiles, textiles, etc.
With different heads
Motor:

Maximum RPM: 100,000 RPM
Wind pressure: 22000 Pa

Material: ABS plastic and aluminum alloy.
Dust tank capacity: 0.5 L
Noise: 73 dB
Power: 450 W
Nominal voltage: 25.2 V
Battery

Capacity: 2500 mAh
Autonomy time: approximately 1 hour
Charging time: 3.5 hours

Dimensions and weight

Measures: 60 x 22 x 23 cm.
Product weight: 1.5 kg

White color
Package content

1 x Dreame XR - Cordless Vacuum Cleaner / Bagless
1 x short head tube
1 x long head tube
1 x Soft Roller Cleaning Head
1 x Carpet Cleaning Head
1 x Mite Cleaning Head
1 x 2-in-1 powder brush
1 x 2 in 1 flat head
1 x Charger
1 x Wall Charging Station
1 x User Manual (English)
12 Dreame XR - Cordless / Bagless Vacuum Cleaner reviews
12 customers have already reviewed the article
the Dreame XR - Cordless / Bagless Vacuum Cleaner
What do you think?
12 global reviews

Review and win!
Every month we give away
300€ among all
the comments
We have no reviews in English
Select other languages
to see reviews of
Dreame XR - Cordless / Bagless Vacuum Cleaner.