Dreame V9P - Cordless / Bagless Vacuum Cleaner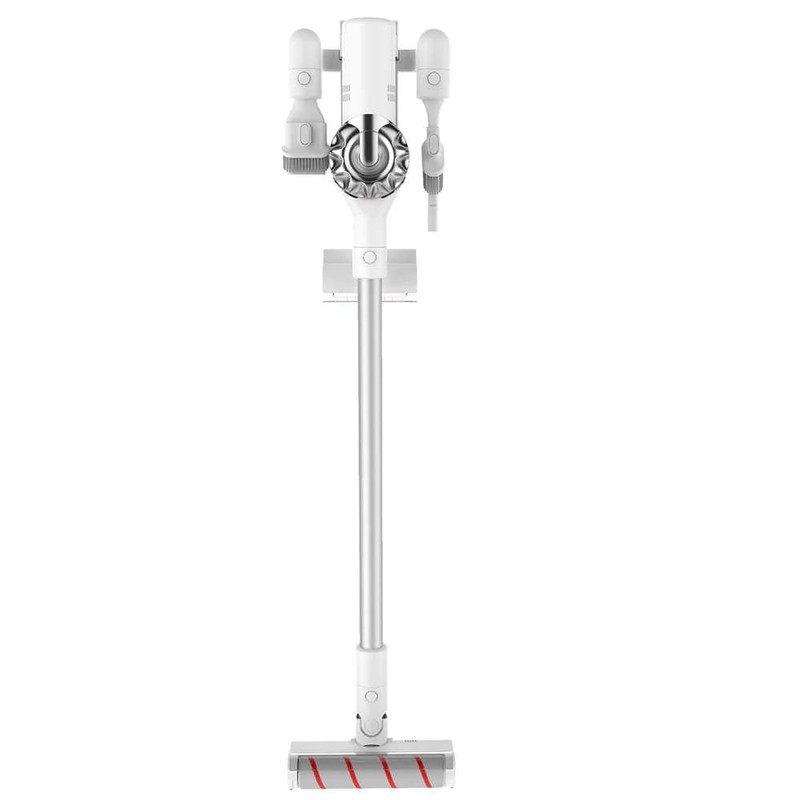 ---
Dreame V9P, cordless hoover at the best price on the market.
For all types of surfaces - With various heads - 100000 rpm maximum - Time of use 1 hour
It adapts perfectly to the places featuring a great suction power to remove dust and leave your house much more clean. Everything, with the greatest comfort and ease.
Dare to discover the new features of the Dreame V9P at Powerplanetonline!
Small Size and Lightness, Ideal for any Home
Dreame knows that not all houses are alike. That's why its range of cordless and bagless hoovers is specially designed for use in all situations.
The new Dreame V9P from Dreame is designed to be easily adaptable to all homes.
Thanks to its small size, light weight and its several heads, you can use it on various softer or harder surfaces, depending only on you.
You will be able to have a clean house in a very simple way.
Powerful and Durable, High Suction Power
But one of the features that makes this new Dreame V9P hoover stand out is that it is designed to be very powerful.
It can reach speeds of up to 100,000 rpm, so it can get everything clean very quickly. And one of the most interesting aspects when choosing a hoover is its durability.
This new model of Dreame has a long life, since it has a high-quality brushless motor and impressive finishes for such an affordable model.
Huge battery
And the last feature you'll love about the new Dreame V9P is its awesome autonomy.
It has an autonomy time of approximately 1 hour, which will allow you to use your hoover very easily and leave the whole house clean.
In addition, its charging time is very short, only 3.5 hours. Keep your house clean easily thanks to the new hoover.
Specifications Dreame V9P - Cordless / Bagless Vacuum Cleaner
Brand: Dreame
Model: V9P
For all types of surfaces: carpets, wood, marble, tiles, etc.
With different heads
Motor:

Type: Brushless
Maximum RPM: 100,000 rpm
Suction Power: 20000 pa

Material: plastic, ABS and aluminum alloy
Dustbin Capacity: 0.5 l
Noise: 78dB
Rated Power: 400W
Rated Voltage: 4.5-18V
Frequency: 50 - 60 Hz
Battery

Capacity: 2500 mAh
Voltage: 25.2V
Battery Life: Approximately 1 hour
Charging Time: 3.5 hours

Dimensions and Weight

60 x 22 x 23 cm
Product Weight: 1.5 kg
Colour: White
Box Content
1x Dreame V9P - Cordless / Bagless Vacuum Cleaner
1x Main Duct
1 x Main Brush
1 x Anti-Mite Brush
1 x Dust Removal Brush
1 x Clear Soft Brush
1 x Power Plug
1 x Charging Dock
1 x User Guide (English)
31 Dreame V9P - Cordless / Bagless Vacuum Cleaner reviews
31 customers have already reviewed the article
the Dreame V9P - Cordless / Bagless Vacuum Cleaner
What do you think?
31 global reviews

Review and win!
Every month we give away
300€ among all
the comments
Leave a review!