Dreame V12 - Cordless / Bagless Vacuum Cleaner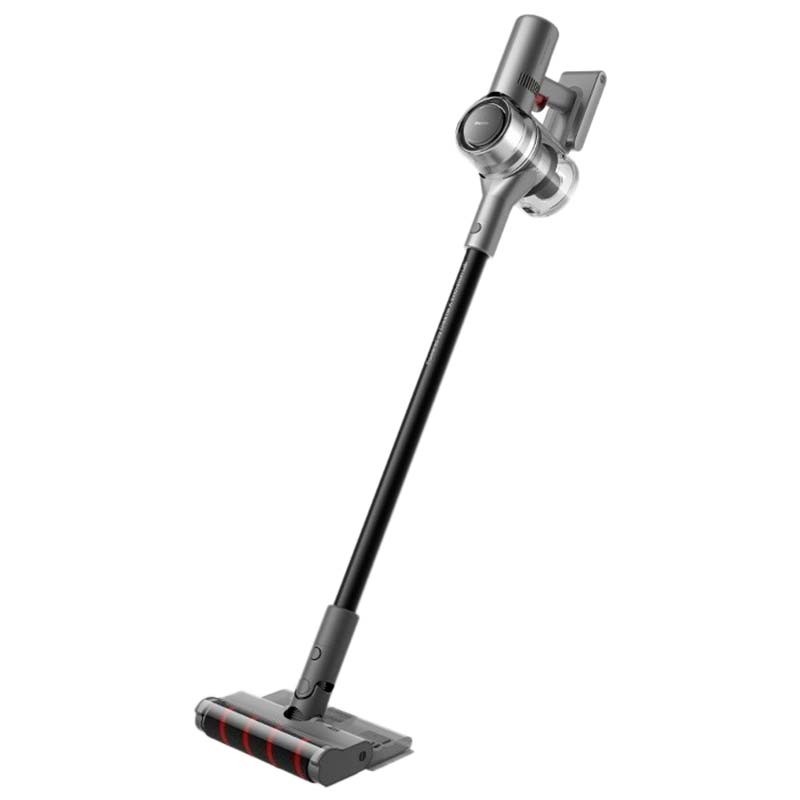 ---
Dreame V12, high-power cordless vacuum cleaner with up to 27,000 Pa
For all types of surfaces - With various heads - Dreame Space 5.0 motor - 150.000 RPM - 25.000Pa - 185 aW - 500 ml dust tank - Full color HD LED display - 3000 mAh lithium battery - Smart power supply system - Battery life up to 90 minutes - Cyclonic technology with 12 cones - 5-stage filtration - <73 dB
The Dreame V12, now with a very high level of power, great battery life and a fascinating design, has been created to leave even the most demanding homes clean like a whistle.
Do you want to know more? Keep reading, we'll tell you all about it here at Powerplanetonline.
Hyper-fast motor up to 150,000 rpm
The best thing about the new Dreame V12 is the powerful brushless motor that accompanies it. It is an innovative Dreame Space 5.0, which spins at 150,000 revolutions per minute (20% faster than the Dreame V11) and uses aerospace engineering techniques to provide a suction power of up to 27,000 Pascals (Pa). Likewise, the Dreame V12 achieves 185 air watts (aW), putting it at the same level as the Dyson V11, but with many more advantages and at a lower price.
90 minutes of maximum battery life
Of course, being a cordless vacuum cleaner, the Dreame V12 is powered by a 3000 mAh lithium battery. This large capacity, coupled with a system that optimizes both airflow and energy consumption, gives us a battery life of up to 90 minutes* on a single charge in Standard mode.
This time will be enough to clean homes of up to 170 square meters*, taking into account that this type of vacuum cleaner saves us many minutes compared to conventional ones due to the convenience of the wireless system.
As if that weren't enough, the Dreame V12 includes a wall charging base, helping you keep it tucked away when not in use and always ready when you need it.
*Battery life times are subject to certain parameters, such as the amount of dirt, the type of surface or the mode (power level) selected.
12-cone cyclonic technology and 5-stage filtration
One of those power consumption optimizations of the Dreame V12 that we talked about in the previous section is sponsored by its cyclonic technology, which includes 12 cones that effectively separate dirt and air to contribute to the filtering system and its efficiency, as well as to maintain maximum capacity as the 0.5 liter dust tank fills up and the battery runs out of power.
This technology is part of a 5-stage filtration system that manages to capture 99.87% of microparticles down to 0.3 μm in size. For this reason, the Dreame V12 is perfectly suitable for people suffering from any type of allergy or respiratory condition.
Accessories for cleaning any surface
On the other hand, the Dreame V12 also includes several nozzles and brushes that will help us remove dirt from different surfaces with ease.
For starters, the multi-surface V-Shape brush performs well on hard floors as well as on carpets and rugs. It combines rubber with bristles to effectively get rid of any type of particle (dust, hair, crumbs...). In addition, its V-shape and large diameter put an end to the dreaded hair tangles.
To this we must add a practical mini brush, designed to achieve a dust mite removal rate of 99.9% from soft and delicate surfaces, such as beds, sofas or pillows. Likewise, the flat nozzle with built-in light (AMAZING novelty!) allows us to vacuum hard-to-reach corners, crevices or recesses, while the 2-in-1 brush is perfect for vacuuming curtains and fabrics. It is also perfect for removing fine hair from sofas, beds, etc. Or even for smaller surfaces or ingrained dirt.
The Dreame V12 also comes with a flexible bend to help you clean under furniture conveniently, as well as a flexible extension tube. There will be no nook or cranny it can't reach!
LED display and lock button for Continuous Mode
Know the status of your cordless and bagless vacuum cleaner at all times! The Dreame V12 is equipped with an impressive full-color HD LED display that shows in real time all the information you need to know: battery level, selected cleaning mode, maintenance reminders and the need to replace filters.
Plus, you can give your finger the rest it deserves. For continuous cleaning, click on the lock button to keep the V12 vacuum cleaner running without having to operate it. It couldn't be more convenient!
8-stage noise reduction
It should also be noted that Dreame has taken great care in the design of the new V12 vacuum cleaner in order to make it as quiet as possible, including an 8-stage system (brushless motor that reduces friction, noise-absorbing foam, closely connected components that reduce vibrations, optimized air passage, improved ventilation ducts, etc.), which reduces noise levels to 73 dB at maximum power.
Easy cleaning and tank emptying
It's time to clean your cordless vacuum cleaner and... Oof, what a drag! Almost better to go back to the broom you have always used, right?
Well, not at all! Emptying the tank of the Dreame V12 is super simple and hygienic, since you only have to place it over a bucket or garbage bag and press a button. In addition, you can disassemble its heads and filters to wash them comfortably under water, just let them dry before using them again!
In short, the Dreame V12 stands as one of the most powerful cordless vacuum cleaners on the market, with an outstanding suction capacity and accessories suitable to meet our cleaning needs. So, don't think twice! Buy Dreame V12 - Cordless / Bagless Vacuum Cleaner at Powerplanetonline.
Technical specifications Dreame V12 - Cordless / Bagless Vacuum Cleaner:
General parameters

Brand: Dreame
Model: V12
Surfaces: All types of surfaces (carpets, wood, ceramic, marble, tiles, textiles, etc)

Motor

Model: Dreame Space 5.0
Maximum RPM: 150,000 RPM / min
Wind pressure: 27,000 Pa
Suction power: 185 aW max.

Technical parameters

Dust container capacity: 0.5 L
Nominal power: 550 W
Nominal voltage: 25.2 V

Battery

Capacity: 3000 mAh
Type: 7-cell Lithium
Battery life: 10 ~ 90 minutes
Charging time: 4 hours

Appearance

Weight: 1.65 kg (without nozzles or brushes)
Color: Gray

Package content

1 x Dreame V12 - Cordless / Bagless Vacuum Cleaner
1 x Multi-surface brush
1 x Mini anti-mite brush
1 x Flat nozzle with built-in light
1 x 2-in-1 Wide Brush
1 x Long brush
1 x Extension tube
1 x Flexible extension tube
1 x Flexible bend
1 x Wall base
1 x Charger
1 x User Manual
Dreame V12 - Cordless / Bagless Vacuum Cleaner Reviews
We have no reviews
of Dreame V12 - Cordless / Bagless Vacuum Cleaner
Be the first!

Review and win!
Every month we give away
300€ among all
the comments