Dreame V11 SE - Cordless / Bagless Vacuum Cleaner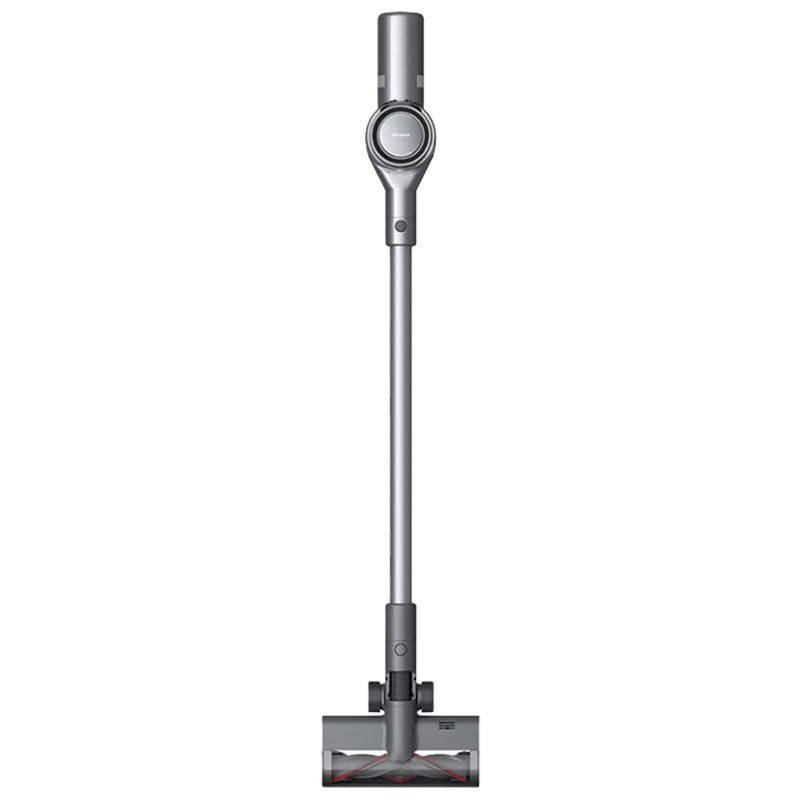 ---
Dreame V11 SE, cordless vacuum cleaner with 24,000 Pa, battery life of up to 60 minutes and new V-Shape multisurface anti-tangle brush
For all types of surfaces - With various heads - Dreame Space 4.0 motor - 125.000 RPM - 24.000 Pa - 150 aW - 500 ml dust tank - HD LED display - 2500 mAh lithium battery - Smart power supply system - Battery life up to 60 minutes - Cyclonic technology with 12 cones - 5-stage filtration - <72 dB
Introducing the incredible Dreame V11 SE, a new edition of the already famous cordless vacuum cleaner, Dreame V11, In this more inexpensive version, Dreame offers us the same power under an battery life of 60 minutes, a renewed and spectacular design in gray color and an innovative multi-surface brush with anti-tangle system.
Are you going to miss it? Then read on to learn more about the features of the Dreame V11 SE.
Powerful brushless motor: 125000 RPM, 24000 Pa and 150 aW
As we have already hinted, the Dreame V11 SE keeps the same brushless motor that already accompanied the V11. Indeed, it is a Dreame Space 4.0, which spins at a maximum speed of 125,000 revolutions per minute.
With a suction power of up to 24,000 Pascals (Pa) and 150 air Watts (aW), the V11 SE stands as one of the most powerful cordless vacuum cleaners on the market, being able to suck up even the largest particles.
LED display and lock button for Continuous Mode
Know the status and needs of your broom vacuum cleaner at all times! The Dreame V11 SE is equipped with an impressive HD LED display that shows in real time all relevant information (battery level, selected cleaning mode, maintenance reminders and the need to replace filters) so you don't have to keep track of anything.
Plus, if you're going to do continuous cleaning, click the lock button to keep the V11 SE vacuum cleaner running without having to operate it. More convenient than ever!
Up to 60 minutes of battery life
Leave your house clean from top to bottom in the shortest possible time. The Dreame V11 SE has both a 2500 mAh battery and efficient battery usage. It automatically adjusts the power supply depending on the operational status. This way, the Dreame V11 SE makes sure to provide the highest possible power under optimised battery consumption.
The result is up to 60 minutes of battery life* on a single charge in Standard mode. You will see that this time will be enough to clean even large homes, especially if we take into account the many minutes saved by the convenience of the wireless system compared to conventional wired ones.
As if that weren't enough, the Dreame V11 SE includes a wall charging base, helping you keep it tucked away when not in use and always ready when you need it.
*Battery life times are subject to certain parameters, such as the amount of dirt, the type of surface or the mode (power level) selected.
Accessories for vacuuming any surface
Of course, the Dreame V11 SE also includes several nozzles and brushes that will help you remove dirt from any type of surface with ease.
As mentioned at the beginning, the V11 SE features a new multi-surface V-Shape brush, which combines rubber and bristles to effectively get rid of any kind of particles on hard floors as well as on carpets and rugs. In addition, its V-shape and slightly larger diameter put an end to the dreaded hair tangles.
Add to that a handy mini-brush that can remove 99.9% of dust mites on soft, delicate surfaces such as beds, sofas and pillows. Meanwhile, the flat nozzle allows us to vacuum corners, crevices or hard-to-reach recesses, while the 2-in-1 brush is perfect for vacuuming curtains and fabrics, and also for removing finer hairs from sofas, beds, etc. Or even for smaller surfaces or ingrained dirt, there will be no nook or cranny you can't reach!
12-cone cyclonic technology and 5-stage filtration
However, 99.9% dust mite removal would not be possible without its fantastic 5-stage filtration system and state-of-the-art 12-cone cyclonic technology, which effectively separates micro particles from the air while ensuring maximum power, even when the 0.5 liter dust tank is nearly full and the battery is running low.
Noise reduction in 7 stages
It should also be noted that Dreame has taken great care in the design of the new V11 SE vacuum cleaner in order to make it as quiet as possible, including a 7-stage system (brushless motor that reduces friction, noise-absorbing foam, closely connected components that reduce vibrations, optimized air passage, improved ventilation ducts, etc.), which reduces noise levels to 72 dB at maximum power.
Easy cleaning and tank emptying
It's time to clean your cordless vacuum cleaner and... Oof, what a drag! Almost better to go back to the broom you have always used, right?
Well, that won't happen again with the Dreame V11 SE. Emptying the tank is super simple and hygienic, since you only have to place it over a bucket or garbage bag and press a button. In addition, you can disassemble the heads and filters to wash them comfortably under water. Let them dry before using them again!
Have we convinced you yet? Buy Dreame V12 - Cordless / Bagless Vacuum Cleaner at Powerplanetonline.
Technical specifications Dreame V11 SE - Cordless / Bagless Vacuum Cleaner:
General parameters

Brand: Dreame
Model: V11 SE
Surfaces: All types of surfaces (carpets, wood, ceramic, marble, tiles, textiles, etc)

Motor

Model: Dreame Space 4.0
Maximum RPM: 125,000 RPM
Wind pressure: 24,000 Pa
Suction power: 150 aW max.

Technical parameters

Dust container capacity: 0.5 L
Nominal power: 450 W
Nominal voltage: 25.2 V

Battery

Capacity: 2500 mAh
Type: 7-cell Lithium
Battery life: 60 minutes (max.)
Charging time: 3.5 hours

Appearance

Weight: 1.6 kg (without nozzles and brushes)
Color: Gray

Package content

1 x Dreame V11 SE - Cordless / Bagless Vacuum Cleaner
1 x Multi-surface brush
1 x Mini anti-mite brush
1 x Flat nozzle
1 x 2-in-1 Brush
1 x Extension tube
1 x Wall base
1 x Charger
1 x User Manual
1 Dreame V11 SE - Cordless / Bagless Vacuum Cleaner reviews
1 customers have already reviewed the article
the Dreame V11 SE - Cordless / Bagless Vacuum Cleaner
What do you think?
1 global reviews

Review and win!
Every month we give away
300€ among all
the comments
Leave a review!