Dreame V10 Mistral Pro - Cordless / Bagless Vacuum Cleaner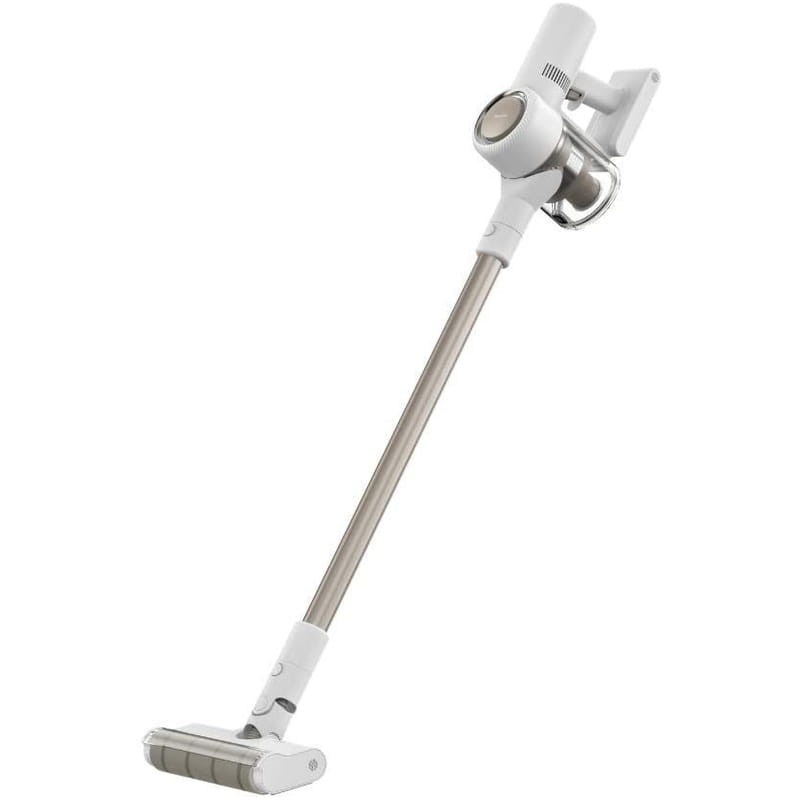 ---
Dreame V10 Mistral Pro, cordless vacuum cleaner with digital display, trigger lock and improved roller with anti-tangle design
For all types of surfaces - With several heads - 450 W - 100.000 RPM - 22.000 Pa - 140 aW - 500 ml dust tank - 2500 mAh lithium battery - Battery life up to 60 minutes - Digital display with trigger lock - Cyclonic technology with 12 cones - 5 stages filtration - <72 dB
Dreame V10 Mistral Pro, the most professional cleaning.
If something distinguishes Dreame vacuum cleaners is their versatility, that's why the V10 Mistral Pro includes different accessories that allow you to clean your entire home, from the floor to the ceiling, including mattresses, furniture, curtains and even the computer keyboard. This time, this fascinating cordless vacuum cleaner has several improvements compared to the previous model, the Dreame V10, that make cleaning easier and guarantee a more efficient and complete vacuum cleaner, such as an improved roller and a digital display with trigger lock. Don't miss it! Here are all the reasons why you should buy the Dreame V10 Mistral Pro at Powerplanetonline.
High suction power with Smart Cool technology
Don't worry a bit, the Dreame V10 Mistral Plus keeps all the power of the V10. Its digital motor reaches a power of up to 450 W and 100,000 rpm, which gives it a great suction power of 140 aW and 22000 Pa. In addition, it integrates the revolutionary Smart Cool technology, which constantly cools the air to improve the efficiency of the motor. You'll see how clean everything stays!
High-performance battery
On the other hand, the runtime level of the Dreame V10 Mistral Pro is very high thanks to its battery, which allows it to run for up to 60 minutes in standard mode, 30 minutes in efficient mode and 10 minutes in turbo mode. On a single charge! To this we must add the long minutes saved by the convenience of the wireless system compared to the conventional wired ones.
*Battery life times are subject to certain parameters, such as the amount of dirt, the type of surface or the mode (power level) selected.
Digital display with trigger lock
Here is the differential feature of the V10 Pro compared to its siblings! With the Dreame V10 Mistral Pro you can forget about keeping the trigger pressed during the whole vacuuming process, since it incorporates a display that allows you to choose the trigger lock feature, improving the experience and allowing you to clean in a more comfortable and easier way.
In addition, its high quality TFT LCD (Thin Film Transistor-Liquid Crystal Display) digital display allows you to control the different features of the product with a single click, such as the filter status and the remaining battery.
5-stage filter system with HEPA filter and 12 cyclones
The superb V10 Mistral Pro vacuum cleaner also incorporates an advanced 5-stage filter system. Thus, while the H12 grade HEPA filter takes care of small dust particles with a diameter of less than 0.3μm, the other filters remove microscopic dust, separate large particles and block contaminants.
Moreover, its 12-cyclone system separates and reduces dust particles, also reducing the filter load by 63%. This doubles the filter life compared to previous models.
Noise reduction in 6 stages
We must also highlight the care that Dreame has put into the design of the new V10 Mistral Pro vacuum cleaner in order to make it as quiet as possible. So much so that its revolutionary 6-stage noise reduction system provides improvements in the different stages of vacuuming that considerably reduce the sound of the motor and air.
Improved roller and multiple accessories
Another new feature of the Dreame V10 Mistral Pro is its improved roller, which is suitable for all types of floors. This has been designed to prevent tangling of collected hairs and is powered by an independent motor that improves suction and cleaning efficiency.
In addition to this, the multiple accessories of the V10 Mistral Pro allow a customised cleaning that adapts to each type of surface, such as the corner-piece + bristle brush, the anti-dust mite head or the extendible tube.
Ergonomic and lightweight design
And to make it even easier for you, the motor and battery of Dreame V10 Mistral Pro have been manufactured with an ergonomic design that fits on the end of the vacuum cleaner. This makes it easier to handle and lift, so you can reach higher and inaccessible areas.
Easy tank cleaning and emptying
It's time to clean your cordless vacuum cleaner and... Phew, what a bore! Almost better to go back to the old school broom, right? Well, no! Emptying the tank of the Dreame V10 Mistral Pro is super simple and hygienic, since you only have to place it over the bucket or garbage bag and press a button, without having to come into contact with the dirt.
Technical specifications Dreame V10 Mistral Pro - Cordless / Bagless Vacuum Cleaner:
General parameters

Brand: Dreame
Model: V10 Mistral Pro
Surfaces: All types of surfaces (carpets, wood, ceramic, marble, tiles, textiles, etc)

Motor

Type: Digital Engine
Maximum RPM: 100,000 RPM
Power: 450 W
Wind pressure: 22,000 Pa
Suction power: 140 aW

Technical parameters

Dust tank capacity: 0.5 L
Nominal voltage: 18 V

Battery

Capacity: 2500 mAh
Type: 7-cell Lithium
Battery life: 60 minutes (max.)
Charging time: 3.5 hours

Appearance

Dimensions: 122.1 x 25.6 x 20.2 cm
Weight: 5.92 kg
Colour: White

Package content

1 x Dreame V10 Mistral Pro - Cordless / Bagless Vacuum Cleaner
1 x Charger
1 x Corner-piece + brush with bristles
1 x Multipurpose head
1 x Wall support
1 x Roller
1 x Metal Bar
1 x Anti-dust mite head
1 x Extendible tube
1 x User Manual
Dreame V10 Mistral Pro - Cordless / Bagless Vacuum Cleaner Reviews
We have no reviews
of Dreame V10 Mistral Pro - Cordless / Bagless Vacuum Cleaner
Be the first!

Review and win!
Every month we give away
300€ among all
the comments