Dreame T30 - Cordless / Bagless Vacuum Cleaner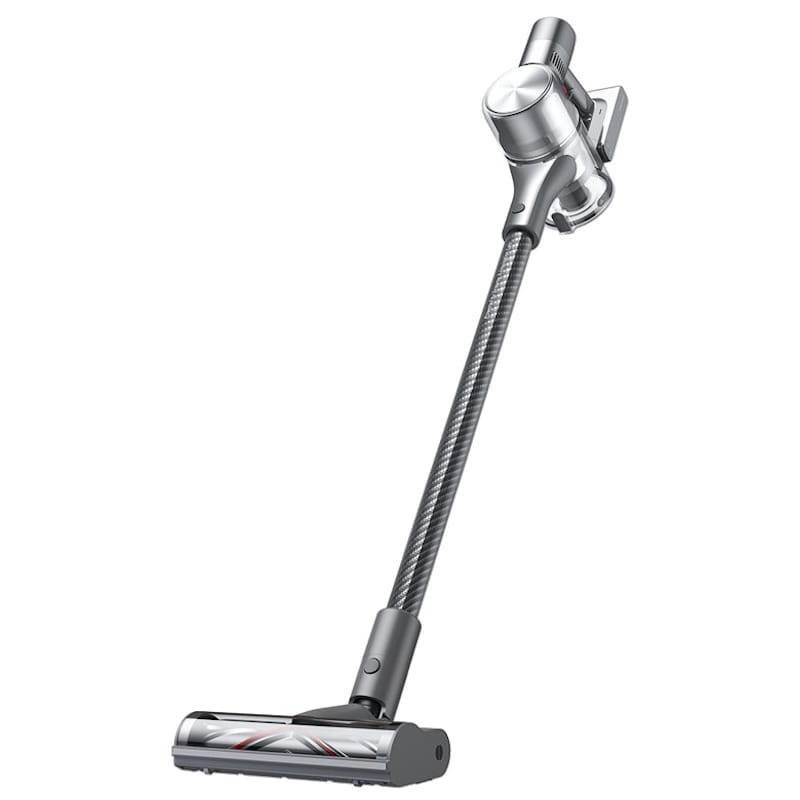 ---
Dreame T30, high power and long runtime cordless vacuum cleaner with extension tube and flexible elbow for easy cleaning under furniture
For all types of surfaces - With various heads - Dreame Space 5.0 motor - 150,000 RPM - 25,000Pa - 190 aW - 600 ml dust tank - Digital display with trigger lock - 2900 mAh lithium battery - Automatic mode with dust detector - Battery life up to 90 minutes - Cyclonic technology with 12 cones - 8-stage filtration - <73 dB
Get rid of the toughest dirt thanks to the Dreame T30 cordless handheld vacuum cleaner that deep cleans every corner of your home, from the floor to the ceiling! The new stick vacuum cleaner from the Xiaomi ecosystem now features dust level detection, very high suction power with 190 aW and an extended battery life of up to 90 minutes. In addition, it includes an articulated extensible tube, so that cleaning under furniture is easier than ever. Don't miss it! We give you all the reasons why you should buy the Dreame T30 at Powerplanetonline.
New digital motor with 150,000 rpm, 27,000 Pa and 190 watts
The best thing about the new Dreame T30 is the powerful digital motor that comes with it. It is an innovative Dreame Space 5.0, which spins at 150,000 revolutions per minute (20% faster than the Dreame V11) and uses some aerospace engineering techniques to provide a suction power of up to 27,000 Pascals (Pa). Likewise, the Dreame T30 reaches 190 air watts (aW), placing it at a higher level than the Dyson V11, only with many more advantages and at a lower price.
Up to 90 minutes of battery life
Of course, being a cordless vacuum cleaner, the Dreame T30 is powered by a 2900 mAh battery. This large capacity, coupled with a system that optimizes both airflow and energy consumption, gives us an runtime of up to 90 minutes* in efficient mode, up to 35 minutes* in standard mode and up to 10 minutes* in turbo mode on a single charge.
This time will be enough to clean homes of up to 170 square meters*, taking into account that this type of vacuum cleaner saves us time compared to conventional ones due to the convenience of the wireless system.
As if that were not enough, the Dreame T30 includes a wall charging base, helping you to keep it stored when not in use and always ready when you need it.
*Battery life times are subject to certain parameters, such as the amount of dirt, the type of surface or the mode (power level) selected.
Automatic mode with dust detector
To top it off, the Dreame T30 automatically detects the amount of dust in front of it to select the suction level required to effectively and efficiently clean such dirt. This way, the T30 vacuum cleaner does not waste unnecessary battery power for high suction and uses it where it is really needed. It's amazing!
Digital display with trigger lock
Another strong point of the Dreame T30 is that you can forget about holding down the trigger during the entire vacuuming process, as it allows you to choose the trigger lock option, something that will undoubtedly improve your experience and make cleaning much more comfortable and easier.
In addition, its high quality TFT LCD digital display allows you to control the different features of the product with a single click, such as filter status, remaining battery, dust level, and so on.
Filtration in 5 stages and 12 cyclones
Do you suffer from any type of allergy or respiratory condition? Then the Dreame T30 is perfect for you, as it incorporates an advanced 5-stage filtration system. So, while the H12 grade HEPA filter takes care of small dust particles with a diameter of less than 0.3μm, the other filters and the 12-cone cyclonic technology remove microscopic dust, separate large particles and block contaminants. The result? Cleaner air with 99.6% of micro particles removed.
Noise reduction in 8 stages
Dreame has also taken special care in designing the new T30 vacuum cleaner to make it as quiet as possible. So much so that its revolutionary 8-stage noise reduction system provides improvements in the different stages of vacuuming that considerably reduce the sound of the motor and air, even at maximum power.
Improved roller with anti-tangle design
Another new feature of the Dreame T30 is its improved roller, which performs well on hard floors as well as on carpets and rugs. It combines rubber with bristles to effectively get rid of any kind of particles (dust, hair, crumbs...). In addition, its V-shape and large diameter put an end to the dreaded hair tangles.
Ergonomic and lightweight design with multiple accessories
And to make it even easier for you, the Dreame T30's motor and battery are integrated into the end of the vacuum cleaner. This greatly facilitates handling, allowing you to lift it without any problem and even reach the highest and most inaccessible areas.
On the other hand, the Dreame T30 also includes multiple accessories that will help us to remove dirt from different surfaces with ease, such as the extensible tube and the flexible elbow, which combined will make it very easy to clean under furniture, or the various brushes to vacuum delicate surfaces, narrow spaces, corners .... You'll be able to reach every nook and cranny!
Easy tank cleaning and emptying
It's time to clean your cordless vacuum cleaner and... Phew, what a bore! It's almost better to just go back to the old school broom, right? Well, no! Emptying the tank of the Dreame T30 is super simple and hygienic, since you only have to place it on the bucket or garbage bag and press a button, without coming into contact with the dirt. It couldn't be easier!
Technical specifications Dreame T30 - Cordless / Bagless Vacuum Cleaner:
General parameters

Brand: Dreame
Model: T30
Surfaces: All types of surfaces (carpets, wood, ceramic, marble, tiles, textiles, etc)

Motor

Model: Dreame Space 5.0
Maximum RPM: 150,000 RPM
Wind pressure: 27,000 Pa
Suction power: 190 aW max.

Technical parameters

Dust tank capacity: 600 ml
Nominal power: 550 W
Nominal voltage: 29.6 V

Battery

Capacity: 2900 mAh
Type: 8-cell Lithium
Battery life: 10 ~ 90 minutes
Charging time: 4 hours approx.

Appearance

Weight: 1.76 kg (without nozzles or brushes)
Colour: Grey

Package content

1 x Dreame T30 - Cordless / Bagless Vacuum Cleaner
1 x Multi-surface brush
1 x Mini motorised brush
1 x 2-in-1 Crevice brush
1 x LED Crevice tool
1 x Dust brush
1 x Flexible handle
1 x 2-in-1 Flexible extension tool
1 x Carbon fiber grip
1 x Wall base
1 x Charger
1 x User Manual
1 Dreame T30 - Cordless / Bagless Vacuum Cleaner reviews
1 customers have already reviewed the article
the Dreame T30 - Cordless / Bagless Vacuum Cleaner
What do you think?
1 global reviews

Review and win!
Every month we give away
300€ among all
the comments
We have no reviews in English
Select other languages
to see reviews of
Dreame T30 - Cordless / Bagless Vacuum Cleaner.