Dreame T20 - Cordless / Bagless Vacuum Cleaner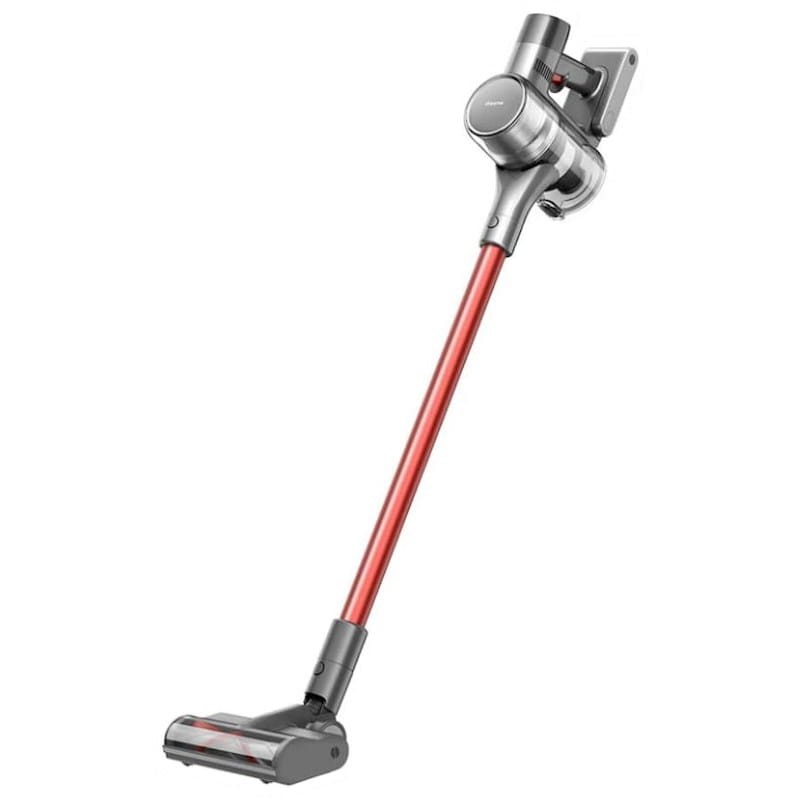 ---
Dreame T20, cordless vacuum cleaner with great power and efficiency at a very competitive price
For all types of surfaces - With different heads - Multi-surface anti-tangle brush - 125000 RPM/min - Wind pressure 150 watts and 26000 Pa - Removable battery - Autonomy up to 70 minutes - Informative display - Easy to clean
Dreame T20. Get rid of floor dirt, remove dust, dust mites, clean cracks .... Leave your house spotless with one of the best cordless vacuum cleaners on the market, which is the impresive T20 model.
Designed with great suction power, low weight and easy mobility, we will be able to clean with total comfort every corner of our home or office. Read on for an in-depth look at this modern cordless vacuum cleaner with powerful brushless motor and OLED display, as well as a beautiful gray and red design. Here at Powerplanetonline, your trusted online store.
Powerful brushless motor 150 AW and 25000 Pa
Make dirt disappear like magic with the Dreame T20, your magic wand from now on.
Besides an eye-catching cordless design, another feature that makes it stand out is the Dreame Space 4.0, a powerful brushless motor (brushless) of the latest generation, which rotates at 125000 revolutions per minute to reach a air pressure of up to 150 aW and a suction power of up to 25000 Pa.
Dreame thus ensures that your T20 can suck up all kinds of particles and dirt, even the largest ones.
12-Cyclone Cyclonic Technology
But that's not all! It also features advanced cyclonic technology. Thus, through its 12 cyclones, the Dreame T20 effectively separates solid particles from the air flow, allowing the suction capacity to be maintained as its 0.6L tank is filled.
8-Stage Noise Reduction
Despite the high suction power, the Dreame T20 will not exceed 73 dB, thanks to a careful 8-stage system to reduce noise emission to a minimum.
Its motor, yet powerful, produces hardly any noise since, not including brushes, friction is reduced to a minimum. In addition, it is flexible and comes fully coated. In addition to this, there are other important elements such as noise-absorbing foam, closely connected components that reduce vibration, optimized air ducts, etc. Everything you need to provide you with maximum comfort!
5-stage Particle Filtration
We also find the Dreame T20's rigorous 5-level filtering system incredible. Both the cyclonic technology and the multiple filters of the T20 make a team to remove up to 99.67% of microparticles of dust and dust mites, returning a much purer and cleaner air. Woow! You had bought it just to sweep the floor, and it turns out that it also cleans the environment!
Different brushes for different surfaces
As is usually the case with this type of vacuum cleaner, the new Dreame T20 has good horizontal and vertical flexibility, giving us the opportunity to clean under furniture without too much effort.
The concentrated weight in its handle will also allow you to use it to clean high areas, such as ceilings, blinds, curtains, etc.
You will see for yourself that the Dreame T20 has no limits on almost any surface. That's why it includes various nozzles and brushes, each with specific functions.
Multi-surface anti-tangling brush
This brush combines rubber and bristles, with a wider V-shaped design and protection on the sides to prevent clogging of the roller or tangling of the hairs.
Mini motorized anti-dust mite brush
The mini motorized brush is designed to effectively capture dirt, hairs, microparticles and all types of allergens from softer and more delicate surfaces such as beds, sofas or pillows.
Flat tool
With the flat nozzle you will be able to vacuum corners, crevices or hard-to-reach holes.
Small bristle brush
Finally, the round brush is perfect for vacuuming curtains and fabrics. Also for removing finer hairs from sofas, beds, etc. Or even for smaller surfaces or with ingrained dirt.
Up to 70 minutes of autonomy
The Dreame T20 cordless vacuum cleaner is powered by a removable battery with a capacity of 3000 mAh, capable of providing an autonomy of up to 70 minutes*. One of the advantages of the removable battery is that you can have a spare to replace it easily, thus doubling the autonomy time.
In this way, it will give us time to clean even large homes, taking into account that this type of vacuum cleaner saves us several minutes compared to conventional ones due to the convenience of the wireless system.
As if that were not enough, the Dreame T20 is equipped with a wall charging base, which will allow us to have it always ready for when we need it.
*Usage times are subject to certain parameters, such as the amount of dirt, the type of surface or the mode (power level) selected.
Built-in LCD screen
Another feature that makes the Dreame T20 a premium vacuum cleaner is its LED display, through which we can see the most relevant information in a simple way, such as the available battery level, the status of the filters, as well as the selected suction power.
Easy cleaning and tank emptying
Time to clean our vacuum cleaner? You probably think that this will be the most arduous task.
Don't worry, that's over with the Dreame T20, since you can empty its tank just by pressing a button.
In addition, you can disassemble its heads and filters to wash them under water.
Technical Specifications Dreame T20 - Cordless / Bagless vacuum cleaner:
General parameters

Brand: Dreame
Model: T20 (VTE1)
Surfaces: All kinds of surfaces (carpet, wood, ceramic, marble, tile, textile, etc.)

Motor

Model: Dreame Space 4.0
Maximum RPM: 125000 RPM/min
Power rating: 450 W
Rated voltage: 25.2 V
Air pressure: 25000 Pa
Suction power: 150 aW

Technical parameters

Dust container capacity: 0.6 L
Noise: 73 dB
Cyclonic technology: 12 cyclones
Filtration system: 5 stages

Battery

Capacity: 3000 mAh
Type: Li-ion
Autonomy time: up to 70 minutes
Charging time: 4 hours

Weight and color

Weight: 1.67 kg
Color: Gray and red

What's in the box

1 x Dreame T20 - Cordless / Bagless Vacuum Cleaner
1 x Articulating metal tube
1 x Extension rod
1 x Multi-surface anti-tangle brush
1 x Anti-dust mite mini motorized brush
1 x Flat tool
1 x 2 in 1 brush
1 x Battery
1 x Wall charging base
1 x User manual
9 Dreame T20 - Cordless / Bagless Vacuum Cleaner reviews
9 customers have already reviewed the article
the Dreame T20 - Cordless / Bagless Vacuum Cleaner
What do you think?
9 global reviews

Review and win!
Every month we give away
300€ among all
the comments
We have no reviews in English
Select other languages
to see reviews of
Dreame T20 - Cordless / Bagless Vacuum Cleaner.