Dreame T10 - Cordless / Bagless Vacuum Cleaner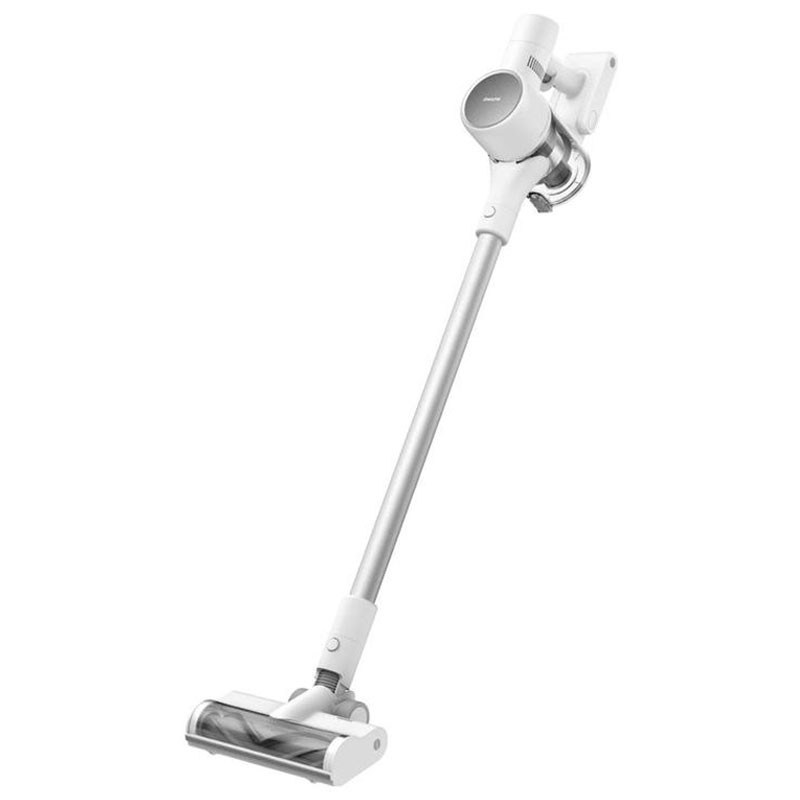 ---
Dreame T10, light and powerful Xiaomi Ecosystem vacuum-cleaner with multi-stage filtration
For all types of surfaces - With various heads - 100.000 RPM/min - Wind pressure 20000Pa - Max. suction power 120 aW - 600 ml dust container - Autonomy up to 60 minutes - Easy cleaning - Light design - Wall mount
Dreame T10, the new Dreame vacuum-cleaner that makes cleaning easier and leaves the air purer.
This cordless vacuum-cleaner arrives with its multi-stage filtration, long autonomy and enormous versatility.
Let's learn more about it here, at Powerplanetonline.
Cleaner air with multi-stage filtration
Remove every molecule or dirt with the Dreame T10. No matter how small! This cordless, bagless vacuum cleaner leaves purer air thanks to its multi-stage filtration system, made up of a HEPA filter, effective at blocking particles down to 0.3 μm; a high-density sponge, which deeply filters the finest dust; cyclonic technology, which makes things difficult for the densest dust motes; and a metal mesh, which retains dirt and larger particles.
For this reason, the Dreame T10 is perfectly suited for people with allergies or respiratory conditions.
Vacuuming power with 120 AW and 20000 Pa brushless motor
This filtration system is accompanied by a powerful brushless motor, the Dreame Space 3.0, with 100,000 revolutions per minute, a wind pressure of up to 120 aW and a suction power of up to 20000 Pa. We also have to celebrate the fact that the Dreame T10 can suck up all kinds of particles and dirt.
Up to 60 minutes of autonomy
The Dreame T10 cordless vacuum cleaner is powered by a 2500 mAh battery, which provides a battery life of up to 60 minutes* on a single charge in eco mode. This way, it will give us time to clean even large homes, bearing in mind that this type of vacuum saves us a lot of time compared to conventional ones due to the convenience of the wireless system.
But its real strong point in this section is that it is removable, allowing you to purchase a second battery to replace the old one and double its usage time.
As if that wasn't enough, the Dreame T10 includes a wall charging mount, helping you keep it tucked away when you're not using it and always ready when you need it.
*The time is subject to certain parameters, such as the amount of dirt, the type of surface or the selected mode (power level).
Continuous mode or manual mode
Give your finger the rest it deserves. Click the lock button to keep the T10 vacuum cleaner running without having to operate it, or press it again if you need to vacuum discontinuously - it's your choice!
12-cone cyclonic technology
Although we've already told you about the Dreame T10's cyclonic technology, what we haven't told you is that it is made up of no less than 12 cones.
So, its function is not only in particle filtration, it also manages to maintain maximum suction capacity as the Dreame T10's 0.6L tank fills up and its battery level decreases.
Clean any surface
As is often the case with this type of vacuum cleaner, the Dreame has good flexibility both horizontally and vertically to pass it under furniture without overexertion. In addition, its lightweight design concentrates the weight on the handle, making it easy to lift to clean ceilings, curtains or other items that are high up.
The Dreame T10 also comes with a variety of nozzles and brushes, each with their own specific functions. For example, the V-roller is ideal for vacuuming all types of floors without damaging them (including carpets and rugs), given its softness. It also effectively removes pet hair and prevents tangles.
On the other hand, the mini motorised brush is designed to effectively capture dirt, hair, micro-particles and all kinds of allergens from softer and more delicate surfaces, such as beds, sofas or pillows. The flat nozzle allows you to vacuum corners, crevices and hard-to-reach recesses, while the 2-in-1 brush is perfect for vacuuming curtains and fabrics. Also for removing finer hairs from sofas, beds, etc. Or even for smaller surfaces or ingrained dirt.
8-stage noise reduction
It should also be noted that Dreame has taken great care in the design of the new T10 vacuum cleaner in order to make it as quiet as possible, including an 8-stage system (brushless motor to reduce friction, noise-absorbing foam, closely connected components to reduce vibrations, optimised airflow, improved ventilation ducts, etc.) which is quite efficient.
In short, are you tired of being woken up every Sunday by the sound of the vacuum cleaner? Then get a Dreame T10.
Easy cleaning and emptying of the tank
Time to clean our vacuum cleaner? Surely more than once you've felt that things were getting complicated and you've thought about going back to the broom?
Don't worry, that's over with the Dreame T10, as you can empty the tank at the touch of a button.
What's more, you can remove its heads and filters to wash them under water.
Specifications Dreame T10:

General parameters

Brand: Dreame
Model: T10
Surfaces: All types of surfaces (carpets, wood, ceramic, marble, tiles, textiles, etc)

Motor

Maximum RPM: 100,000 RPM / min
Wind pressure: 20000 Pa
Suction power: 120 aW max.

Technical parameters

Dust container capacity: 0.6 L
Nominal power: 400 W
Nominal voltage: 25.2 V

Battery

Capacity: 2500 mAh
Type: Replaceable Lithium
Autonomy time: 8 ~ 60 minutes

Appearance

Weight: 1.65 kg (without nozzles or brushes)
Color: White / Gray

Package content

1 x Dreame T10 - Cordless / Bagless Vacuum Cleaner
1 x Extension tube
1 x Multi-surface brush
1 x Mini motorised brush
1 x Flat tool
1 x 2-in-1 Brush
1 x Wall mount
1 x Charger
1 x User Manual
1 Dreame T10 - Cordless / Bagless Vacuum Cleaner reviews
1 customers have already reviewed the article
the Dreame T10 - Cordless / Bagless Vacuum Cleaner
What do you think?
1 global reviews

Review and win!
Every month we give away
300€ among all
the comments
We have no reviews in English
Select other languages
to see reviews of
Dreame T10 - Cordless / Bagless Vacuum Cleaner.