WLtoys 18403 1/18 4WD Truggy - Electric RC Car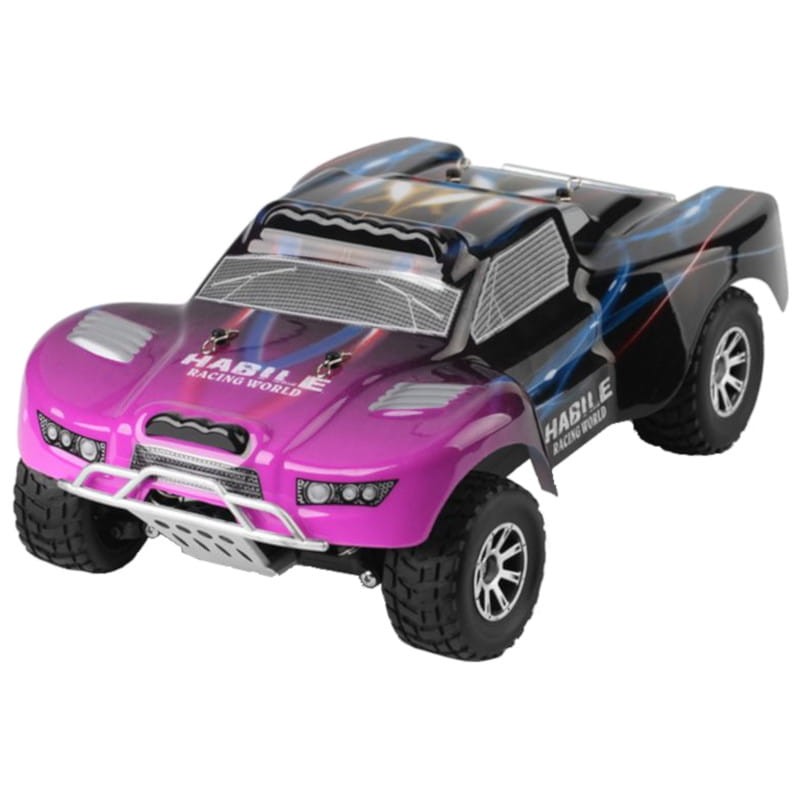 ---
WLtoys 18403 1/18 4WD Truggy - Electric RC Car
Radio controlled car - 1/18 scale - 4WD traction system - Adaptable suspension and shock absorbers - For all types of terrain - Speed up to 22 km/h - Wide tyres - Resistant - Range up to 80 metres
RC cars are our passion. With different models that adapt to what you are looking for at the moment, you will be able to enjoy the most dizzying races or be able to explore everything easily. With the new WLtoys 18403 1/18 4WD Truggy - Electric RC Car you will have one of the most versatile models you will find today. A high-speed model that is designed to give you everything you want, regardless of the terrain in which it moves. An incredible model! Do you want it?
Race and explore, anything is possible
This new model of WLToys is designed so that you can enjoy it the way you want. You can compete in races with your friends or explore everything easily because it is a powerful and adaptable model. Thus, this RC car at 1/18 scale has a high power 4WD system with suspension and shock absorbers potener and adaptable, which makes it special for all types of terrain. With a maximum speed of up to 22 km/h, this model has a range of up to 80 metres. It is an incredible model, and you will enjoy it in a big way. Come and get it!
Technical Specifications WLtoys 18403 1/18 4WD Truggy - Electric RC Car:
Brand: WLtoys
Model: 18403
Version: Normal
Type: Electric
Truggy Category
Scale: 1/18
Mode: RTR
Terrain: Rocky, sand, gravel, earth, slope, obstacle, flat
Bodywork:

Material: Thermocomfortable polycarbonate
Spoiler: No
Front bumper
Detachable: Yes

Chassis:

Main: Polycarbonate
Sub-chassis: Polycarbonate
Bearings: No

Engine:

Engine: 380
Type: Brushed
Maximum speed: 22 KM / h
Drive system: 4WD
Maximum range: up to 80 meters

Wheel:

Material: Rubber
Type: SUV - Soft

Cushioning:

Type: Independent
Layout: Front and rear
Material: Hydraulic spring
Adjustable: yes

Functions: Accelerate, Reverse (Brake), Turn left, Turn right
Spin Type: Proportional
Differential: Polycarbonate
Receiver: 2 Channels 2.4GHz
Waterproof: No
Issuer:

LCD Screen: No
Operating frequency: 2.4GHz
Channels: 2
Coding: CFSK
Maximum range: up to 80 meters
Mode: Mode 1
Direction Adjustment (Trimmer): Yes
Control via smartphone: No
Power: 3 x AA Batteries (Not included)

Battery:

6.4V 500 mAh battery
Type: Li-Ion
Average autonomy: up to 10 minutes
Charging time: up to 2 hours

Dimensions: 29 x 17.5 x 10.5 cm
Box contents
1 x WLtoys 18403 1/18 4WD Truggy - Electric RC Car
1 x 2.4GHz Radio Control Station
1 x 500 mAh Li-Ion battery
1 x Charger
1 x Manual
WLtoys 18403 1/18 4WD Truggy - Electric RC Car Reviews
We have no reviews
of WLtoys 18403 1/18 4WD Truggy - Electric RC Car
Be the first!

Review and win!
Every month we give away
300€ among all
the comments
You might be interested in