Walkie-Talkie Baofeng UV-5R Tri-Power 8W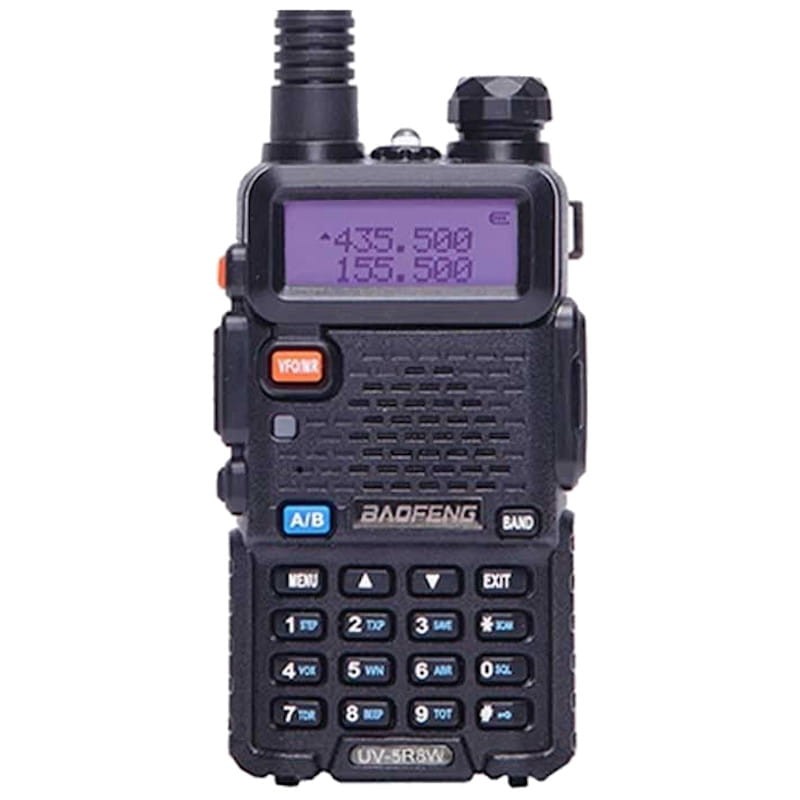 ---
Walkie-Talkie Baofeng UV-5R, Baofeng's Most Powerful Walkie-Talkie
Walkie-talkie - Dual Band - LCD screen - High capacity battery - 128 memory channels - FM radio receiver - Maximum power of 140 mHz
Not losing communication while working is easier with Powerplanetonline. Today, we bring you the best device for you to be more connected with all your colleagues. This is the new Walkie-Talkie Baofeng UV-5R, Baofeng's most powerful walkie-talkie model. With its dual-band transmission capacity, its ability to use up to 128 memory channels and a wide range of frequencies, it is one of the most spectacular models. Read on to find your ultimate ally.
The walkie-talkie You Need
As you are looking for a powerful walkie-talkie model that allows you to be connected with your colleagues easily, this is a spectacular dual-band model, so you can be in touch in the best way to both send and receive walkie calls. With its LCD screen you can see which band is active and have better control. This new model has 128 memory channels that will allow you to access any of the connections more quickly. You will be able to get everything you want, thanks to its maximum power of 140 mHz, with which you will have everything you want.
Use it for a long time
Moreover, this is one of the most complete models thanks to its connection capacity. You will be able to access frequencies dedicated to FM radio reception. You can use it as an FM radio receiver and, therefore, listen to your favourite stations in the easiest way. Enjoy both the best connection capacity and radio. Designed so that you can work without any problem when carrying it thanks to its belt clip and its low weight, nothing will stop you from getting everything you want.
Technical Specifications Walkie-Talkie Baofeng UV-5R Tri-Power 8W:
Brand: Baofeng
Model: UV-5R Tri-power
Dual-band portable transceiver with display of the functions menu on the "LCD" display with high capacity Lithium-Ion Battery.
"DTMF" tones
Up to 128 memory channels.
Frequency range: 65 MHz - 108 MHz (Only commercial FM radio reception).
Distance Range: 5-9 Kms approx
It achieves its maximum power of 138 to 140 MHz taking a power of 8W

VHF: 144 MHz - 146 MHz (Rx / Tx).
UHF: 430 MHz - 440 MHz (Rx / Tx).

Dual band UV-5R 136-174 / 400-520MHz
Squelch threshold level adjustable from 0 to 9.
Frequency stability: 2.5 ppm.
Frequency jumps: 2.5 kHz / 5 kHz / 6.25 kHz / 10 kHz / 12.5 kHz / 25 kHz.
Antenna impedance: 50 Ω.
Functions:

Commercial FM radio receiver (65-108 MHz).
It incorporates 105 "DCS" codes and 50 "CTCSS" sub-tones, programmable.
"VOX" function (Voice Activated Transmission).
Alarm function.
Broadband (Wide) / Narrow (Narrow), selectable.
Selectable high / low transmit power.
Display lighting and programmable keyboard.
Keyboard beep function.
Dual watch "DW" function.
Selectable frequency hopping of 2.5 / 5 / 6.25 / 10 / 12.5 / 25 kHz.
"OFFSET" function (frequency offset for repeater access).
SAVE battery saving function.
Programmable "TOT" transmission timer.
Selecting the scan mode.
Busy channel lock function "BCLO".
Scanning function for "CTCSS" undertones / "DCS" codes at reception.
Built-in "LED" flashlight.
End of transmission tone.
"LOCK" keyboard lock function.

Programmable by PC.
Operating temperature: -20 ºC to +60 ºC.
Lithium-Ion rechargeable battery 7.4 V / 1800 mAh.

Consumption in standby: ≤80 mA.
Consumption in reception: ≤380 mA.
Consumption in transmission: ≤1.4 A.
Operating mode: Simplex or half duplex.
Duty cycle: 3-3-54 minutes (Rx / Tx / Wait).

Dimensions: 58mm x 110mm x 32mm.
Weight: 130g (approximate).
Colour: black
In the Box:
1 x Walkie-Talkie Baofeng UV-5R Tri-Power 8W
1 x Battery
1 x Belt clip
1 x Charging base and charger
1 x Tether strap
1 x Dual band antenna
4 Walkie-Talkie Baofeng UV-5R Tri-Power 8W reviews
4 customers have already reviewed the article
the Walkie-Talkie Baofeng UV-5R Tri-Power 8W
What do you think?
4 global reviews

Review and win!
Every month we give away
300€ among all
the comments
We have no reviews in English
Select other languages
to see reviews of
Walkie-Talkie Baofeng UV-5R Tri-Power 8W.