Starter Kit Philips Hue White x2 9W E27 White + Hue Bridge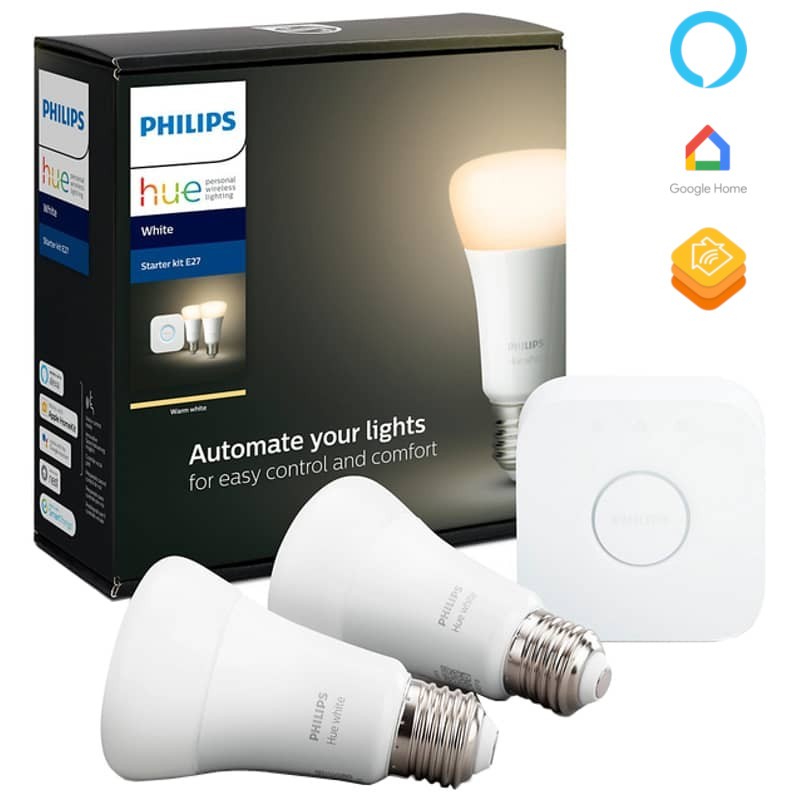 ---
Starter Kit Philips Hue White x2 9W E27 White + Hue Bridge
Hue Ecosystem - Up to 10 accessories - Up to 50 lights - Voice control - Intelligent control - Mobile application - schedule function - Amazon Alexa - Google Home - E27 screw - Warm white
At Powerplanetonline we are in love with smart homes. They are awesome! We love having an easy home that we can use without any problem, for this reason we want houses that are totally adapted for us. Our SmartHome section is very important for what we intend to do and, in it, we have the best kits to improve your home. Like the new Starter Kit Philips Hue White x2 9W E27 White + Hue Bridge, which consists of one of the most powerful and adaptable Philips light bulbs and a Philips Hue Bridge so you can have your whole home connected easily. Come and discover it!
A Bridge to connect everything
The new Philips Hue Ecosystem Bridge is designed to be the system brain of a Hue Ecosystem, a system that communicates with the smart lamps and their Hue APP to ensure that everything works together. You can create automated home functions such as timers and programming routines. It allows you to connect up to 10 fixtures and 50 lights. You can define lighting routines such as turning on the lights at a certain time, simulating your presence in the house for greater security, for example. It's your ultimate support for incredible control.
A light bulb adaptable to your home
The new Philips Hue White Pack x2 9W E27 White is designed to provide smart control inside and outside the home. Developed for use with the Philips Hue iOS and Android apps, it allows you to control your light bulbs remotely wherever you are. Check to see if you've forgotten to turn off the lights before you leave the house and turn them on if you're working late. The Philips Hue app's schedule feature allows you to simulate being at home even when you are not. Set the lights to come on at a specific time and find them on when you get home. You can also set up rooms to light up at different times. And, of course, you can set the lights to turn off progressively at night so that you can relax completely. It has an E27 screw and offers an adaptable white colour so that you can enjoy different environments with just one bulb. You will enjoy guaranteed soft dimming thanks to Philips Hue. It sets the optimum setting: neither too dark nor too bright. No need for wires, electricians or installation. And you can use it with Amazon Alexa, Apple Homekit and Google Home to let you control the lights with your voice. This new Starter Kit Philips Hue White x2 9W E27 White + Hue Bridge is impressive and is the base for something you never expected to have in your home: total control of your lighting.
Features Starter Kit Philips Hue White x2 9W E27 White + Hue Bridge
Essential for creating a Hue ecosystem. It will allow you to use everything together.
Up to 10 accessories and 50 lights, which will allow you to completely control your home.
You can control the lights with your voice, thanks to Alexa and Google Assistant
Smart Control inside and out, allowing you to use it on both iOS and Android.
Technical Specifications Starter Kit Philips Hue White x2 9W E27 White + Hue Bridge
Brand: Philips
Model: Philips Hue White + Hue Bridge Starter Kit
P / N: 929001821601
EAN: 8718696785218
Smart light bulbs with control bridge
Philips Hue White 9W E27 White Smart Bulb

Bulb power: 9W
Lamp Size: A60
Bulb Cap Type: E27
Light Color: White
Color temperature: 2700 - 6500 K
Luminous flux: 806 Im
Power

Power Consumption (Idle) 0.1W
Input voltage: AC 220-240
Lamp life: 25000 hours

Operating humidity: 5-95%
Use temperature range: -10 ~ 45ºC
Measurements: 11 x 6.2 x 6.2 cm

Hue Bridge

Create a Hue Ecosystem to control all accessories and bulbs
Frequency band: 2400-2483.5 MHz
Maximum number of accessories: 10
Maximum number of bulbs: 50
Mounting Options: Desk / Wall
Philips Hue compatible app (available on Android and iOS)
Power

Input: 100-240V AC / 50-60Hz
Output voltage: 5V DC, 600 mA
Standby power: 0.1W maximum
Power consumption: 250 mA

Operating humidity: 0% -80%
Operating temperature: 0º-40ºC
Measurements:

Dimensions: 9 x 9 x 2.6 cm
Weight: 280 gr
White color
Package content
2 x Philips Hue White 9W E27 White Smart Bulb
1 x Philips Hue Bridge Bridge for Hue Ecosystem
1 x Ethernet network cable
1 x Power adapter
Starter Kit Philips Hue White x2 9W E27 White + Hue Bridge Reviews
We have no reviews
of Starter Kit Philips Hue White x2 9W E27 White + Hue Bridge
Be the first!

Review and win!
Every month we give away
300€ among all
the comments
You might be interested in