Sport & action cameras

Sports cameras are being a real success. They are also the so-called sports cameras or action cameras, which have far surpassed the classic compact video camera, which has been left in the background to make way for photographic equipment ready for action and, never better said, because sports cameras (in addition to being able to use them when we practice a sport) can be used for many more situations.

"Things are a lot easier if you get on the trends chariot"

Lei Jun -- CEO of Xiaomi
The best brands of sports cameras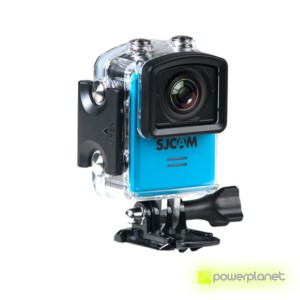 The success of action cameras has led to a wide variety of sports video cameras. And more and more varied, since not all users of this type of cameras require the same type of functionality. There are minis, cheaper or more expensive, waterproof, with accessories for sports cameras or underwater cases. As for the user profiles that usually make use of this type of camera, they do not have to be exclusively sportsmen. There are many varieties of users in the world of action cameras: from Youtubers, through travelers, action and risk lovers to companies. At the moment, many brands are trying to promote this type of gadgets, but only a few are succeeding (and well deserved). That's why powerplanetonline only sells the best brands in sports video cameras. As is the case with SJCAM, Xiaomi and its famous sports cameras XiaoYI, GitUp, GoPro and many more.
Another aspect to take into account in the action cameras are their dimensions. They range from 7 cm in length to 4 cm in width, because, as you have already been able to deduce, the aim is to achieve lightness and portability as opposed to the conventional compact camera. Without a doubt, this is a characteristic that differentiates sports video cameras from any other. As far as weight is concerned, it is one of the characteristics that has also been superimposed on the weight of the conventional camera, but without renouncing the best features and image quality, we can deduce then that in just 90 grams you can have everything and at the best price. Advantage that the professional sportsmen will value enormously, since it facilitates them the daily trainings or the performance of these professionals of the sport by means of photos and videos of high quality.
If we talk about resistance, we talk about video sports cameras
Another fundamental aspect that we can highlight of the sports cameras is their great resistance. Because if we are talking about large photographic equipment, we are also talking about very heavy and delicate equipment, most of these equipment will be unusable after a blow or incident, so, even if they are portable, it is quite cumbersome to transport them. However, sports cameras are made of metals such as quartz, which makes them very resistant to extreme use and also environmental elements such as humidity, extreme heat and direct sunlight. And if that's not enough, underwater camera covers for sports cameras make it even more difficult for our camera to break down.
If we talk about resistance in this type of cameras, we should talk about underwater sports cameras. Whose main characteristic is to be able to submerge in the water with a super resistant case that is used to make underwater photography and video, since depending on the model to choose, it is possible to count on a case that resists to the immersion from the 10 up to the 150 meters of depth.
These sports camera accessories are completely transparent and almost unbreakable, as they withstand the pressure generated up to 150 meters underwater which is equivalent to supporting tons of weight and strength. Which leads us to the conclusion that we are all thinking: sports cameras are suitable for those who practice triathlon, swimming, surfing or diving, but also professionals who investigate the marine fauna, amateurs of underwater exploration, divers or simply people who want to take photos underwater.
HD 4K cameras: the future is already here
Everyone (or almost everyone) knows the advantages that are allowing the creation of 4K sports cameras, but the main one is the high quality image in cinematographic format. The Ultra HD has come to stay and if it goes in our favorite sports video camera, so much the better. Because the user will never find such a resolution in such a small, light and resistant equipment.
We should not forget the versatility of this type of camera. We have already commented in previous sections that, although it is mainly used when practising a sport, the variety of uses is immense: a cheap (or expensive) sports camera can even be used to record short films.