Robot vacuum cleaner Conga 2090 Vision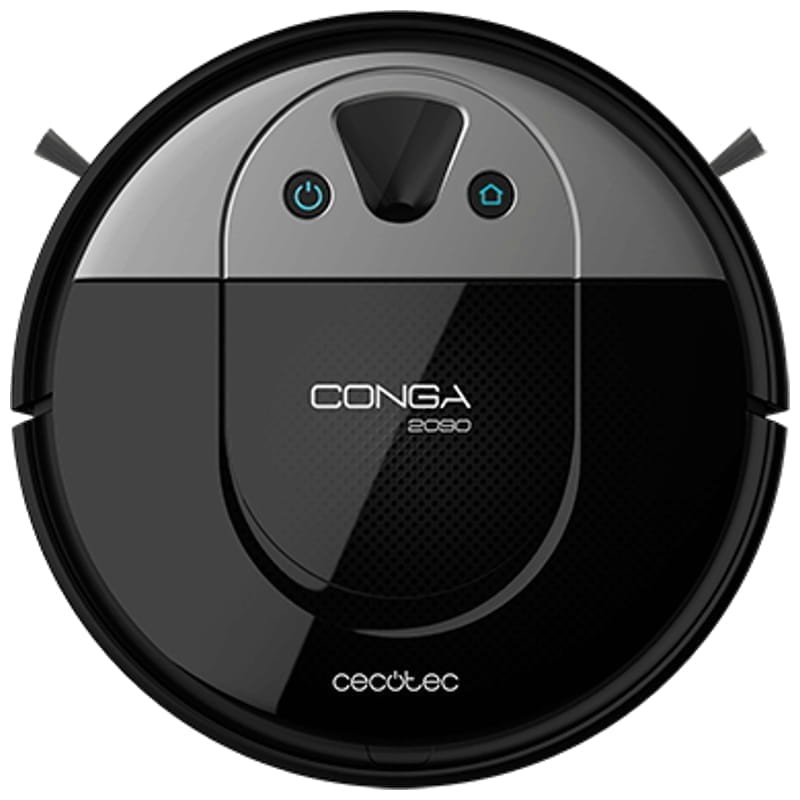 ---
Conga 2090 Vision: New Technologies at Your Service
2700 Pa - 4-in-1 robot - 10 preset cleaning programmes - 3 power levels - App - iWater system - Suitable for pet hair - Control via virtual assistants
We know that you want to have a cleaner home in the simplest way. And at Powerplanetonline we bring you with the best robot vacuum cleaners, those designed to give you everything you need. Models such as the new Conga 2090 Vision robot vacuum cleaner are designed to provided an optimal result compared to a conventional robot vacuum cleaner. Thus, this model features various cleaning programs, 3 power levels and a great capacity of use and control through its apps and its virtual assistants support. A model for all households, even for those who have animals at home. Read on and you will know why it is so spectacular.
4 Functions, 1 Robot
The new Conga 2090 Vision is the result of the technology applied in the most efficient way. Designed with great intelligence, its iTech Camera 360 navigation technology is ready to perform the most efficient cleaning and scrubbing, without having any problem using it. Plus, you can get it adapted to you with its 3 power levels, which make it adaptable to all situations and its anti-tangle nozzle, which makes it infallible against the most accumulated dirt. As it passes over the carpets, it activates the Turbo CleanCarpet mode with which you can vacuum at maximum power and leave them without a speck of dust. In addition, this is a really verstile model: it sweeps, vacuums, mops and scrubs all types of surfaces, and can do everything simultaneously. You will be able to vacuum everything, from your pet's hair to the most difficult dirt, without altering its suction power. One of the best models you will find.
Smart Scrubbing for Your Home
Its iWater scrubbing system mops up and scrubs up by simply adding the mixed solid/liquid tank. So that you don't have any problem using it, this model has a smart scrubbing system thanks to its electronic pump system, a system that doses and distributes the water evenly through the mop, according to each circumstance... Get an efficient result even in the largest areas, without leaving puddles. Plus, this system is programmed with three scrubbing modes: High, for perfect and deep scrubbing; Medium, ideal for daily scrubbing; and Low, for superficial scrubbing.
Powerful, Keep Your Whole Home Clean
Its powerful turbine maximizes the high suction power of up to 2700 Pa thanks to its ForceClean system. With this technology, this model guarantees a spotless floor by removing all types of dirt from any surface. There is no corner that escapes with its two side brushes that help push all the dirt to the suction nozzle, also avoiding tangles and collecting pet hairs. You can remove all kinds of dirt with its 3 power levels. Select the Eco mode for surface cleaning with minimum consumption, the normal mode for daily cleaning without giving up power and the turbo mode for thorough cleaning. With the new Turbo CleanCarpet system, your carpets will always be clean. It will activate its turbo mode at maximum power when passing through your carpets, as well as being able to go up to 20 mm in height. It leaves the carpets without a speck of dust.
The Most Complete Model Available
Get ready to enjoy the iTech Camera 360 technology, an intelligent and ordered navigation with proximity, anti-fall and anti-shock sensors. It is designed for all types of floors and is totally adaptable to your home millimetre by millimetre. It cleans under furniture, detects obstacles and prevents falls or unevenness. Achieve a true impeccable result with this advanced model since it purifies the air with its HEPA filter retaining dust and allergens. It is fully programmable 24 hours a day, 7 days a week. It is also compatible with the Alexa and Google Home.virtual voice assistants. On the other hand, this robot has a 14.4 V, 2600 mAh lithium-ion battery, which provides an autonomy of up to 160 minutes. The robot will automatically return to its charging base once cleaning is complete. It will always be ready to be used whenever you need it.
Designed for Your Home
The new Conga 2090 Vision vacuum robot features 10 selectable cleaning programs, making it one of the most adaptable models. You can select them from the app and let the robot clean for you.
Auto mode: the robot cleans the whole house deeply and vacuums with maximum power even several times from specific places in each room.
Edge mode: Edges or skirting boards are usually one of the dirtiest areas. That's why the Conga robot range has a special mode for removing all the dirt that accumulates around walls and furniture.
Room mode: if you only need to clean a single room in depth, the robot will optimize all its power and focus on completely removing all the dirt.
Spiral mode: If the dirt accumulates in only one spot, the robot will remove the dirt instantly. For example, if you are cooking and a pot of flour is knocked over.
Back home mode: It is automatically activated once the robot has finished cleaning or the battery has run out. On its return to the charging base, it continues to finish cleaning to remove the last traces of dirt that may remain. You can also activate this mode manually from your remote control.
Random mode. It will allow you to clean at a certain time without any problem. You can send your robot to a place in the house to clean it easily.
Smart Area mode. Tell your robot to clean an especific area the way you want. Just select the place you want it to be cleaned.
Manual mode. Control your robot in an easier way, you will be able to make your robot move and clean your house as you want.
Scrubbing mode: a mode for a cleaner house
Edges mode: with emphasis on corners and edges.
* It is recommended to use distilled water for the hoover tank. Lime may clog the tank and cause the hoover to malfunction.
Get the ultimate cleaning with the new Conga 2090 Vision Robot you will find at Powerplanetonline
One of the most spectacular models that you will find. Enjoy it with three years of warranty and the best customer service.
Technical specifications Robot vacuum cleaner Conga 2090 Vision:
Brand: Cecotec
Model: Conga 2090 Vision
Reference: 05429
Navigation technology: iTech Camara 360
Suction Power Levels: 3
Scrub Power Levels: 3
Operating modes: 6
Scrub Type: Electronic Control
Suction pressure: up to 2700 Pa
Sound level: <64dB
Mixed tank capacity: 200 ml (water) - 350 ml (solids)
Features

Application: yes (Android and iOS)
Remote control: no
Restricted area: yes
Show map in APP: no
Save map: yes
Smart room management and editing: yes
Suitable for all surfaces: yes
Suitable for carpets: yes
Smart scrub start: yes
24/7 programmable: yes
Suitable with Amazon Alexa: yes
Suitable with Google Home: yes
Bi-material mop
Turbo mode on carpets: yes

Overcomes obstacles: yes, up to 20mm
Wheel material: rubber
Battery:

Power: 14.8V, 2600 mAh
Autonomy: up to 160 minutes
Charging time: 3-4 hours
Voltage: 220-240 V / 50 Hz
Package content:
1 x Robot vacuum cleaner Conga 2090 Vision
1 x Charging base and power adapter
1 x Multifunction brush (bristles and silicone)
1 x Mixed tank (solid and liquid)
2 x Mops
4 x Side brushes
1 x High efficiency filter
1 x Auto-cleaning brush
1 x Instruction manual
1 x App Manual
2 Robot vacuum cleaner Conga 2090 Vision reviews
2 customers have already reviewed the article
the Robot vacuum cleaner Conga 2090 Vision
What do you think?
2 global reviews

Review and win!
Every month we give away
300€ among all
the comments
We have no reviews in English
Select other languages
to see reviews of
Robot vacuum cleaner Conga 2090 Vision.
You might be interested in