Roborock S5 Max White - Robot Vacuum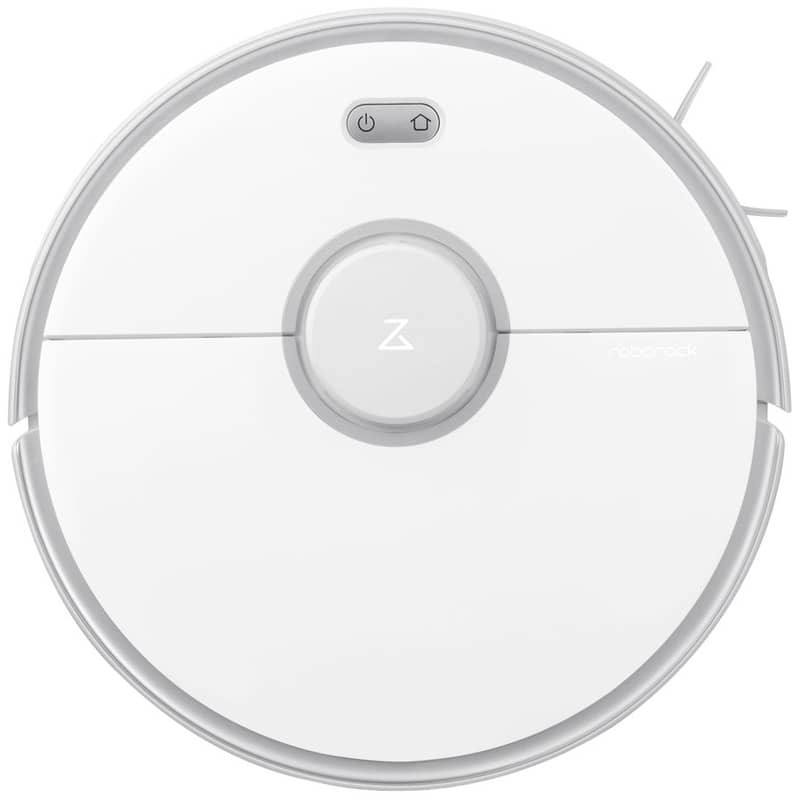 ---
Roborock S5 Max White, a Reference in Home Cleaning
Silent - Smart home planning - App Mi Home - Smart laser sensor - More water tank - Longer life
Roborock S5 Max. Start 2020 in the best way possible thanks to Xiaomi. The Asian brand has some of the best robot vacuum cleaners on the market.
And with this Roborock S5 Max White, the improvement of the Roborok S5, one of the most powerful of the moment and that, with this new version, has become obsolete.
We are talking about one of the most powerful and silent models available today. But that's not all: the Xiaomi Roborock S5 Max is one of the most versatile models on the market, capable of adapting to all situations.
With a series of improvements that will help you keep your house clean without any problems.
Easy to install and with great mapping power
Designed to be used right out of the box, the White Roborock S5 Max is created for all households looking for a high quality vacuum cleaner robot.
Thus, thanks to its laser sensor, this model offers a great capacity to map your home, thus achieving great safety of use.
But, in addition, after the first pass it will detect the most optimal route for cleaning your home and will manage to do it in an easy and safe way for you.
In addition, it has a great suction power, reaching 2000 PA.
It is capable of trapping large amounts of dust and dirt from the house. It also has a mop, which allows you to vacuum and mop the floor in one go.
A LargerWater Tank
This model has a larger water tank than its previous model and offers you a mopping superior to anything you could imagine.
And if you don't want your carpets to be wet, you can avoid it by setting up restricted areas and barriers, just for the moment you use it with the cloth.
You'll have your house clean all the time!
Total control: Mi Home on your smartphone
As a good Xiaomi vacuum cleaner, we get the most out of this robot if we use it together with the Mi Home App.
Thanks to it, the robot vacuum will be able to offer the maximum guarantee of use.
Thus, with it, we can see a mapping of our home, allowing us to define areas that we do not want to clean, areas that should be cleaned every day and others that do not or we can give orders to clean specific areas at that time.
Get Connected to Get All the Information
But it also allows us to know the state of the device and its different deposits, cleaning brushes and everything that happens with the robot.
The Roborock S5 Max White is designed to be part of the home automation ecosystem and integrate into it without any problem.
Want to see it? Take a look to the video of the model in Black. Enjoy its power and the new Xiaomi Roborock S5 Max:
Sensors Everywhere
Developed to be completely autonomous, it is designed to allow effective and efficient cleaning by itself.
To do this, it has a laser distance meter LDS with 360 º scanner that checks everything that happens around it.
It also has a high-capacity processor and, together with its lower sensors, you can carry out the missions of the Roborock S5 Max.
And when your battery is running out, it will return to its base of charge without any problem. This model has a huge battery, which gives you a longer cleaning time, so you are always ready!
Sweep, vacuum and... scrub
In addition to vacuuming and sweeping, our Roborock S5 Max White can also vacuum, thanks to its water tank and mop with filter.
Thanks to them, you can have a much cleaner floor, since the filter controls the amount of water in a much more efficient way.
Easy to recharge and replace the mop, has a series of mops adapted to the model, which will leave you much cleaner house.
Enjoy the maximum cleanliness with the new Roborock S5 Max.
Features Roborock S5 Max White - Robot Vacuum
Automatic cleaning for the office and home. General or zone cleaning.
Wi-Fi for full control from your smartphone with Mi Home (App Xiaomi)
Automatic or manual cleaning, so you can decide where to clean.
Intelligent route planning, leaves no corner uncleaned.
Distinguishes between types of floor, adding or decreasing cleaning pressure.
Low noise level.
Washable and interchangeable filters.
Laser sensor with mapping.
Technical specifications Roborock S5 Max White - Robot Vacuum
Brand: Xiaomi
Models: Roborock S5 Max
Navigation technology: laser mapping with 14 sensors
Tank capacity: 480 ml
Water tank capacity: 290ml
Suction power: 2000 Pa
2.4GHZ WiFi connectivity
Noise: 60 dB
Functions:

App: Yes (Roborock)
Programmable: Yes
Smart navigation with mapping: Yes
Voice control: Yes
Carpet Detector: Yes
Water level control: Yes (in app)

Battery: 5200 mAh

Rated power: 58W
Charging time: 3 h
Usage time: up to 3 hours

Charging station

Nominal power: 28W
Nominal input: 100-240V AC
Nominal output: 20 V DC / 1.2 A
Rated frequency: 50-60Hz
Dimensions: 15.1 x 13 x 9.8 cm

White color
Dimensions: 35.3 x 35 x 9.7 cm
Weight: 3.5 Kg
Package content
1 x Roborock S5 Max White - Robot Vacuum
1 x Charging Base
1 x Scrub cloth base
1 x Scrub cloth
1 x Carpet for vacuum cleaner
1 x Power adapter
1 x User Manual
60 Roborock S5 Max White - Robot Vacuum reviews
60 customers have already reviewed the article
the Roborock S5 Max White - Robot Vacuum
What do you think?
60 global reviews

Review and win!
Every month we give away
300€ among all
the comments
Leave a review!