Creality3D CR-10S Pro V2 Printer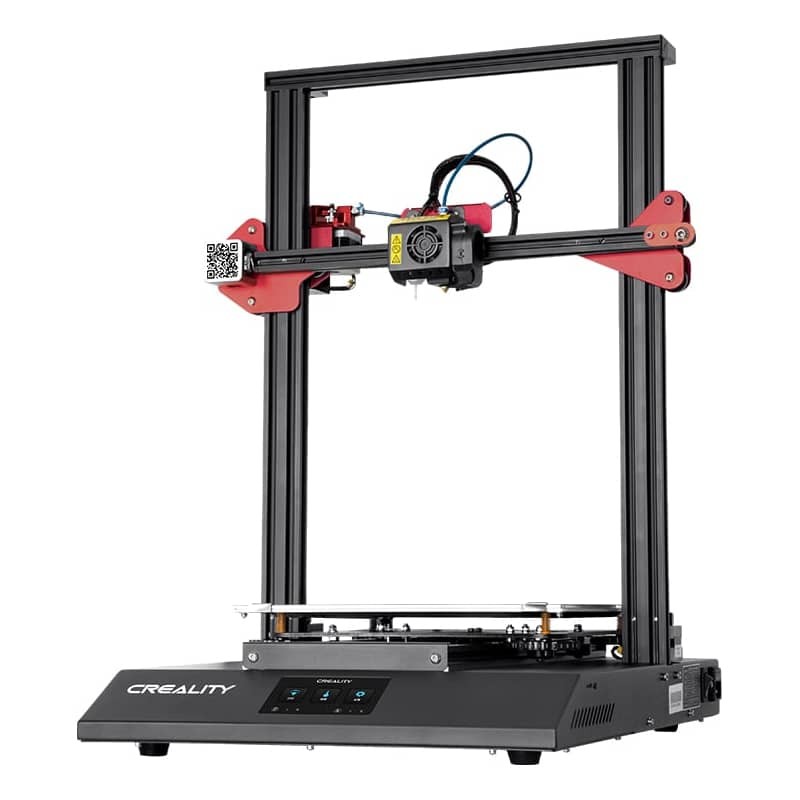 ---
Creality3D CR-10S Pro V2 Printer, the best version of the CR-10S
Hot bed up to 100º - Bondtech Bowden dual gear extruder - Automatic levelling - Filament sensor - Resume printing function - 300 x 300 x 400 mm print area - Touch screen - 1.75mm filament compatible - Supports MicroSD card - Capricorn Teflon tube - PLA, ABS, PETG, TPU - Smarter electronics board - Mean Well power supply
The improved version of the CR-10S, the new Creality3D CR-10S Pro V2 improves on one of the most popular printers. It retains a large building area with improved elegance, an improved extruder and is suitable for use with all types of filament. The appearance of the machine is more sophisticated than other Creality versions. It has the brain underneath it, reducing its outline and improving solidity and stability thanks to the additional weight. Its printing area of 300x300x400 mm has a good size and will offer you a way to peel off the figures without scratching the surface.
Automatic bed levelling and Mean Well power supply
At the beginning you will have to manually level the plate, but then the new Creality3D CR-10S Pro V2 printer and its Genuine Antclabs BL-Touch sensor can compensate for the rest of the prints and ensure that the layers are even across the entire print bed. You can choose between manual, semi-automatic or fully automatic levelling.
In addition, it has a Mean Well 24V power supply that provides the machine with more power for the operation of all components. This power supply is a proven and reliable technology, which will give you up to 200 hours of continuous use.
Keeps the Z-spindles
What does the CR-10S Pro V2 have that the CR-10s Pro doesn't? We'll tell you first what remains the same. It still has everything integrated in one body: the power supply, the motherboard, the control screen and the filament spool holder are in the same structure, and this means that it still saves a lot of space for incredible prints. It still has two Z-spindles, which will give you great stability and prevent dropping and unevenness due to the weight of the hotend as it moves. And this translates into greater positioning accuracy, something we will appreciate when printing large or high parts.
Smarter electronics board
The new Creality3D CR-10S Pro V2 printer has a smarter and more powerful electronics board, specially designed to give you faster heating of the platform and a more precise filament melting flow than other models. And to top it all off, what the makers who use their printers very often will surely appreciate the most: the resume printing function, with which we can resume printing right where it left off after a power outage, and the improved end-of-filament sensor that will detect when the spool has run out and pause printing until we reload it.
Capricorn Teflon tube
As for its components, we find exceptional quality in each one of them. In the case of the extrusion system, it keeps the most professional double gear Bondtech extruder made of aluminium, of great quality and durability. The hotend is also up to the task, as we have a model that dissipates heat much better and includes a sock to protect the heater and help maintain its temperature, along with a powerful layer fan.
In addition, it is fitted with a PTFE Capricorn Teflon tube, a high temperature resistant conduit with an inner diameter of 1.9mm. It will reduce any excessive movement space and prevent the filament from bending inside the tube.
Technical Specifications Creality3D CR-10S Pro V2 Printer:
Features:

Brand: Creality3D
Type: DIY
Model: CR-10S Pro V2
3D printing technology: FDM / FFF

Platform:

Hot bed: Yes
Size of the building plate: 300 x 300 x 400 mm
Aluminum thermal base
Maximum temperature of the hot bed: 100º

Extruder:

Number of extruders: 1
Extruder type: Bowden
Model: double gear BondTech extruder
PTFE Capricorn tube
Bronze nozzel

Fuser:

All Metal Hotend
Hotend melting temperature: 0-260º
Layer thickness: 0.1-0.4mm
Nozzle Diameter: 0.4mm (can be substituted for other sizes)
Compatible with 1.75mm diameter filament
Accuracy: ± 0.1 mm
Printing speed: 180mm / s
Double fan
Electronics board V 2.4.1

Display:
Functions:

Self-leveling (Genuine Antclabs BL Touch)
Resume printing
Filament detector

Connectivity:
Printing materials:

PLA
ABS
WOOD
CARBON FIBER
TPU

Language: English, Chinese
Power:

Power supply: Meanwell 24V
110-220V input (switchable, 24V output)
Power: 110 / 200V AC, 50/60 Hz
Total power: 24V, 480W

Features:

Product size: 550 x 490 x 650 mm
Material of the structure: aluminum frame
Colour: Black
Printer weight: 15 kg
Package weight: 17 kg
What's in the box:
1 x Creality3D CR-10S Pro V2 Printer
1 x Tool kit
1 x Flash drive and micro SD card
1 x Instruction Manual (English)
4 Creality3D CR-10S Pro V2 Printer reviews
4 customers have already reviewed the article
the Creality3D CR-10S Pro V2 Printer
What do you think?
4 global reviews

Review and win!
Every month we give away
300€ among all
the comments
We have no reviews in English
Select other languages
to see reviews of
Creality3D CR-10S Pro V2 Printer.