PC Gaming Ryzen 5 5600G/16GB 3200Mhz/480GB SSD Jericho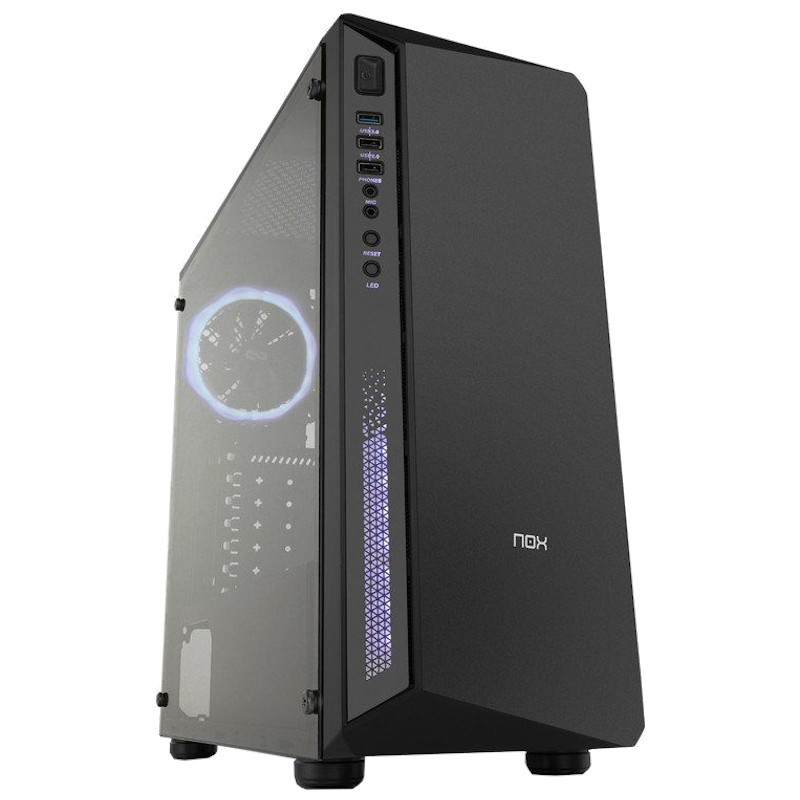 ---
PPC Gaming Ryzen 5 5600G/16GB 3200Mhz/480GB SSD Jericho
Land on the battlefield, soldier

The new Generation of Gaming Computers has arrived at Powerplanetonline. Designing your Computer from scratch to beat your opponents in the PC Master Race is cool but it often seems complicated. Leave this dirty task in the hands of the IT experts at Powerplanetonline and you just focus on winning. They? They are our specialists in preparing the best material, tireless fighters of the Call Of Duty Warzone and they are at the highest level in everything you propose to them. True geeks. The range of AMD Ryzen processors promised since its announcement the return of AMD to the first line of Gaming processors and they have not left anyone behind. They have proven to be up to the task. The Jericho Gaming Computer is your absolute weapon. It has the AMD Ryzen 5 5600G processor at 3.7GHZ. The empty hole in your PC may seem like a bad idea, but you won't miss it thanks to the power of the Integrated Graphics of the AMD Ryzen 5 5600G Processor. The AMD processor kept a surprise and has shown absolute solvency with games like Call Of Duty Warzone or Death Stranding. Better an empty hole in your PC because of the integrated graphics than one in your pocket because of the graphics recommended by your know-it-all friend.
Do you want to see everything in a real way?

How? Haven't you bought a gaming headset yet? We have a large section of headphones where you are sure to find the one that best suits your style (or the colour of the computer). Having a 6-core processor is fine, but the interesting thing is being able to see your Valorant agent in high-resolution graphics with unimaginable detail and sharpness. If you like to play and don't need to stare at the textures and graphics in Ultra, get Jericho Gaming Computer. It has an awesome performance. A Gaming Computer would not be complete without an SSD Hard Drive that blows up the operating system and reduces loading times in games to almost nonexistent. No more being on the Doom Eternal loading screen while your friends wait for you to hunt down the demon. The AMD Gaming Jericho Computer flies with the 480GB Kingston SSD, which you can even improve it by installing a second HDD where you have half a STEAM catalogue installed and take advantage of the SSD for the most important. To do this, visit our HDD section and add to the Order the one that suits you best, which we will install for you. We are proud to present the most warrior Gaming Computer on the market.
Ready for deployment

AMD Ryzen 5 5600G 3.7GHz Box - Integrated graphics processor to match the best multimedia entertainment
AM4 A520M/A320 Motherboard - All the connections you need
Double RAM HyperX Fury 8GB DDR4 - There will be no one to stop you

Nox Infinity Atom USB 3.0 PC Case - With Tempered Glass Front
Headphone Output and Microphone Input - Streams and Record Your Games with Voice
Kingston 480GB SSD Hard Drive - Unbeatable Read Speed ​​and System Boot
Tower and RAM - Let the war begin

Nox Infinity Atom USB 3.0 is the chassis compatible with ATX and micro ATX boards, perfect for you. You will be the smartest in the class. Both its front and its side have been designed with tempered glass so that it looks like you deserve. It includes extensive inner options. The top panel of this box features two USB 2.0 ports and one USB 3.0 port, as well as audio connections for headphones and microphone, providing easy access to all external device connections. In addition, it is created with tempered glass throughout the front which allows us to see the LEDs inside that will illuminate the interior of the PC with all the components (FRONT LEDS INCLUDED). As for the storage options, it has space to install up to 4 hard drives, two 3.5 and two 2.5 SSD all in the lower front part. And not only the cooling and correct temperature depends on the operating consumption itself. Instead, having an AMD Ryzen 5 5600G 3.7GHz Box processor also facilitates the correct distribution and functional application of the system by having 6 cores and a 14-nanometer lithography. It is enhanced through an optimised operation thanks to the integration of an amazing HyperX 8GB DDR4 memory. Such a great RAM will allow us to manage with ease all kinds of open applications with considerable graphic load. Leave your game on hold while you have graphic editing applications open, numerous browser windows or open multimedia players.

SSD Hard Drive, wooow!

Unrivalled speed and stability of reading an SSD. It is always good to have an SSD installation. This serves to boot up the system and the most relevant applications on our computer, improving the reading of essential data. In addition, this installation also improves the specific graphic load of our favorite games to use the HDD to save the elements of the document gallery that require more storage space. On this occasion, with the Kingston 480GB SSD hard drive, you will enter the battle in the best way. It offers to deliver a constant read speed of up to 500mb / s, a deadly speed. Designed with metal alloy, the operation will range from 0 ° C ~ 70 ° C for proper maintenance. As for the type of interface, it is a model that is compatible with everything you propose. With the new Kingston you will be able to achieve a spectacular boot on your computer, managing to load video games like Horizon Zero Dawn in a few seconds (compared to the load times of a conventional HDD disk). Start enjoying fast data reading and a system boot with the 480 GB Kingston, much better than Flash. If you are interested in expanding the initial memory, in our section on hard drives and external memories you will find perfect alternatives for every occasion. Here are the specifications in depth (with many more features and possibilities). As you can see, Jericho is your next ally against your enemies. It has the most attractive gaming and desktop publishing conditions at a very reasonable price that will give you countless hours of fun in all situations.


Content:
1 x PC Gaming Ryzen 5 5600G/16GB 3200Mhz/480GB SSD Jericho

Specs:
Processor - RAM Memory - Hard Disk
AMD Ryzen 5 5600G 3.7 GHz, AM4, 65W

2 x RAM HyperX 8GB DDR4 3200 Mhz (or similar model - depending on availability)
Kingston 480GB SSD Hard Drive (or similar model - depending on availability)

Graphic card
Integrated Graphics Radeon™ Graphics: 7 cores, 1900 MHz
Box - Base Plate
Nox Infinity Atom USB 3.0 Case: 120mm ARGB Fan Included (1), 2.5 Internal Bays (2), 3.5 Internal Bays (2), USB 2.0 (2 ), USB 3.0 (1)

AM4 A520M/A320 motherboard: 1 x M.2 connector (SATAIII / PCI-E), 4 x SATAIII connectors, 1 x PCI Express x16 slot, 1 x PCI Express x1 slots, 1 x PS / 2 keyboard and mouse, 1 x VGA, 1 x HDMI, 2 x USB 3.0 port, 4 x USB 2.0 port, 1 x RJ-45 port, 5.1 Audio

600W Tacens Anima APII600 Black Power Supply (or similar model)
Operating system
Without Preinstalled Operating System. Acquire a windows license together with your Gaming PC in our Software section.

59 PC Gaming Ryzen 5 5600G/16GB 3200Mhz/480GB SSD Jericho reviews
59 customers have already reviewed the article
the PC Gaming Ryzen 5 5600G/16GB 3200Mhz/480GB SSD Jericho
What do you think?
59 global reviews

Review and win!
Every month we give away
300€ among all
the comments
Leave a review!