PC Gaming i5 10400F/16GB/480GB SSD/GTX 1650 4GB/Jedi Killer PRO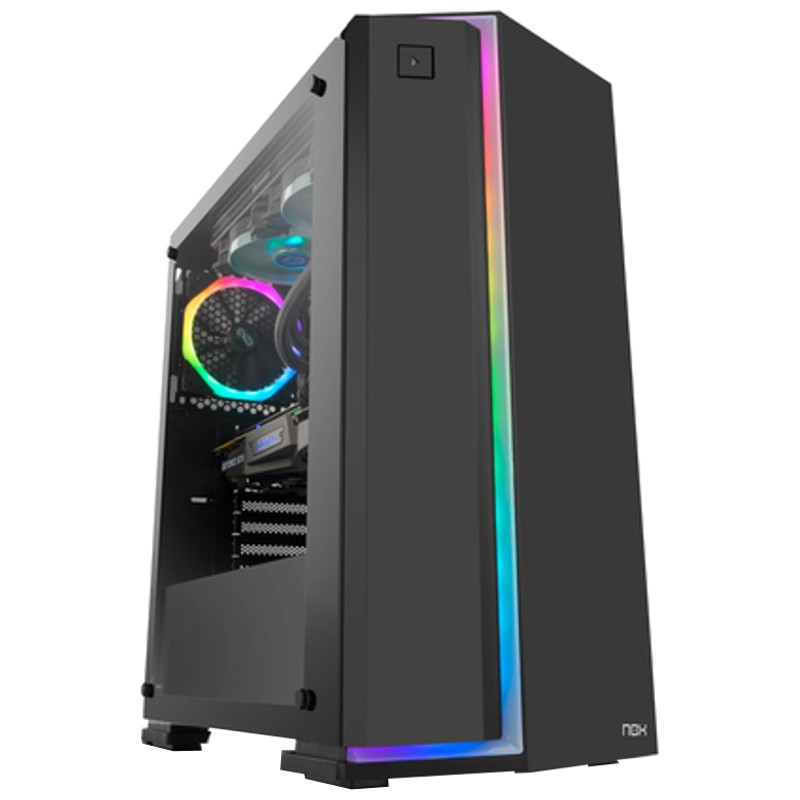 ---
PC Gaming i5 10400F/16GB/480GB SSD/GTX 1650 4GB/Jedi Killer PRO

Enjoy Latest Games for The Best Price
You have been waiting for a long time to buy a new computer. You want to download Half Life: Alux, Red Dead Redemption 2 or Fifa 22 but your computer is unable to open even those kinds of games. The time has come to renew. At Powerplanetonline we have the solution for you. We have prepared a series of PC Gaming designe to run the most successful 2021 games. Strike Hard is the interior force you need to beat your opponents. It consists of a Hummer TGM ARGB tower, a large space with many possibilities and a metal structure.

Admit it, You're Crazy about Graphics
To fully immerse yourself in gaming experience you will need a good audio quality. This is possible with a decent gaming headset, by connecting it to the corresponding port on your NOX Infinity Neon RGB tower. If you don't have a gaming headset yet, then it's time for you to find one. In our online shop we have a wide range of headphones for the occasion where you are sure to find the one that best suits your style (or the colour of your computer). The graphics card in charge of the Gigabyte GeForce GTX 1650 OC 4GB GDDR5 will allow you to run any kind of game you are hooked on, being able to adapt the graphics to resolutions of up to 4K, thanks to the HDMI 2.0 output that it integrates in its interface. The entire Hummer Pro tower maintains the brand's own design, with a very sober front, gaming design and enough space to be able to adapt the components to your taste and build a PC according to your needs. Windows 11 Ready.
Ready for Action
Gigabyte GeForce GTX 1650 OC 4GB GDDR5
Intel i5 10400F -Play and work with ease
RAM DDR4 16GB(8GBx2) Memory - So that the Machine's Brain does not Collapse
2 Fans of 120 mm - Front and Rear Fan
NOX Infinity Neon RGB - Light up your Night
Headphone Output and Microphone Input - Stream and Record your Games with Voice
480GB SSD - Unsurpassed Read and System Start Speed
Carefully Selected Processor and RAM
As we have already told you about the design and the tower, now we focus on the internal specs. Jedi Killer is a PC Gaming equipped with a cooling system with 2 internal fans of 120 mm pre-installed. It also offers the possibility of extending the cooling with up to 3 more fans, two on the front and one on the top. In addition to good cooling, you will have the power of an Intel i5 10400F processor that facilitates the correct distribution and functional application of the system as it has 6 cores and a 12 nanometer lithography, a fact that highlights an optimized operation thanks to the integration of a 16 GB DDR4 RAM that will allow us to easily manage all kinds of open applications with a significant graphic load. You will be able sleep your game while you open other multimedia applications or graphic edition programs without any problem.
SSD
If there's one thing to consider when getting a new PC, it's its internal storage capacity. All this will be fundamental to be able to install a multitude of programs or games, in addition to storing all your files. For this you'll have a 480GB SSD, which will also help you transfer data at a scandalous speed, achieving reading speeds of 510 mb/s. If you want to expand your initial memory, this PC allows you to customize it to your taste and in our section of hard drives and external memories you'll find perfect alternatives for every occasion. Below are the specifications in depth (with many more features and possibilities), but as you can see, this Jedi Killer has everything you need to take control of the game and bring out the dark side. Buy your Jedi Killer computer from Powerplanetonline for the best price.

Fornite, Call of Duty, Forza Horizon 4, GTA or League of Legends at Your Fingertips
Despite its small size, it is able to perform perfectly with all kinds of games that we want to play, thanks to its cooling system with 2 fans and the GeForce GTX 1650 OC 4GB GDDR5 Gigabyte graphics card. This GeForce graphics card offers competitive performance with the most advanced architecture to give you the best in virtual reality and high-definition gaming. Call of Duty, Forza Horizon, and League of Legends are just a few of the games you can play on this Jedi Killer gaming PC.

In the Box:
1 x PC Gaming i5 10400F/16GB/480GB SSD/GTX 1650 4GB/Jedi Killer PRO

Specifications:
Processor - Memoria RAM - SSD

Intel I5-10400F 2.9GHz, 65W power

Crucial RAM DDR4 16GB(8GBx2) 3200 Mhz Memory (or similar model - subject to availability)

SSD Kingston A400 480GB (or similar model - subject to availability)
Graphics Card
GeForce GTX 1650 OC 4GB GDDR6 Gigabyte Graphics Card
Graphics Card Interface: 1 x HDMI , 3 x DisplayPort

Case - Motherboard

NOX Infinity Neon RGB box : 1 x 120 mm Installed fans (rear), ATX and Micro ATX shape compatible, USB 2.0 (2), USB 3.0 A (1), Mic output, Aux output.

Gigabyte H410 motherboard (or similar model - subject to availability)
Operating System

No Pre-installed Operating System. Purchase a windows license along with your PC Gaming in our Software section. Windows 11 Ready.

4 PC Gaming i5 10400F/16GB/480GB SSD/GTX 1650 4GB/Jedi Killer PRO reviews
4 customers have already reviewed the article
the PC Gaming i5 10400F/16GB/480GB SSD/GTX 1650 4GB/Jedi Killer PRO
What do you think?
4 global reviews

Review and win!
Every month we give away
300€ among all
the comments
We have no reviews in English
Select other languages
to see reviews of
PC Gaming i5 10400F/16GB/480GB SSD/GTX 1650 4GB/Jedi Killer PRO.