Muscle Massage Gun 6 Heads 30 Levels Black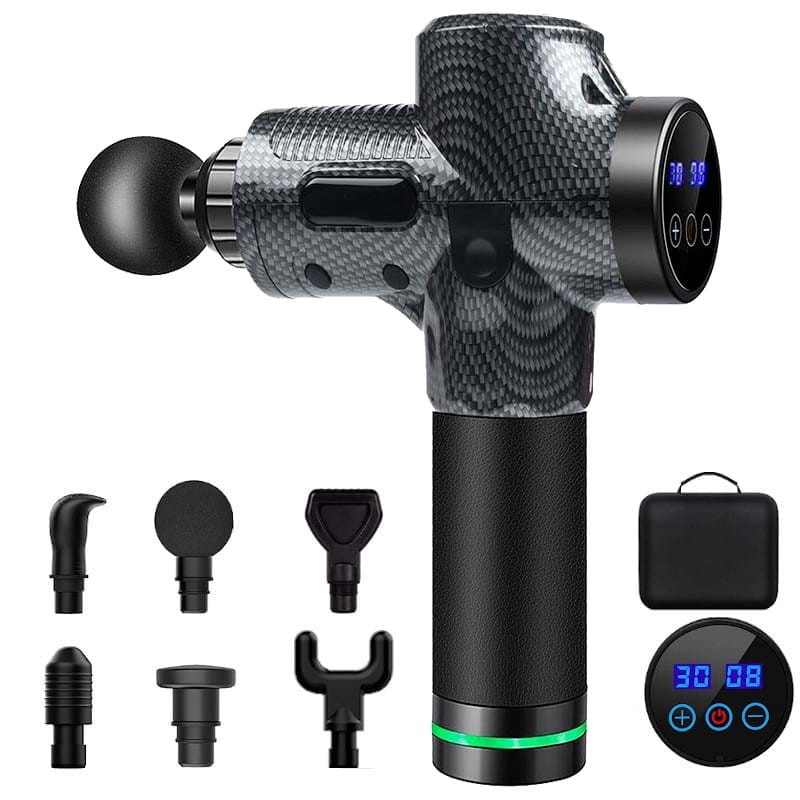 ---
Muscle Massage Gun with 6 Heads and 30 Speed Settings
Massage gun - 10 minutes use per day recommended - 20W brushless motor - 3200 rpm maximum - Quiet - 30 speed settings - 6 silicone heads - Long life battery
Do you experience too much pain and stiffness at the end of your high intensity exercises? Then what you need is a Muscle Massage Gun like the one presented here, with 6 heads for the different muscle groups and 30 speed settings.
Sounds great, isn't it? Then read on and we'll tell you all about it! Here, in Powerplanetonline.
Muscle Pain After Exercise and its Connection to the Fascia
If you haven't exercised for too long or have started a new sport, you may feel muscle pain. The typical I'm aching all over. And it doesn't necessarily have to be due to the annoying sores, but because you are forcing the fascia too much.
Fascia is a system of connective tissue consisting of receptors and nerve endings that envelopes every organ in our body, from muscles to tendons and cells. It has recently been discovered that 80% of back complaints of unknown origin can find their cause in this part of our body.
10-minute Daily Massage with This Muscle Gun
Don't worry, you don't have to give up on getting in shape. The muscle massage gun provides us with the solution we are looking for, as it carries out a high frequency vibration that deeply stimulates the fascia and brushes the muscular knots, breaking the tension and the muscular rigidity.
It is as simple as giving yourself a 10 minute daily massage with the massage gun after sport practice. In this way, it will help you to mitigate pain and relieve muscle fatigue.
20W, 3200rpm Poweful Engine
This massage gun can achieve all this thanks to the equipment of a super-quiet 20W, 3200 rpm brushless motor, powerful enough to stimulate muscle groups up to 12 mm deep, as well as to quickly neutralise the lactic acid produced after sporting activity, thus avoiding the appearance of annoying stiffness.
Moreover, as we mentioned at the beginning, as it is a brushless motor it barely generates any noise, reaching very few decibels even if we put it at maximum power.
30 Speed Settings
Since each body and each moment requires different massage characteristics, you can adapt the power of the Muscle Massage Gun to the level you need. Its 30 speed settings can activate the muscles, relax the fascia or perform a deep massage.
6 Heads for Each Muscle Group
In addition, the Muscle Massage Gun includes 6 silicone heads, so that you can use them on different parts of the body. Some of them are a round head for massaging the back, arms, thighs, calves and other large muscles; a U shaped head, for massaging the neck and both sides of the spine; the bullet type head, suitable for impact on deep tissues such as meridians, joints, palms and feet; as well as a flat head for relaxing different muscular areas of the body.
2500 mAh Battery and Long Autonomy
And thanks to its large 2500 mAh battery, you'll never be stuck in the middle of a massage. It is capable of providing up to 6 hours of autonomy in ECO Mode.
Ergonomic Touch Screen Grip
Last but not least, its gun shaped design will call your attention, which facilitates the grip while using it. In addition, thanks to its built-in LCD touch screen you will be able to know when it has finished charging, what mode it is in and change the speed.
Buy Muscle Massage Gun 6 Heads 30 Levels Black at Powerplanetonline
Get the coolest muscle massage gun on the market now and enjoy life with your muscles rested! Get it for the best price here at Powerplanetonline. With delivery from Spain within 24 hours.
Technical Specifications Muscle Massage Gun 6 Heads 30 Levels Black:
Brand: OEM
Product: Muscle Massage Gun
Motor: 20W 1800 ~ 3200rpm 48mm brushless
Battery: Li-ion 16.8V 2500 mAh
Autonomy: up to 6 hours
Charging time: 3 hours
Dimensions: 258 x 238 x 51 mm
Weight: 1 kg
Colour: Black
Packaging content:
1x Muscle Massage Gun 6 Heads 30 Levels Black
6x Heads
1x Charger
1x Transport bag
1x User Manual
22 Muscle Massage Gun 6 Heads 30 Levels Black reviews
22 customers have already reviewed the article
the Muscle Massage Gun 6 Heads 30 Levels Black
What do you think?
22 global reviews

Review and win!
Every month we give away
300€ among all
the comments
Leave a review!