MSI GeForce GTX 1050 TI AERO ITX 4GB GDDR5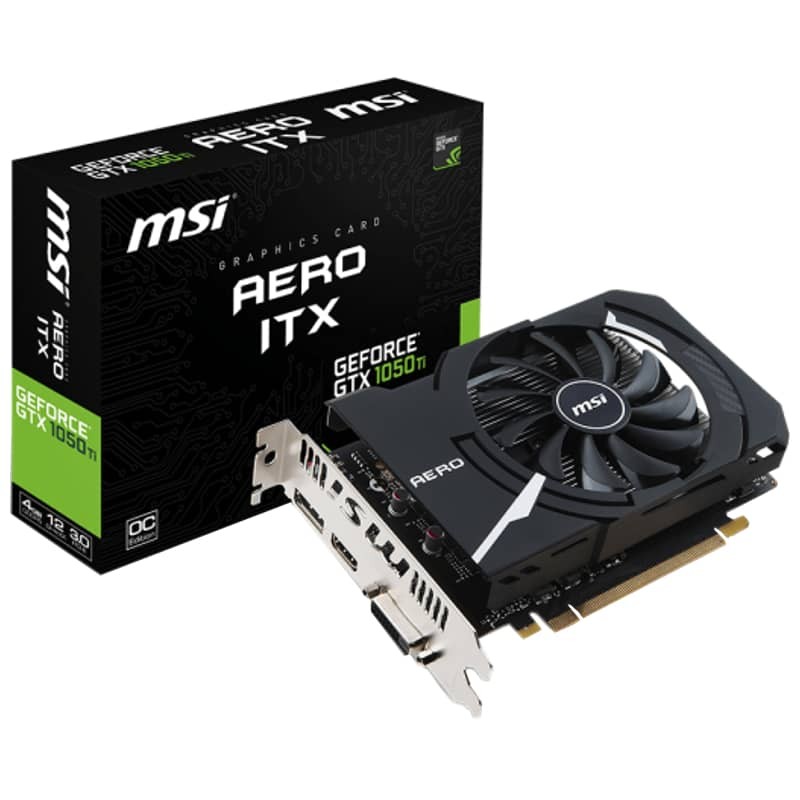 ---
MSI GeForce GTX 1050 TI AERO ITX 4GB GDDR5
Great Power - 4GB GDDR5 - High Quality Materials - MSI Afterburner
At Powerplanetonline we want you to enjoy your favourite video games under the best conditions. That's why GeForce GTX cards are the most advanced cards ever made. Discover unprecedented performance, energy efficiency, and next-generation gaming experiences. The new MSI GeForce GTX 1050 TI AERO ITX 4GB GDDR5 graphics card will help you do just that. Stay to know more!
You Will Be Ready for 3D
Discover the next VR generation, the lowest latency and support for leading viewers - using NVIDIA technology VRWORKS™. VR audio will allow you to hear and feel every moment. Pascal has been designed for the demands of next-generation displays, including VR, ultra-high resolution and multiple monitors. It also incorporates NVIDIA GameWorks™ for an extremely smooth gaming experience with amazing cinematic effects. In addition, it also includes a revolutionary new 360º capture.
Gaming Experience
The smoothest, fastest and most exciting GAMING experience through display shutter. Ultra-high resolution (UHD) offers 4x the resolution of 1080p content. More detailed images while enjoying your GAMING experience. Pascal-based graphics cards offer you superior performance and energy efficiency, using the ultra-fast FinFET with DirectX™ 12 support to deliver the fastest, smoothest and most efficient gaming experience possible.
MSI Afterburner to Achieve Maximum Power
To experience and enjoy the amazing worlds of virtual reality, certain hardware is required. MSI, a leading brand in gaming and eSports, provides VR-ready equipment. Integrating the latest technologies with the right hardware for a smooth experience. Together with our VR partners, MSI provides players with an extremely realistic VR experience to make the game feel alive. MSI Afterburner is worldwide known and widely used in graphics cards, uses higher overclocks and gives full control to your graphics cards. It also provides an incredibly detailed overview of your hardware and comes with some additional features such as video recording customisation and benchmarking.
Specifications MSI GeForce GTX 1050 TI AERO ITX 4GB GDDR5:
P / N: V809-2608R
EAN: 0824142146804
GPU:

Family of Graphics Processors: NVIDIA
Graphics Processor: GeForce GTX 1050 Ti
Maximum Resolution: 7680 x 4320 pixels
Processor Frequency: 1341 MHz
Increase Processor Clock Speed: 1455 MHz
Resolution (digital maximum): 7680 x 4320 pixels
Maximum Screens per Video Card: 3
CUDA Cores: 640

Memory:

Discrete Graphics Adapter Memory: 4 GB
Type of Graphics Adapter Memory: GDDR5
Data Width: 128 bit
Memory Clock Speed: 7008 MHz

Interface:

Interface Type: PCI Express x16 3.0
Number of HDMI Ports: 1
Number of DVI-D Ports: 1
Number of Display Ports: 1
HDMI Version: 2.0
Display Port Version: 1.4

Power Supply / Operations:

Cooling Type: Active
Minimum System Power Supply: 300 W
Energy Consumption: 75 W

Other Features:

DirectX Version: 12.0
OpenGL Version: 4.5
Dual Link DVI
HDCP
Total High Definition

NVIDIA G-SYNC

Appearance / Dimensions:

Number of slots: 2
Colour: Black
Weight: 308 g
Depth: 155 mm
Height: 112 mm
Width: 37 mm
In the Box:
1 x MSI GeForce GTX 1050 TI AERO ITX 4GB GDDR5
MSI GeForce GTX 1050 TI AERO ITX 4GB GDDR5 Reviews
We have no reviews
of MSI GeForce GTX 1050 TI AERO ITX 4GB GDDR5
Be the first!

Review and win!
Every month we give away
300€ among all
the comments