Mini Security Robot ESCAM PT205-R 2MP Wifi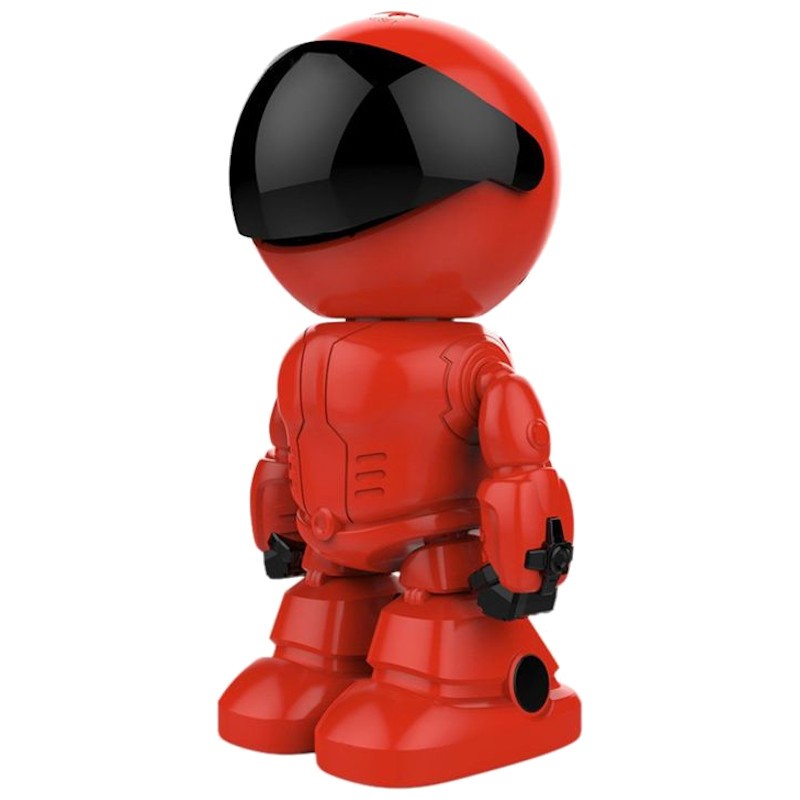 ---
Mini Safety Robot ESCAM PT205-R, Toy-shaped Secury Camera to Protect Your Home
Mini security robot - 1/3 camera - 2MP - Night vision - Wide viewing angle - Alarm - Motion detection and auto-tracking - Microphone and speakers - WiFi - APP Yoosee - White
Having the best security not only depends on having a spectacular camera, it must also go unnoticed. For a unique model that goes unnoticed like a toy, you have the new mini security robot ESCAM PT205-R which is designed to make you safer. It has a unique viewing capability, a very large viewing angle and various alarms and functions. It not only pretends to be a toy but also features awesome connection capabilities. Keep reading and you will find one of the most complete models that exist, it's great.
Outstanding Image Quality
This new mini security robot is created so that you can see it big while it goes unnoticed. Because what you need is to know who's in your house without them finding out by pretending to be a toy. In order to see everything in the best way, it has a 1/3 camera of 2MPx so you can know who is on the other side. In addition, you will be able to know both day and night thanks to its infrared sensors and it has a very large viewing angle of up to 355º so you can see a whole room without any problem. Maximum connection capacity!
It will be activated when someone enters
It enables you to be safer, it increases such safety hanks to its alarm that will send the images and videos made by the camera. These will be sent to your phone in the APP and also to your e-mail. Also, it has features motion detection and auto-tracking so that it is activated only if someone enters your home.
Full Control on Its App
You will be able to talk to the person on the other side as it integrates a built-in microphone and speakers. This is a model that has a WIFI connection and, through its Yoosee APP, will give you everything you need. This model of robot camera is created to go unnoticed — available in red colour!
Technical specifications Mini Security Robot ESCAM PT205-R 2MP Wifi:
Brand: ESCAM
Model: PT205-R
Mini Security Robot with Camera
Camera:

Sensor 1/3 , 2MP, CMOS
Minimum illumination:

Color: 0.2 Lux @ f / 1.2
Night vision: 0.01 Lux @ f / 1.2

Focal length: 2.8mm
Viewing angle: 110º
Pan: 355º
Inclination: 45º

Functions:

Day and night mode: 6 IR LEDs
Viewing distance: 10 m
White balance: automatic
Supports motion detection and auto tracking
Alarm: image and video
Notification alarm with APP and email

Audio:

Microphone and speakers
Compression: G. 711A

Connections:
Connection capacity with 64 GB SD card
Power: DC5V / 1.5W-5W
Operating temperature: -10ºC - 55ºC
Dimensions: 17.5 x 9.5 x 8 cm
Weight: 230 gr
Colour: Red
What's in the box
1 x Mini Security Robot ESCAM PT205-R 2MP Wifi
1 x Power adapter
1 x USB Cable
1 x Screws package
1 x Instruction Manual
Mini Security Robot ESCAM PT205-R 2MP Wifi Reviews
We have no reviews
of Mini Security Robot ESCAM PT205-R 2MP Wifi
Be the first!

Review and win!
Every month we give away
300€ among all
the comments