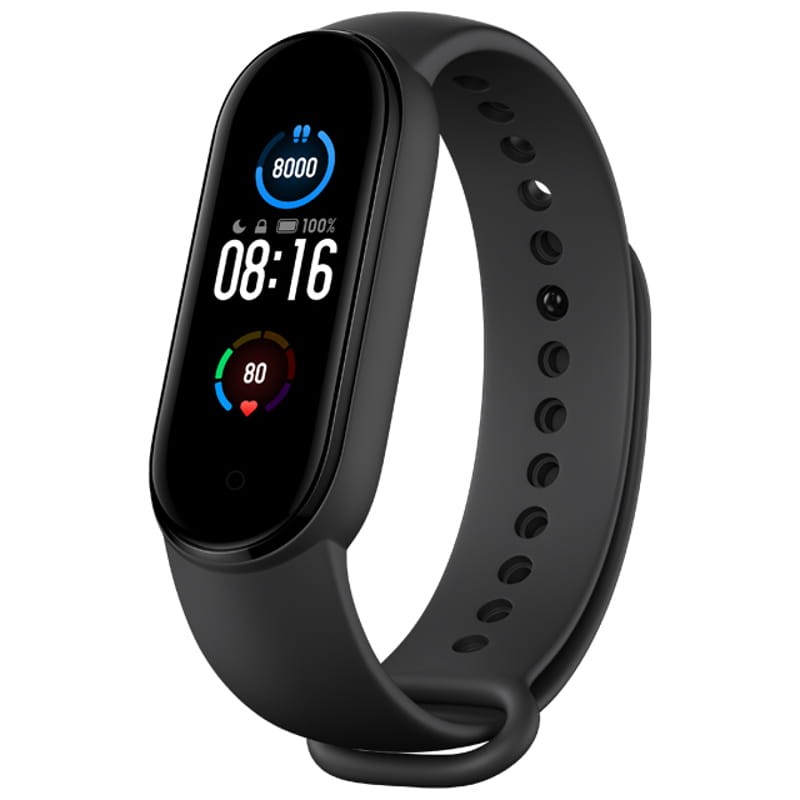 ---
Xiaomi Mi Band 5, an improved version, now with more new features
Color display - 1.1" size - Interchangeable dial - 11 sport modes - Water resistant - Breathing training - PPG heart rate sensor - 3 axis acceleration sensor - 3 axis gyroscope - Sleep monitor with REM phase analysis - Menstrual cycle control - Mobile camera control - Up to 14 days of use - Adjustable
Mi Band 5, Xiaomi's best-selling band. After a long wait, it has finally arrived to Powerplanetonline.
We are specialists in sport items, in all sports bands that offer you all the data you need to be happy and to show your sporting quality. You will enjoy like never before!
The new Mi Band 5 has been designed so that all those who love sport can enjoy it to the fullest.
With the cability to collect all the data you need from your sport practice, it will show you your health status: your sleep status and your health status, accompanied by the control of the menstrual cycle.
All of this together with a lot of new features that make it one of the models of the moment.
Keep reading and you will discover why we are in love!
The colour comes back to your wrist
This new Mi Band 5 version of the popular Smartband by Xiaomi has a full colour screen with a size of 1.1", one of the most fascinating screens you will find now.
You can use it in many ways, because this model has an interchangeable dial so you can use it in a way that suits you - it's a spectacular model!
Touch and up to 100 different dials
To make it even easier to use, the new Xiaomi smartband gives you maximum control with its touch-screen capability so you can use it without any problems.
Xiaomi Mi Band 5 a the must-have, one of the highest-quality models available today. As mentioned above, it's a model that's designed to be used by you, so you can adapt it perfectly to your needs.
With its more than 100 different dials you can adapt it to you without any problem, being able to wear it in a unique way and, above all, sticking with your style. A smartband for you!
Multiple sports modes, even yoga
We know why you are looking for a quality smartband like the new Xiaomi Mi Band 5: you are a sports lover and want to have all your sports data under control.
With this new model you will be able to know all this, whatever you practice because it has 11 sport modes that go from running to cycling and, most importantly, now you will also be able to have your data clear during your yoga practice.
All kinds of sports will be safer thanks to this new model of Xiaomi, one of the most powerful you'll find today.
Mi band - Land and water - resistant up to 5 Atmospheres
This model also allows you to practice water sports. With a resistance capacity of 5ATM, although we do not recommend to immerse it, you can use it for sports like swimming.
You will be able to collect the data of your lengths and be able to enjoy even more something that gives you life - a must have model for sports lovers!
Various sensors to keep you safe at all times
It achieves all this thanks to the fact that, inside, it has a large number of sensors that allow it to perform multiple functions.
Thus, this model has a 3-axis acceleration sensor, a 3-axis gyroscope and a PPG heart rate sensor that will allow you to know all the data of your sports practice without any problem.
A model designed so that sports lovers and all those who want to be able to enjoy their days, can do it in a great way. You will always enjoy it!
Sleep monitor with REM phase detector
It is not only a model for athletes, everyone can improve their quality of life with the new Xiaomi Mi Band 5.
Thus, this model also allows you to know the state of your sleep thanks to its sleep monitor that, in addition, will detect when you have entered the REM phase and for how long.
This is very useful, since the quality of your sleep is what determines how rested you will be the next day.
Dare to know how your sleep is and you will be able to face the days in a superior way, you will go for it!
Health status
All these features have one ultimate goal: your new Xiaomi band gives you a summary of your body condition, thus encouraging the emergence of healthier habits, which will improve your quality of life.
With its health status you can find out your body condition and, if you use it together with your Xiaomi Mi Fit APP (Android and iOS), receive advice on how to improve your health. You will feel stronger, happier and in better health thanks to this new Xiaomi band - it's great!
Control of the menstrual cycle
Likewise, Mi Band 5will allow you to know in which moment of the menstrual cycle you are, being much more sure and being able to know your state with a great accuracy.
A model designed for your health, that allows you to be more secure and that will allow you to know all the data of your body without any problem. An incredible model!
It fits you perfectly and you can use it for a long time
But it is not only one of the most functional models you will find in our catalogue, it is also one of the most adaptable.
We have already talked about its interchangeable dials, but this model has an adaptable strap that makes it possible for all kinds of people to wear it without any problem.
It will adapt to your wrist perfectly!
One of the most interesting batteries of the moment
You can also use it for a long time because it has a high-capacity lithium-ion polymer battery.
Mi Band 5 offers you a capacity of use of up to 14 days without any problem and with all its sensors activated.
And with its new wireless charging model you can have it ready in just 4 hours. One of the most interesting models of the moment.
Buy the new Xiaomi Mi Band 5 at Powerplanetonline
Get one of the best models of the moment at the best price and with the greatest guarantees. The new Xiaomi Mi Band 5 can be yours in just a few days.
Features Xiaomi Mi Band 5
A 1.1" color screen that allows you to see all the data you need at a glance. And with its 100 interchangeable dials, it will adapt to you.
11 sport modes so you can use it both on land and in the water (we recommend not to submerge it) And it features yoga.
Not only does it monitor sports, it also lets you know about your health: it monitors sleep with REM phase detector, menstrual cycle control and much more. You've never been so safe or secure.
Use it for a long time: up to 14 days of use, a must-have model.
Technical specifications Xiaomi Mi Band 5
Brand: Xiaomi
Model: Mi Band 5 Global (XMSH10HM)
Languages : Supports English, Spanish, Russian, Italian, French, German, Ukrainian, Polish, Korean, Portuguese, Turkish, Japanese, Arabic, Czech, Thai, Indonesian, Greek, Vietnamese, Romanian, Chinese and Dutch
Processor:

RAM: 512 KB
Flash memory: 16 MB

Screen:

Color display
Size: 1.1 "
Screen resolution: 126 x 294 px
16-bit display backlight
Brightness:> 450 nit
Adjustable brightness
Interchangeable dial: 100+ themed dials

Sports modes:

11 sports modes: running, walking, walking, cycling, swimming, jumping rope, rowing and yoga, among others
Water resistance up to 50 meters (we do not recommend submerging)
Breathing training

Sensors

3 axis acceleration sensor
3 axis gyroscope
PPG heart rate sensor

Connection:

Bluetooth 5.0 BLE
Operating systems: Android 5.0 or iOS 10.0
Xiaomi Mi Fit APP (Android and iOS)

Features:

Sleep monitor
REM phase analysis
Vitality index
Control of the menstrual cycle
Mobile camera control
Water resistance: 5ATM
Notifications

Battery:

Lithium ion polymer battery: 125 mAh
Charging by magnetic charging
Battery life: up to 14 days
Charging: up to 2 hours

Dimensions and weight:

Dimensions: 4.72 x 1.85 x 1.24 cm
Adjustable length: 15.5-21.9 cm
Weight: 11.9 gr
Colour: Black
Material: 2.5D tempered glass and AF coating, PC plastic
Box contents
1 x Xiaomi Mi Band 5
1 x Black Color Strap
1 x Charging Cable
1 x User Guide
170 Xiaomi Mi Band 5 reviews
170 customers have already reviewed the article
the Xiaomi Mi Band 5
What do you think?
170 global reviews

Review and win!
Every month we give away
300€ among all
the comments
Leave a review!