Mechanical Keyboard Motospeed CK95 Blue Light Switch Blue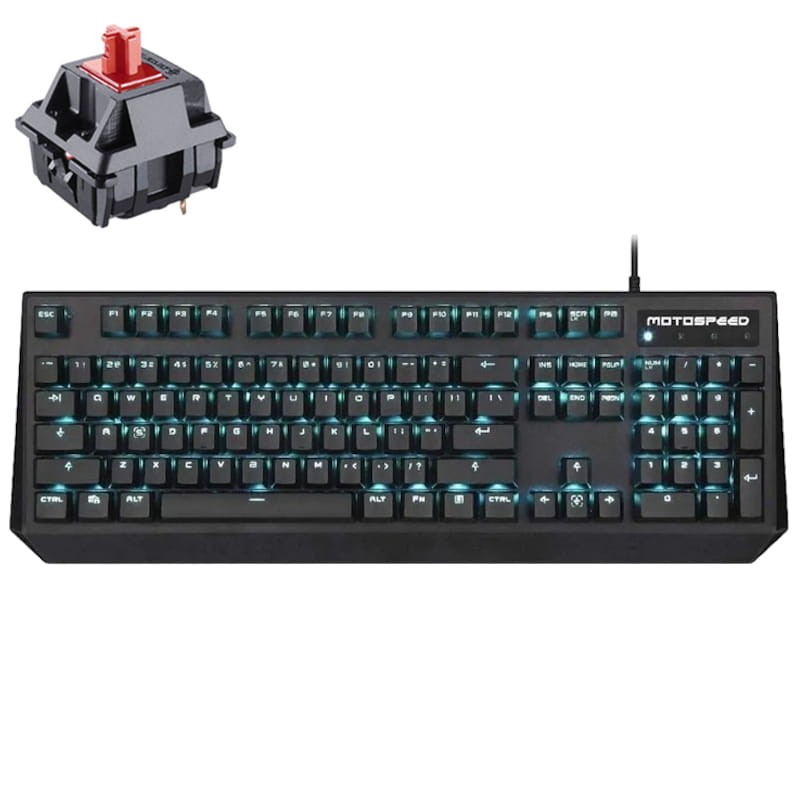 ---

Motospeed CK95 Blue Light Mechanical Keyboard, use it as you wish
Mechanical Keyboard - Blue / Red / Brown / Black Switch - 104 Keys - 9 Lighting Modes - Customizable Lighting Modes.
Mechanical keyboards have evolved. From peripherals designed only for the well-to-do people to a must-have for you PC when it comes to reach the Nexus. MotoSpeed always has the best, like its new mechanical keyboard MotoSpeed CK95 Blue Light, a model that can be customised and adapted to the maximum. Available in four different switch colours, one for each type of gamer. You know what a keyboard switch is, right? Anyway, we explain it to you below. Read on and you'll discover the peripheral you need in your PC.
Complete keyboard for pro gamers
Pro players generally choose mechanical keyboards. This depends on each person, of course, but the response of these is superior to that of membrane keyboards. The new MotoSpeed CK95 Blue Light is a complete mechanical model, with 104 characters, including all the keys used by professional e-sports teams. For example, Fn enables you to access many more functions quickly than the keyboard itself, such as changing key colours to make WASD stand out. As it is a mechanical keyboard it is truly durable — now you can play Phasmophobia without being afraid of damaging it due to ghost scares. Adapt it to your setup gaming thanks to its spectacular built-in blue LED light that can be customized in 9 different lighting modes.
Different switches
Finally, let us explain a detail to the newcomers. Mechanical keyboards are created with different switches underneath each of the keycaps, thus achieving better response compared to membrane models. This keyboard is available in four different switches to adapt it to you: a red switch, which gives you a linear feeling, where you can notice the up and down key movement, designed to reach the ideal response with smooth keystroke. A black switch that is like the previous one but requires more strength when typing; a blue switch providing a tactile response and making the typical clicky sound; or a brown one, quieter than the previous one but with the same response. You choose your favourite!
Features of Mechanical Colour Keyboard MotoSpeed CK95 Blue Light:
9 LED backlights in blue
Full 104-key keyboard with quick response (without the Ñ key)
Includes all the mechanical keys of the standard professional e-sports equipment
Multimedia function key combination
No EEPROM memory. Flash memory chip
Quick WIN, enhances the gaming experience
Different switches: blue ( clicky sound, tactile), brown (no clicky sound; tactile), red (smooth keystroke; linear switch), black (harder keystroke; linear switch)
Technical specifications Mechanical Keyboard Motospeed CK95 Blue Light:
Brand: Motospeed
Model: CK95
Type: Mechanical keyboard
Keys: 104 keys
Switch: Blue / Red / Brown / Black
American keyboard (No letter Ñ)
Connection: Cable
Interface: USB
USB 2.0 key number: 104
Response speed: 0.2 M / S
Mechanical keyboard backlight: RGB Light Blue
Dimensions: 46.77 x 15.35 x 3.61 cm
Product weight: 780 ± 20g
Material: ABS / PBT
Colour: Black
Box contents:
1 x Mechanical Keyboard Motospeed CK95 Blue Light
1 x Manual / Motospeed Card (English)
Mechanical Keyboard Motospeed CK95 Blue Light Switch Blue Reviews
We have no reviews
of Mechanical Keyboard Motospeed CK95 Blue Light Switch Blue
Be the first!

Review and win!
Every month we give away
300€ among all
the comments
You might be interested in