Kit Hair Clipper Machine Enchen Boost White + Scissors + Haircut Cloth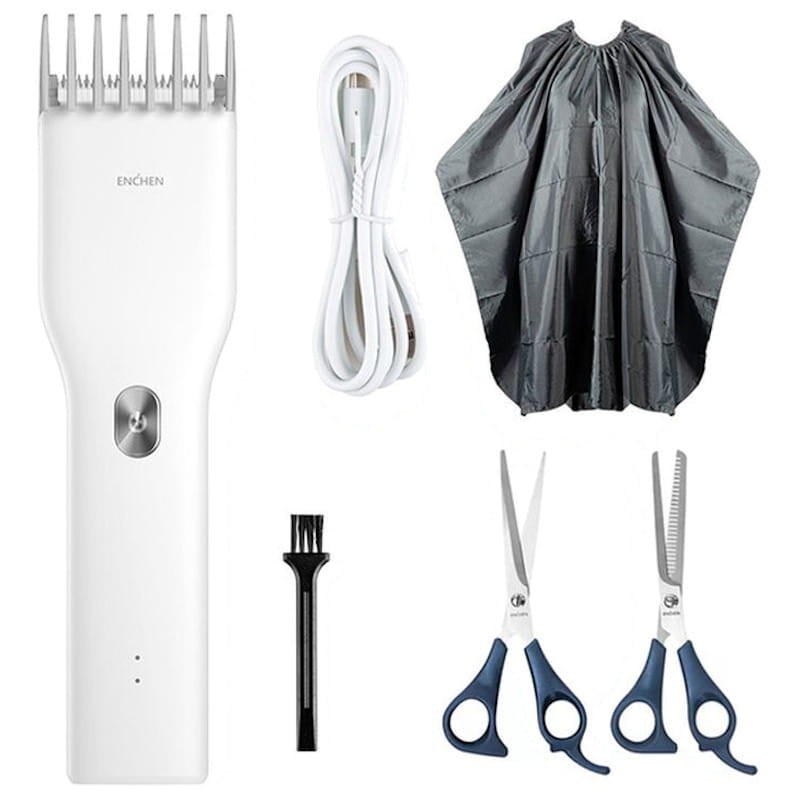 ---
Wireless Hair Trimmer Kit Xiaomi Enchen Boost White, Simply Look Spectacular
Hair trimming machine - Adjustable cutting length from 0.7 to 21mm - Nanoceramic cutting head - Noise level below 55dB - Normal cutting speed 4500 rpm - Turbo mode 5800 rpm - ESM technology - Ergonomic and minimalist design
The perfect look can be difficult to achieve, sometimes we are not fully satisfied with the result and small changes have to be made. With the new Xiaomi Enchen Boost wireless hair clipper kit you'll have no excuses, just lack of practice. It is one of the most spectacular and complete kits, consisting of a high quality wireless hair clipper, cutting scissors and a haircut cloth to have the whole set. Keep reading and you will fall in love with it.
Easy to Use. Great Performance
If we focus on this hair clipper, we have a simple model to use, you don't need to be a professional! Thus, the Enchen Boost has a button to regulate the length of cut between 0.7mm and 21mm, thus avoiding having to change the comb according to the area to be cut. Its cutting head is made of nanoceramic. This type of material is 1.6 times more resistant than stainless steel, which is usually used in hair clippers, also offering a smoother and smaller surface. In this way, we will achieve a much faster, smoother and quieter work that manages to extend the life of the machine. It has a noise emission below 55dB, much lower than other models.
Two Cutting Speeds to Suit You
In addition, thanks to its frequency conversion technology, combined with a powerful 280-type motor, it gives you two cutting speeds. The normal starting speed is 4500 rpm, although if you find that this is not enough for your hair you can activate the Turbo mode to reach 5800 rpm. Designed with a rechargeable battery, but you can still use it while it charges. It features ESM (Energy Smart Manager) technology which gives you smart charging and great power management. And its battery will last up to 3 months.
The Kit You Were Looking For
Finally, this kit not only stands out for its hair clipper but also for its different accessories. This kit includes two cutting scissors so that you can have the best result in all situations. Best of all, to avoid mess, it comes with a haircut cloth.
Discover the new Kit Hair Clipper Machine Xiaomi Enchen Boost White at Powerplanetonline
The ideal hair clipper machine, guaranteed for 2 years, shipping from Spain and the advice of our customer service.
Technical specifications Kit Hair Clipper Machine Xiaomi Enchen Boost White + Scissors + Haircut cloth:
Brand: Xiaomi Enchen
Product: Hair clipper
Model: Boost
Hair clipper

Nano ceramic cutting head
Cutter head with rounded corners
Adjustable cutting length from 0.7 to 21mm
Two cutting speeds - turbo mode at 5800 rpm
Charging mode: USB Type C
Voltage: 5V
Rated power: 5W
Noise emission: <55 dB
Autonomy of 3 months
Charging time: 120 minutes
Dimensions: 164 x 43 mm
Weight: 142g
Material: ABS
Colour: White
Package includes:
1 x Hair Clipper Machine Xiaomi Enchen Boost
1 x USB Cable
1 x User Manual
2 x Cutting Scissors
1 x Haircut cloth
Kit Hair Clipper Machine Enchen Boost White + Scissors + Haircut Cloth Reviews
We have no reviews
of Kit Hair Clipper Machine Enchen Boost White + Scissors + Haircut Cloth
Be the first!

Review and win!
Every month we give away
300€ among all
the comments
You might be interested in