Insta360 One X2 Standalone - Action Camera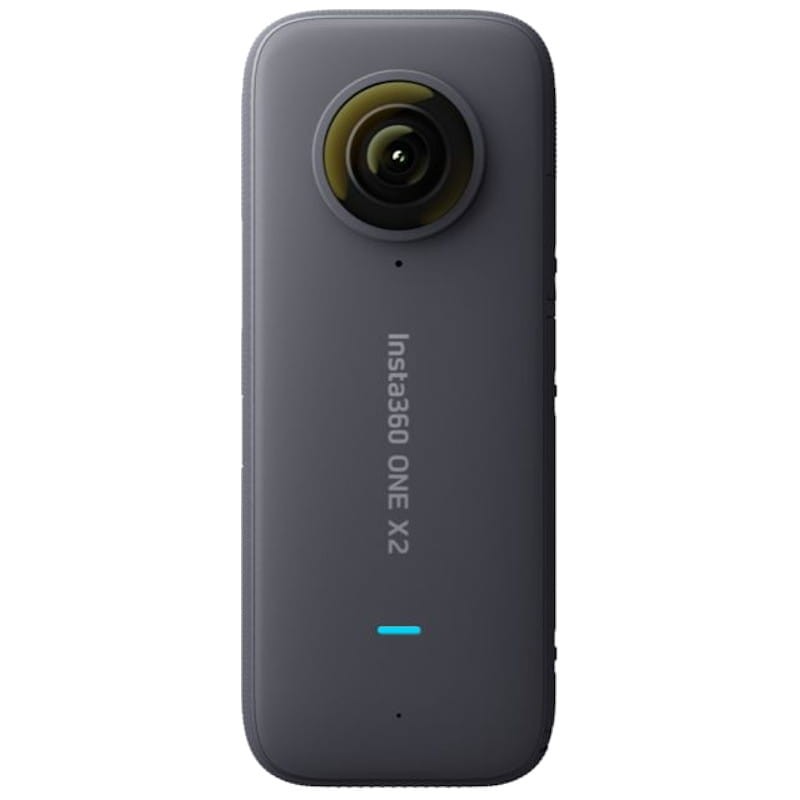 ---
Insta360 One X2, High Resolution Pocket Camera
360º recording camera - 5.7K resolution - FlowState stabilization - Professional edition - Bluetooth connection - WiFi - HDR - Up to 60 minutes of use
The Insta360 One X2 is the evolution of one of the most spectacular film cameras you will find. A model designed so that you can have the best images of your holidays and that you can find in Powerplanetonline. We know it, we are specialists in bringing you everything you need to have the most spectacular images, both in video and audio. A 360º recording model that supports 5.7K resolution, the highest image quality. Plus, it has AI editing functions. Keep reading and you will know why it is one of the best pocket cameras.
360º Capture
The new Insta360 One X2 is designed so that you can easily connect it to your mobile phone and keep the best memories from your trips. This new Insta360 model has 360º recording capability in a compact size. It is a real film camera that you can have in your pocket. With its steady cam mode you will have all the help to be able to enjoy the best videos and the most spectacular cameras. With ultra-stabilized wide-angle content ready to share instantly and achieve whatever you set your mind to. Additionally, it has the ability to record native 5.7K video. All this together with its 6-axis electronic image stabilizer, which will allow you to have spectacular results thanks to the gyro system, one of the most spectacular models you will find.
Horizon Lock
You can have a completely new level of stabilization thanks to its horizon leveling to be able to instantly level the horizon in your Steady Cam or 360º videos, the most powerful model you will find.
Invisible Selfie Stick Mode
With its invisible selfie stick mode you will be able to see how it disappears from the video and you will record at impossible angles, as only a drone can give you and having third-person perspectives with a simple turn of the wrist.
Enjoyable Modes and HDR Image
Now you have all the tools to be able to enjoy spectacular videos. With its hyperlapse you can use ultra slow motion or speed things up, you can edit the images with your phone application. And with its Bullet Time it is easier to slow down in the middle of the action, being one of the best models you will find. One of the most spectacular models that allows you to use the RAW format for easy post-editing and obtaining all the results you need. In addition, you can have the most spectacular images thanks to its HDR image option. The most spectacular model.
Share Live Images with Friends
The new Insta360 One X2 is created so that you can easily connect to your mobile phone. It features bluetooth connection so you can control the camera easily and remotely. It also has the option of connecting it through WiFi for remote control. In addition, you can send the images quickly and that your friends and family can enjoy your adventures as much as you.
Technical Specifications Insta360 One X2 Standalone:
Brand: Insta360
Model: One X2
Sensor

Sony CMOS
Lens Angle: 180º

Camera

Aperture: F / 2.0
Photo resolution:

360º: 6080x3040 (2: 1)
Pano: 4320x1440 (3: 1)

Video resolution:

360º: 5.7@30fps, 25fps, 24fps; 4K @ 50fps, 30fps; 3K @ 100fps
Wide Angle (Steady Cam Mode): 2560x1440 @ 50fps, 30fps; 1920x1440 @ 50fps, 30fps; 1920x1080 @ 50fps, 30fps.

EV: -4EV ~ + 4EV
Photo format: jpeg, raw
Video format: insv, mp4,
Video encoding: H.264 / H.265
Bitrate: up to 100 Mbps
ISO: Auto, 100-3200
WB: Auto, 2700K, 4000K, 5000K, 6500K, 7500K

Audio:

Wind reduction
360º directional

Photo and video modes

Photo: Standard 360º, 360º photos with time, 360º HDR photos, 360º interval photos, 360º RAW photos
Video: Standard 360º, time lapses, bullet time, 360º log video, HDR video
Live streaming: 360º streaming, FreeCast (user view mode)
Exposure modes: Auto, Manual, (Shutter 1 / 8000-55s, ISO 100-3200), Shutter Priority (1 / 8000s-2s), ISO Priority (100-3200)
Use modes: Automatic, Cloudy, Sunny, Fluorescent, Incandescent

Connections

Bluetooth: v4.2
Wi-Fi: 802.11a / b / g / n / ac
USB connector: micro-USB 2.0
SD card: supports UHS-I, exFAT (FAT64); 256GB maximum capacity

APP Insta360 One X (Android and iOS)
Functions:

6-axis gyroscope
Ultra-bright Touch Screen
Submersible up to 10 m
Voice control
Invisible Selfie Stick
4 microphones

Battery:

Battery capacity: 1630 mAh, 5V2A.
Charging method: Micro-USB
Charging time: up to 80 minutes (video at maximum quality)
Usage time: up to 60 minutes of continuous video at 5.7K@30fps quality.

Design

Colour: black
Dimensions: 4.62 x 11.3 x 2.98 cm
Weight: 149 gr (with battery)
Package content
1 x Insta360 One X2 Standalone
1 x Charging Cable
1 x Battery
1 x Protective case
1 x Cloth
6 Insta360 One X2 Standalone - Action Camera reviews
6 customers have already reviewed the article
the Insta360 One X2 Standalone - Action Camera
What do you think?
6 global reviews

Review and win!
Every month we give away
300€ among all
the comments
We have no reviews in English
Select other languages
to see reviews of
Insta360 One X2 Standalone - Action Camera.