Huawei Honor Watch GS Pro- Smartwatch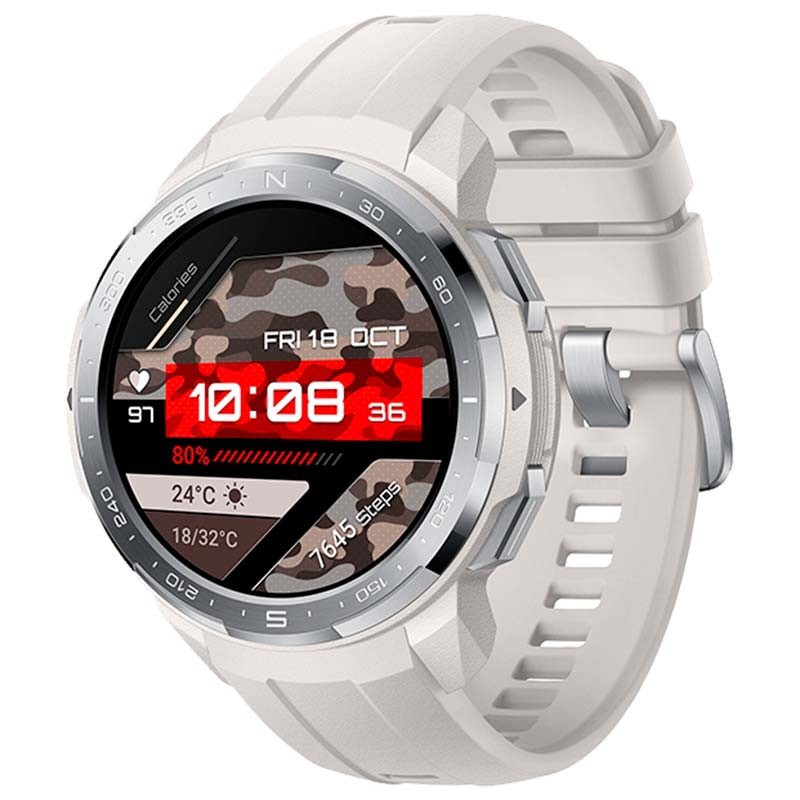 ---
HONOR Watch GS Pro, Resistant Smartwatch for Outdoor Sports
AMOLED 1.39" screen - 454 x 454 pixels (326ppi) resolution - Bluetooth call management - 5ATM water resistance - 24/7 heart rate monitor - Oxygen saturation monitor - Sleep monitor - Multiple sport modes
HONOR Watch GS Pro. Dare to explore!
Do you need a smartwatch tough enough to cope with all sorts of situations and adversities? Then the GS Pro is the answer! Specially designed for adventurers at heart, the new HONOR Watch GS Pro has everything you need to accompany you in all your challenges.
This rugged smartwatch is water, dust and crash resistant, and comes with GPS and a long-life battery.
It is one of the most elegant smartwatches on the market. But above all, it is a watch designed to keep track of our sporting activities.
Plus, you can keep track of your health and daily activity with 15 preset sports modes plus 85 customisable sports modes. Will you miss out? Stay with us and we'll give you all the details.
Built to Withstand the Toughest Environments
Don't leave your Watch GS Pro at home and take it with you when you do your favourite activities. The new HONOR's rugged smartwatch has obtained no less than 14 MIL-STD-810G* military standard certifications.
It has been subjected to the toughest conditions with repeated falls, exposure to extreme temperatures and other conditioning factors that guarantee ample durability and resistance for your watch.
*MIL-STD-810G: this device is complied with 14 types of MIL-STD-810G tests, including Low Pressure (Altitude), High Temperature, Low Temperature, Temperature Shock, Contamination by Fluids, Solar Radiation (Sunshine), Rain, Humidity, Salt Fog, Sand and Dust, Immersion, Vibration, Shock, Temperature, Humidity, and Altitude. Test carried out in a controlled environment. The device may not respond the same way in different conditions. Tests conducted according to MIL-STD-810G requirements by Guang Zhou GRG Metrology & Test Co.
5ATM Water Resistance
When we say this is a rugged watch, we mean it... Besides having a reinforced casing to withstand shocks, the Huawei Honor Watch GS Pro is 5ATM certified for water resistance. So sweat, rain and water sports will not be a problem for your watch.
High-resolution 1.39" AMOLED Screen
The Honor Watch's screen is just amazing... This is a 1.39 inch AMOLED panel with super resolution of 454 x 454 pixels (326ppi) and a wide range of colours.
It gives you a clear display of all information and data - even in full sunlight!
In addition, via its APP you can find different face styles, so you can choose the one that best suits you each day.
Built-in GPS with RuteBack function, GPS and Glonass precision
The dual positioning system (GPS + Glonass) tracks your routes accurately. In addition to counting the exact kilometres travelled, thanks to the Route Back function, the Huawei Honor Watch GS Pro will show you how to return along the same route, so you'll never get lost!
Control Your Activity with 100 Sports Modes
So that you can control the level of activity that you do in your adventures or in your sports, the Huawei Honor Watch GS Pro accurately quantifies the steps taken, the kilometres travelled, the calories burned, the heart rate, etc.
And, for a more accurate measurement, the GS Pro comes with 15 preset sports modes and 85 customisable sports modes - choose yours and get ready to feel motivated!
25-Day Battery Life* depending on usage
Forget about chargers and sockets with the Watch GS Pro's great battery, powered by the Huawei Kirin A1 chipset. It provides up to 25 days of autonomy*. So, its efficient system will help you always be accompanied by your smartwatch.
*Battery life may vary according to use, settings and other factors, so actual usage may differ from the data shown above.
24/7 Heart Rate Monitor, heart behaviour analysis
In addition to a complete exercise control, the Honor Watch GS Pro makes a record of certain health-related data. To begin with, the GS Pro provides a continuous and dynamic measurement of your heart rate, giving you a complete understanding of your heart's behaviour, both at rest and during activity.
It accurately understands your heart rate, observes changes and intervals throughout the day and optimises your workouts accordingly.
Blood Oxygen Level Measurements. Achieve the Best Performance
Besides, the Honor Watch GS Pro also measures the percentage of blood oxygen saturation (SpO2), a particularly important indicator when doing high-intensity and/or endurance exercises. Pay attention to it!
Sleep and Quality of Rest Analysis
The Watch GS Pro also professionally interprets the characteristics of sleep at each stage (light, deep, REM and awake), indicating the duration of each stage and analysing the quality of your rest.
This will allow you to improve your sleep habits and therefore your sleeping conditions.
Built-in Speaker and Microphone to Answer/Make Calls
There are even more surprises... Bluetooth 5.1 synchronisation of the Huawei Honor Watch with your mobile phone amplifies its functionalities.
For example, the GS Pro watch will allow you to make and answer calls without having to take out your phone, it already has a speaker and microphone so you can do everything on your wrist.
Music Storage and Playback, capacity of up to 500 songs
On the other hand, to free you from your smartphone, the Honor GS Pro has a storage capacity for about 500 songs - ideal for training!
22mm Interchangeable Silicone Strap
Finally, this smartwatch includes a silicone strap. However, If you are tired of always wearing the same watch or need to adapt your GS Pro to specific circumstances (a formal conference, a party, a beer with friends...), you can replace its 22 mm strap with a different one in just a few seconds.
Metal, leather, fluoroelastomer... Are you looking for a specific one? Then you can't miss the great variety of compatible straps and accessories available in our catalogue.
Find the one you like best also in the related articles of this product!
Huawei Honor Watch GS Pro technical specifications:
General parameters

Brand: Huawei HONOR
Product: Smart Watch
Model: GS Pro
Materials:

Case: Polycarbonate
Dial: Stainless steel
Strap: Silicone (Interchangeable 22 mm)

APP: Huawei Health

Screen

Size: 1.39 inches
Type: AMOLED full color
Resolution: 454 x 454 pixels (326ppi)
Touch: Yes

Technical parameters

Chipset: Huawei Kirin A1
Connectivity: Bluetooth 5.1
Compatible operating system: Android 4.4 or higher, iOS 9.0 or higher
Water resistance: 5ATM
Positioning system: GPS + Glonass

Functions

24/7 heart rate monitor
Oxygen saturation monitor
Sleep monitor
Stress level monitor
Playing music
Remote control of music and camera (connected to smartphone BT)
Call management (connected to the smartphone's BT)
Forecast weather changes and set alerts
Activity control
Data collection

Sports modes

Hiking, Mountaineering, Open Water Swimming, Pool Swimming, Free Training, Triathlon, Indoor and Outdoor Running, Indoor and Outdoor Cycling, Mountaineering, Elliptical, Rowing, Trail Running, Skiing, etc.

Battery

Autonomy (typical daily use): up to 25 days
Autonomy (GPS activated): up to 48 hours
Autonomy (Outdoor Training mode): up to 100 hours
Charging time: 2 hours approx.

Weight

Weight: 45.5 g (without strap)

Package content

1 x Huawei Honor Watch GS Pro
1 x Charging cable
1 x User Manual
12 Huawei Honor Watch GS Pro- Smartwatch reviews
12 customers have already reviewed the article
the Huawei Honor Watch GS Pro- Smartwatch
What do you think?
12 global reviews

Review and win!
Every month we give away
300€ among all
the comments
Leave a review!