Huawei Honor Magic Watch 2 46mm Charcoal Black- Smartwatch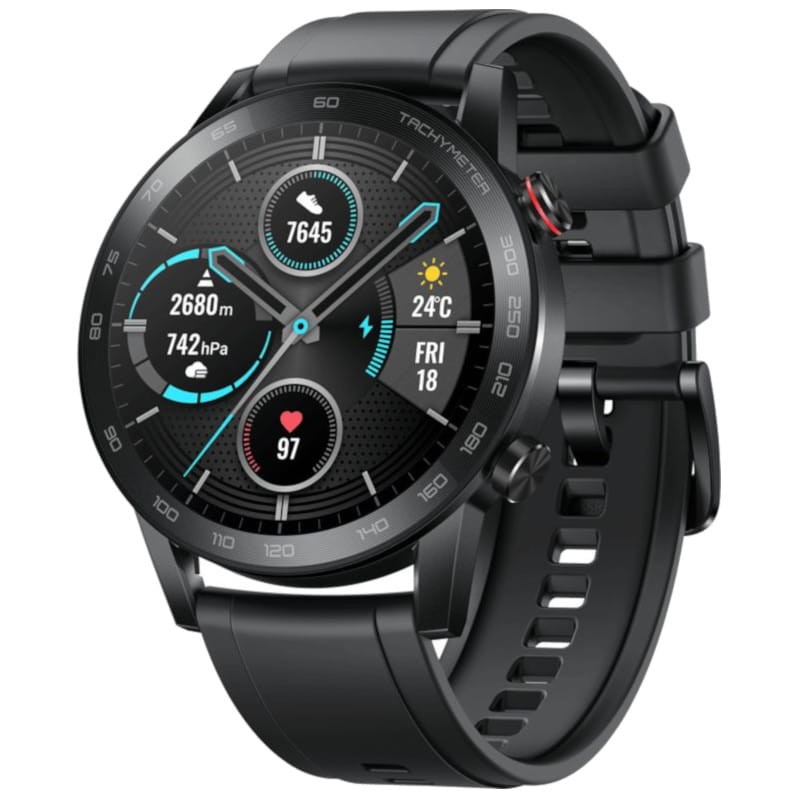 ---
Huawei Honor Magic Watch 2 Black, Stylish, Innovative and High Quality
AMOLED Display - Customisable Dial - 15 Different Sports - GPS/GLONASS - Exercise Monitor - 5 atmosphere Water Resistance - Breathing Control - Sleep Monitor - Bluetooth v5.1 - 46mm - Battery Life Up to 14 days
Huawei Honor Magic Watch 2, one of the smartwatches of the moment This model is part of the best smartwatches of the Chinese brand, which gives you high autonomy, design and good value.
With really interesting features and specifications, this circular model is designed so that sport lovers and those who want to be in great shape can do so easily and simply. It's incredible!
A Very Interesting Display With AMOLED Technology
This model has a very interesting display. Designed for your enjoyment, Huawei Honor Magic Watch 2's display was created with AMOLED technology, which makes it one of the most powerful we can find right now.
In addition, this model is designed to adapt to you, since its dial can be customised. A unique smartwatch.
High-quality, 1.39-inch screen with Auto-brightness System
Its 1.39" display is designed so that you can see everything perfectly both in the sun and in low-light conditions, thanks to its high-quality automatic brightness.
If we focus on its interior, this model has a Kirin A1 processor, a Huawei's own processor for smartwatches. It offers you a very low consumption and has 4GB of storage capacity (approximately 2GB of free use).
Designed for Sporty People and for People who Care about their Health
This model has the Lite OS operating system, a system full of options and very smooth. This model is designed for sports lovers and those who want to take care of their health.
The new Honor Magic Watch 2 has the option to give you data from up to 15 different sports.
GPS/GLONASS for the Most Precise Location
In addition, so that you can have more realistic data, this model has GPS/GLONASS.
Also, this model has the ability to know our own heart rate, exercise monitor, breathing control, sleep monitor accurately and the option to use it when practising water sports, thanks to its water resistance of up to 5 atmospheres.
This model is incredible, since it also allows you to make calls, listen to music, record workouts and everything else you want.
Powerful and Long Battery Life
You have a number of features that make it amazing. For example, you'll be able to listen to your favourite music easily thanks to its connection capabilities.
The new Magic Watch 2 is designed for easy use. Developed with the latest version of Bluetooth, version 5.1, which offers great stability of use and resistance.
One of the things that also moves you to get a smartwatch is its battery life. No one wants to run out of battery at the first try, and that's why this model has a very long battery life. This model can last up to 14 days if you use it daily and up to 30 hours if you activate the GPS.
A Perfect Smartwatch for Sports Lovers
We are talking about one of the most interesting smartwatches you can find nowadays, with a design focused on sports and health. With a multitude of measurements that will show us our fitness.
Buy Huawei Honor Watch Magic 2 at Powerplanetonline
If you decide to purchase the Huawei Honor Watch Magic 2 at Powerplanetonline, we should know that all our products are guaranteed for 2 years and shipped within 24 hours. The best service, with the best prices on the market.
Features Huawei Honor Magic Watch 2 46mm Carbon Black
You will enjoy one of the most interesting displays for Smartwatches thanks to its AMOLED display. You will be able to personalise it with its multiple dials.
Designed for the most sporty, it has the function of monitoring up to 15 different sports. You can even use it in the water thanks to its resistance.
With GPS and GLONASS. You will know the distance covered.
You will also be able to know how your breathing is and how you are sleeping thanks to its breathing control and sleep monitor.
Easy to connect. It has the latest version of Bluetooth, version 5.1, which is more stable than previous versions.
One of the longest battery life in smartwatches. It can last up to 14 days in normal use.
Specifications Huawei Honor Magic Watch 2 46mm Charcoal Black
Brand: Huawei
Model: Honor Magic Watch 2
General:

Kirin A1 Processor
Storage Capacity: 4GB
Operating System: Lite OS
Requirements: Android 4.4 or later and iOS 9.0 or later


Display:

Features: AMOLED touch
Size: 1.39 "
Resolution: 454 x 454 px at 326 ppi
Customisable Display
46mm Dial
Buttons: 2

Connections:

Bluetooth Version 5.1, BLE / BR / EDR

Sensors:

Accelerometer
Gyroscope
Magnetometer
Optical Sensor for Heart Rate Measurement
Ambient Light

Barometer
Geopositioning: GPS, GLONASS and Galileo

Features:

Speaker / microphone
Heart rate monitor
Pedometer
Sedentary
Sleep monitor
Stress control
15 sports functions: hiking, walking, running, walking, fitness, walking, biking, triathlon, swimming, exercise bike, etc.
Call Reminder
GPS
Bluetooth
Weather
Time
Alarm
Find the phone

Language: Czech, Danish, German, American English, English (United Kingdom), Spanish, Spanish (Latin America), French, Indonesia, Italian, Hungarian, Malay, Dutch, Norwegian, Polish, Portuguese, Portuguese (Brazil), Romanian, Slovak Serbian, Finnish, Swedish, Vietnamese, Turkish, Russian, Arabic, Korean, Thai, Ukrainian
Resistance: up to 5 atmospheres
Battery:

Battery Size: 455 mAh
Usage Time (daily): up to 14 days
Usage Time (with GPS): up to 30 hours

Dimensions and Weight:

Dimensions: 45.9 x 45.9 x 10.7 mm (dial)
Wrist Coverage Range: from 14 to 21 cm
Weight:41 g (without strap)
Colour: Black
Material: silicone (strap), steel and glass (dial)
In The Box

1 x Huawei Honor Magic Watch 2 46mm Charcoal Black
1 x Charging Base
1 x Charging Cable
1 x User Manual
68 Huawei Honor Magic Watch 2 46mm Charcoal Black- Smartwatch reviews
68 customers have already reviewed the article
the Huawei Honor Magic Watch 2 46mm Charcoal Black- Smartwatch
What do you think?
68 global reviews

Review and win!
Every month we give away
300€ among all
the comments
Leave a review!