Gran Turismo Sport Playstation 4 - PS Hits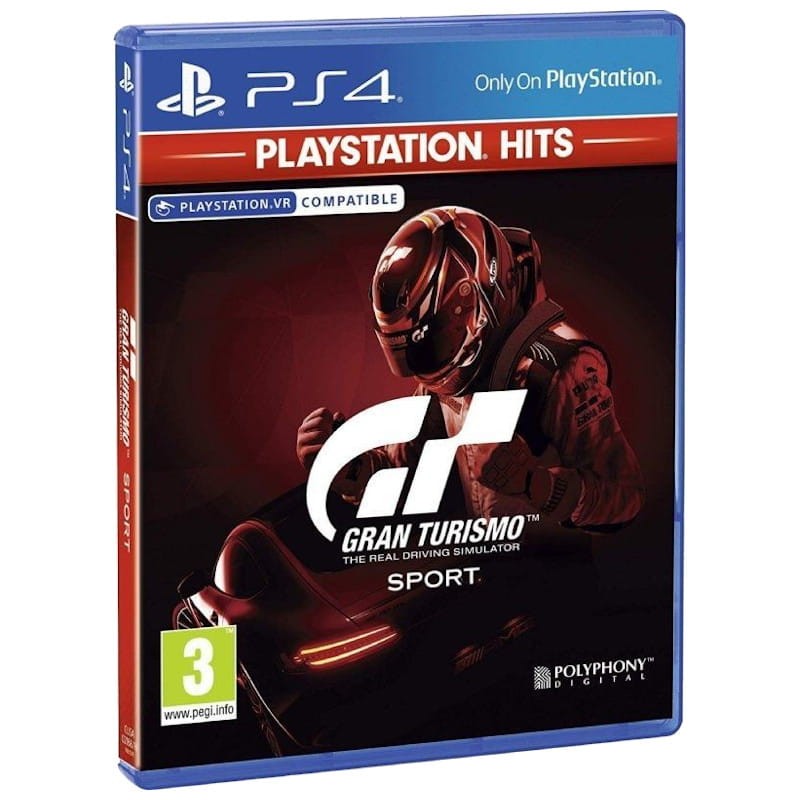 ---
Gran Turismo Sport Playstation 4 - PS Hits
Racing Simulation - The most complete version
The king of simulation is back. Nearly two decades after Polyphony Digital revolutionsed the genre with the first instalment, the best driving game series comes to the current generation with Gran Turismo Sport for PlayStation 4 and PlayStation VR support.
The best car racing simulator has arrived at our warehouses with the best version you will find. The PS Hits collection offers an incredible collection that includes more than 20 of the most beloved PS4 titles. With must-have titles, these are the best selection for the whole family to enjoy.
Enjoy like never before
From the Nürburgring Nordschleife to the legendary Tokyo Expressway, the roads of half the world will be yours to drive in some of the fastest vehicles on the planet, recreated with the detail and authenticity that Gran Turismo has always offered. Start your engines in the series' widest range of modes and test your skills in time trials, challenges, or the 100+ events of the campaign mode; or watch the birth of "Sport Mode" and participate in the two FIA-certified competitions representing your country or favourite manufacturer, or experience the thrill of live broadcasts of the best players as you would on Gran Turismo Live.
Enjoy to the fullest
With up to 137 vehicles, including the Ferrari LaFerrari '13 or the Ford Mustang GT Premium Fastback '15, all recreated to the maximum detail, perfectly capturing both the exterior and the interior. You will also have 19 locations that add up to 27 different circuits: the road wrapped in the Japanese concrete city of Tokyo Expressway, the short circuit of Northern Isle Speedwa, the arid Big Willow... And all this with a wide range of cars that combine real and fictional cars, divided into four categories (Gr. 1, Gr. 3, Gr. 4 and N-Series) based on real races, which include modifications of vehicles such as the Subaru WRC to meet the specifications equivalent to the GT3.
The simulation is available to everyone thanks to the school for beginners and the campaign mode in which you can learn from scratch to become an expert behind the wheel. Take advantage of the power of your PlayStation 4. With aspects such as light, car paint, interior realism and the representation of the scenarios and the asphalt that will look incredible. Compete in "Sport Mode", where players with a similar level are paired up fairly, allowing everyone to play and improve day by day. And you can watch the official Gran Turismo Live races on live broadcasts on the weekends, customise your car in the layout editor, and take pictures in the extensive "Landscapes" mode, which has over a thousand locations and scenarios to position your car as you like and take stunning shots.
Package content
1 x Gran Turismo Sport Playstation 4 - PS Hits
Gran Turismo Sport Playstation 4 - PS Hits Reviews
We have no reviews
of Gran Turismo Sport Playstation 4 - PS Hits
Be the first!

Review and win!
Every month we give away
300€ among all
the comments