G21 Pro Fly Mouse Remote Control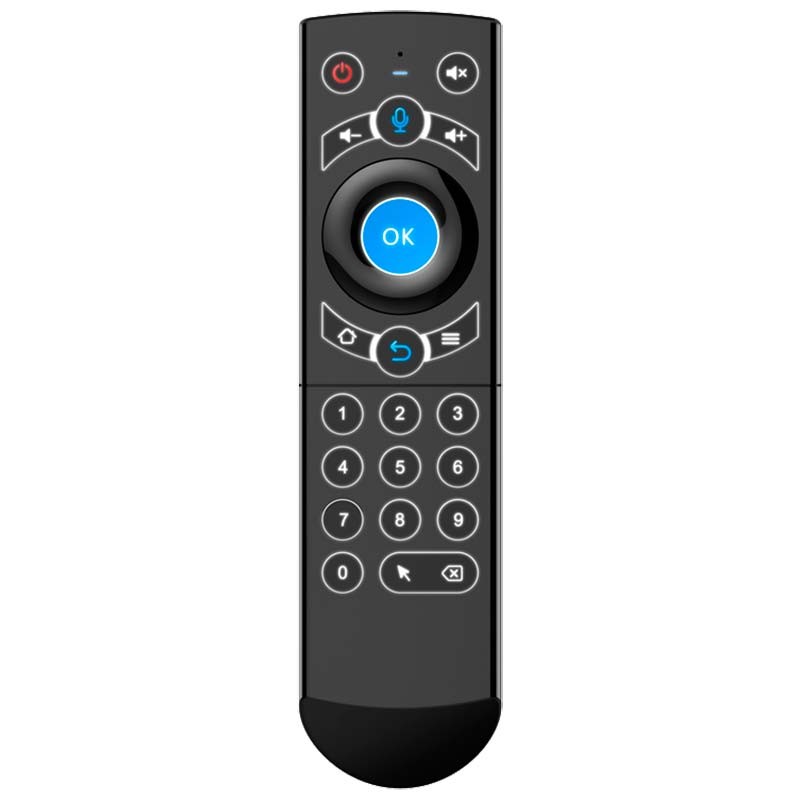 ---
G21 Pro Fly Mouse, remote control for Android systems with voice control and Air Mouse
Plug&Play - 2.4 GHz wireless technology - Voice control - Air Mouse - White backlighting - Ergonomic grip - Silicone keys
Here at Powerplanetonline, we are delighted that you are enjoying your free time... And, so that you can do it in the most comfortable way, we bring you the new G21 Pro Fly Mouse, a backlit remote control to control your favourite devices by voice and Air Mouse. If you're interested, read on and we'll tell you all about it!
Plug&Play
The era of smart TVs, Android TVs and mini PCs is here to stay, so make sure you get the right controller! The G21 Pro Fly Mouse Remote Control is specially designed for these systems. It includes a 2.4GHz receiver so you don't even have to spend time setting it up. Just plug it in and start using it to enjoy this wonderful wireless world.
Voice Control and Air Mouse
Use it like a normal remote, or take advantage of its voice control to give commands or search in comfort. You can also benefit from Air Mouse technology, which turns your controller into an 'air' mouse as well. Move your controller in the air and the pointer will move across the screen.
Ergonomic grip and soft silicone buttons
Get ready for your partner to fall asleep gripping the G21 Pro Fly Mouse and not be able to take it off... Don't blame him or her, its comfortable, ergonomic grip encourages them to do so. Plus, with the silicone keys, you'll see how quick and easy it is to zap.
Buy G21 Pro Fly Mouse Remote Control at Powerplanetonline
Got a smart device with a screen? Make the most of its functionality with a remote control that does it justice. Get the G21 Pro Fly Mouse Remote Controller at Powerplanetonline and take advantage of our offers all year round! With express delivery from Spain and 3-year warranty.
Features of G21 Pro Fly Mouse Remote Control:
Stable, fast and effective 2.4GHz wireless technology with a maximum distance of 8 metres.
Air Mouse function with up to 3 DPI (adjustable speed).
White backlight to distinguish the keys when the light is off.
Technical specifications G21 Pro Fly Mouse Remote Control:
Number of keys: 21
Transmission method: 2.4GHz RF wireless
Effective distance: 8 meters
Voice control: Yes
Air Mouse function (mouse): Yes
Sensor: 6-axis gyroscope
Backlight: Yes
Power supply: 2 AAA batteries
Materials: ABS plastic (body) + Silicone (keys)
Dimensions: 162 x 42 x 17.6 cm
Weight: 70 g
Colour: Black
Package contents:
1 x G21 Pro Fly Mouse Controller
1 x Nano Receiver
1 x User Manual
G21 Pro Fly Mouse Remote Control Reviews
We have no reviews
of G21 Pro Fly Mouse Remote Control
Be the first!

Review and win!
Every month we give away
300€ among all
the comments