Xiaomi Mi Electric Scooter Pro 2 Black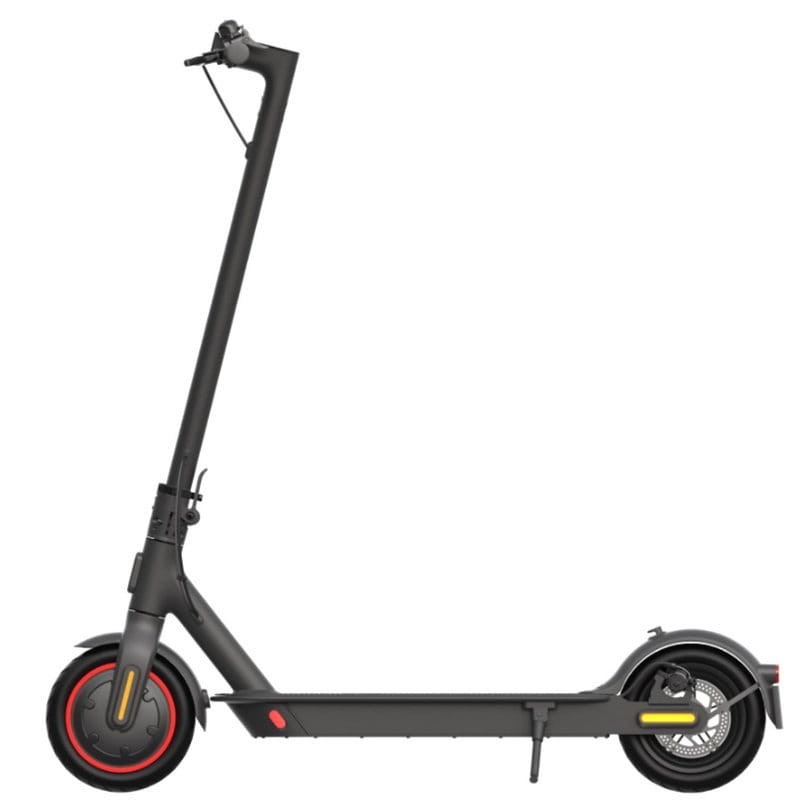 ---
Xiaomi Mi Electric Scooter Pro 2, the Pro version of the best scooter on the market
Aerospace Aluminum - 12800 mAh battery - 45 km autonomy on a single charge - Foldable design in 3 seconds and a few steps - Ultra bright headlights with red rear brake lights - Dual braking system - Shock absorbers - LED display - Maximum speed of 25 km / h - Climbs 12% slopes
The new Xiaomi Mi Electric Scooter Pro 2 Black is a model thought for you, who loves to explore the city.
One of the most powerful scooters you will find right now, the new Mi Electric Scooter Pro 2 is an incredible model. We are presenting one of the most powerful models of the Chinese brand.
An essential model, which has spectacular features, as you never thought would exist.
One of the most impressive models you'll ever find. An electric scooter that has a great capacity of displacement, easy to control and that you will be able to take to all the places without any problem thanks to its design easy to fold.
With features that make it unique, this scooter is one of the best you'll find in our stores. You'll love it!
Faster and longer
You'll move to the fullest with this new Xiaomi scooter. Go wherever you want. This model has one of the most powerful motors you can install on an electric scooter.
This model has a high quality brushless motor that, depending on the load transported, the environmental conditions, and the state of the battery, gives you a maximum speed of 25 km/h. One of the fastest models you will find in our catalogue.
12800mAh battery up to 45 kilometers of autonomy
A model like this isn't just one of the fastest models you'll ever find. This model includes a 12800 mAh battery, one of the largest batteries you'll find right now.
An incredible battery that allows you to use it for a long time, this model offers an autonomy of 45 km on a single charge.
You can move all around the city for several days without having to charge it, being one of the most interesting scooters.
One of the most impressive models you will find at this moment, developed for you. Move around without any problem.
You will be able to use it without any problem everywhere
You want to be able to use it everywhere. That's why this new Xiaomi model is one of the best so you can use it in all situations.
Designed for use in the city or for travel by car, this model has a large folding capacity that allows you to transport it in the boot of your car without any problem and that will allow you to enjoy your travels, wherever you are. And it is lightweight.
Very little weight, achieved thanks to the fact that it is formed with aerospace aluminium which is a very resistant material and, at the same time, gives you very little weight.
Therefore, this material gives it a great resistance and little weight, reaching only 14 kg of weight. One of the models that you can put in wherever you want without any problem.
A striking model
Xiaomi products have been awarded several times. Most of them designed for their electric scooters.
This model, the Mi Electric Scooter Pro 2 is sleek, very functional and, at the same time, very simple. It also has an aesthetic that looks spectacular and very light.
With its black color complemented by its lines and details in red, it also has a great capacity for use because, as we said above, is a folding model.
You will be able its status at all times
Such a model not only gives you the best performance to go further, but also gives you the greatest security.
Firstly, it has an LED display that will show you all the information you need to have a safer journey: its speed, Bluetooth connection, trouble alerts... You'll be safer without any problems.
To allow you to use it at night, this model carries ultra-bright headlights that provide up to 6 metres of illumination.
But the improvements do not stop there, the Scooter Pro 2 is created so that you can use it during the 45 KM of its battery life without any problem because it has a silicone coated handlebar with folds, which will allow you to avoid slipping of the hands and gives you a spectacular grip without any problem.
One of the most spectacular models you'll find
Not only does it allow you to use it day and night in a safer way. This model is one of the safest you will find, thanks to its brake system based on a ventilated disc brake in its front wheel and an anti-lock braking system.
With this system you will have a great security and it offers you an efficient braking of great quality. At the rear, you will find red warning lights.
To make you even safer, its wheels are made of rubber that gives you great shock absorption, which makes it adaptable to any type of race and gives you a smooth condition. And they're 8.5" in size.
Control via mobile phone
You'll be able to use it the easiest way. With its APP Mi Home you could use it in the easiest way: you will be able to turn it on, know all the repair notices, know the battery status and much more.
This is one of the simplest and most complete models that you will find at this time. It is great.
Buy Xiaomi Mi Electric Scooter Pro 2 Black at Powerplanetonline
We know you love it. The new Mi Electric Scooter Pro 2 is one of the most impressive models you will find in our catalogue.
One of those essential models, with spectacular power and you can use for a long time without any problem. Powerful, adaptable, transportable, with a very long duration ... just amazing.
So you know, buy Xiaomi Mi Electric Scooter Pro 2 at the best price on Powerplanetonline and you will love exploring the city without any problem.
Traffic regulations for scooters
Before getting a scooter, we should know the traffic rules that each city council has stipulated.
Specifications Xiaomi Mi Electric Scooter Pro 2 Black:
General parameters

Brand: Xiaomi
Model: Scooter Pro 2 (DDHBC11NEB)
Color: Black
Type: Electric Scooter / Skateboard Format / Urban Tour
Recommended age: 16-50 years
Recommended height: 120-200 cm
Max load: 100kg
Structure: aerospace aluminum
Folded in just 3 seconds

Dimensions and weight

Tire size: 8.5 inches
Motor size: 6.7 inches
Weight: Approx. 14.2 kg
Dimensions (vertical): Approx. 113 cm x 43 cm x 118 cm
Dimensions (folded): Approx. 113 cm x 43 cm x 49 cm

Speed

Max speed: 25 km / h., Max 18 km / h. in cruise control
Max torque: 16 N.m
Motor power: 300W
Motor control mode: vector sine-wave and control current + indirect speed control system
Max inclination: approx 12º
Applicable terrain: cement, asphalt, flat dirt floor, shoulders and stairs of less than 1 cm. high and less than 3 cm wide
Panel height: approx. 87.5 mm.
Resistance: IP54 resistance to dirt, dust and splashes

Energy

Battery capacity: 12800 mAh
Travel distance: 45 km
Charger power: 71W
Charger voltage input: 100-240V ~, 50 / 60Hz
Battery voltage limit: 42V
Charging time: approx. 5 hours
Intelligent power management: short-circuit protection, over-current protection, double over-charge protection, double over-discharge protection, temperature resistance and undervoltage auto-off protection
Normal energy consumption: 1.1 kWh per 100 km

Braking

Braking: Regenerative + brake disc
Tire material: inflatable rubber

Lights

Headlights: Ultra-bright 1.1W; 6 m. outreach
Taillights: LED
Power indicators: 4 LED indicators
Indicator mode: Under the power button. White for normal mode, green for power saving mode

Led screen

Speed
Battery
Bluetooth
Repair notices

APP

Xiaomi Mi Home APP (Android and iOS)
Connection: Bluetooth v4.1 BLE
Compatible with Android 4.3 or iOS 9.0

Package content

1 x Xiaomi Mi Electric Scooter Pro 2 Black
1 x Power Adapter
1 x Key
1 x Nozzle for tire pump
4 x Hexagonal screws
7 Xiaomi Mi Electric Scooter Pro 2 Black reviews
7 customers have already reviewed the article
the Xiaomi Mi Electric Scooter Pro 2 Black
What do you think?
7 global reviews

Review and win!
Every month we give away
300€ among all
the comments
Leave a review!