Xiaomi Mi Electric Scooter Essential Black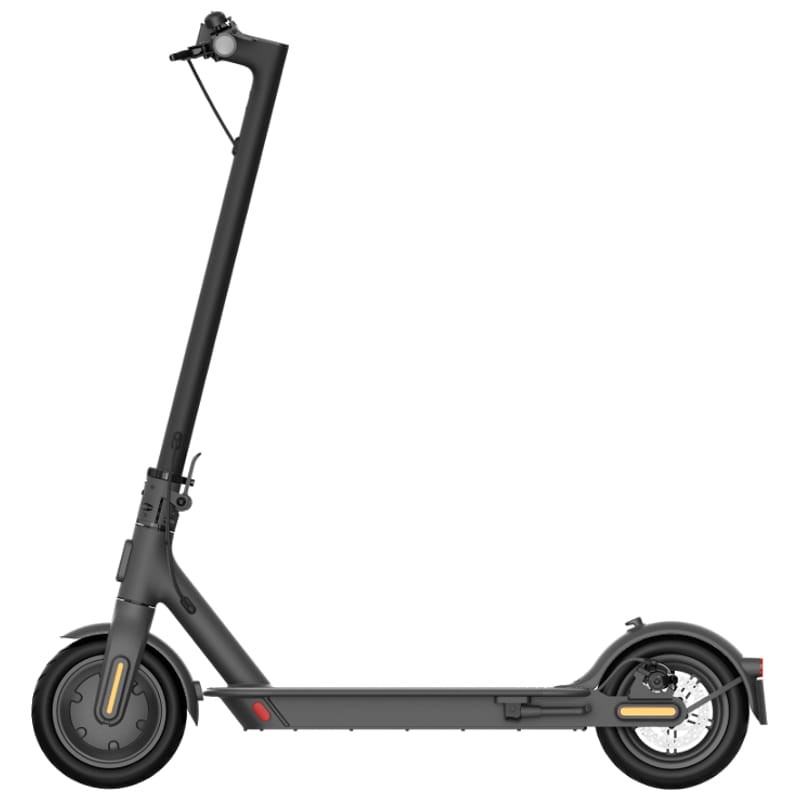 ---
Xiaomi Mi Electric Scooter Essential, Xiaomi's most affordable scooter
Aerospace Aluminium - 5100 mAh battery - 20km single charge - 3 second folding design - Ultra bright headlights - Red rear brake lights - Dual braking system - Shock absorber tyres - LED display - 20km/h top speed - up to 10% slopes
The new Xiaomi Mi Electric Scooter Essential Black is now in the Powerplanetonline stores. We know that you are a scooter lover since it is the best alternative to the car, bike and bicycle of the moment.
At Powerplanetonline we're just like you and that's why we have the new Xiaomi Mi Electric Scooter Essential, the best model you'll find in our shop.
An essential model, designed for city lovers and for those who want to move around everywhere.
With an incredible battery capacity, a great speed and that offers you the maximum security, this is one of the most powerful and interesting models of the Chinese brand.
Specially indicated for you to enjoy the maximum mobility and to do everything in a simpler way, this is one of the models of the moment. Come to know it!
Up to 20 km/h speed for 20 km
A model like this, which is designed for everyone, will allow you to move up to 20 km/h without any problem.
This speed depends on your size, weight, battery, and many other aspects that affect you even if you don't know it. But you'll be able to get around town very easily thanks to this great speed.
You will move without any problem wherever you go
In terms of autonomy, Xiaomi Mi Electric Scooter has a large battery capacity of 5100 mAh that will allow you to enjoy a long journey of up to 20 km on a single charge.
As with Xiaomi models, so you can use it for much longer, this new scooter stores kinetic energy during acceleration and transforms it into electrical energy, so you can use it for a long time.
Also, the new Xiaomi Mi Electric Scooter Essential has a regenerative braking system that will allow you to increase the braking power, improving the emergency braking system of the scooter and the autonomy of the vehicle.
You'll explore every corner of the city.
A design worthy of Xiaomi
You want to explore the city and do it in an incredible way. Plus, you want to look amazing on the move.
That's why you choose Xiaomi. Many of Xiaomi's scooters have won some prestigious design awards, including the Red Dot Best of the Best award and the 2017 IF Design Award given to Xiaomi's Mi Electric Scooter design.
This new model repeats this award-winning design, a design designed to have great elegance, functionality and simplicity, coupled with a clean aesthetic that looks like it is very light.
In its design, its black colour stands out, complemented by its lines and details in red and yellow. Above all, this model stands out because it has been designed for comfort on the move, being one of the most versatile models you will find at the moment.
Use it wherever you are, easy to transport
Xiaomi thinks that their scooters should serve to allow you to move everywhere without any problem. Therefore, this Xiaomi Mi Electric Scooter Essential is created with very little weight, which makes it very easy to transport.
In addition, you can store it without any problem, thanks to the fact that you can fold it in only 3 seconds.
This is possible because the structure of the vehicle can be folded in just 3 steps and with its small dimensions you can store it in any closet or even carry it in the boot of your car without any problem.
This low weight is achieved because it is created with low-density aerospace aluminum material like many of Xiaomi's models.
This material improves energy conductivity and increases the durability of the scooter. It is a very resistant and lightweight material, which makes the scooter weigh only 12 kg.
You will have all the information at a glance, with LED display
This is not only one of the best models you will find today, this is a current model and designed for you. You will be able to know all the data at a glance, so you have a LED display that will allow you to see everything easily.
There you will find the power you have left, the speed, all the warnings you need for a safer trip... All the information you need.
You will see it in real time and clearly, you can be more sure when you can drive safely or load your model.
You will drive during the day or night without any problem
Not only are we presenting a model that has a spectacular design, incredible power and performance worthy of the best.
We are presenting a model that will allow you to drive it easily and that provides you with an easy, comfortable and safe ride. It is one of the models of the moment and has some features that give you a spectacular quality.
Ultra-bright headlights so you can move around in the dark
You'll be able to move around without any problems thanks to the ultra-bright 1.1W headlights on this Xiaomi Mi Electric Scooter Essential. They provide illumination from up to 6 metres away, so you can do everything you love by day and by night.
You'll be even safer with its handlebars and brakes
Also, this Xiaomi Mi Electric Scooter Essential is designed for your safety, thanks to its silicone-coated handlebar with small dots or folds, developed to prevent your hands from slipping and that gives you a strong and comfortable grip, no matter how long you use it.
You'll be even safer thanks to its dual brake system, consisting of a ventilated disc brake and an anti-lock braking system, which gives you an effective braking distance of 7.35 metres.
And you're safer, thanks to the red warning lights on the back. Its 8.5 wheels allow for good absorption thanks to a rubber compound that allows you to adapt it to any type of road and terrain that offers a smoother ride.
You will be able to know everything from your mobile phone
You could synchroniSe your smartphone with your Xiaomi Mi Electric Scooter via Bluetooth connection. Use the Xiaomi Mi Home application to turn it on and off, you can update the firmware, display the mileage used, also showing you the remaining power and the current speed. You'll get all the information you want at a glance.
Buy Xiaomi Mi Electric Scooter Essential Black at Powerplanetonline
This is one of the best models you're going to find right now. The new Xiaomi Mi Electric Scooter Essential offers incredible performance, perfect for everyday use: from work to home, from class to the gym, everywhere...
A vehicle for all those who want to move around the city and are looking for a very economical alternative to save money. A model designed everybody.
Buy Xiaomi Mi Electric Scooter Essential Black at the best price at Powerplanetonline and enjoy the city without any problems.
Traffic regulations for scooters are important
We must know the traffic regulations set by each city council before we take a scooter.
Specifications Xiaomi Mi Electric Scooter Essential Black:
General parameters

Brand: Xiaomi
Model: Essential (DDHBC08NEB)
Color: Black
Type: Electric Scooter / Skateboard Format / Urban Tour
Recommended age: 16-50 years
Recommended height: 120-200 cm
Max load: 100kg
Structure: aerospace aluminum
Folded in just 3 seconds

Dimensions and weight

Tire size: 8.5 inches
Motor size: 6.7 inches
Weight: Approx. 12 kg
Dimensions (vertical): Approx. 108 cm x 43 cm x 114 cm
Dimensions (folded): Approx. 108 cm x 43 cm x 49 cm

Speed

Max speed: 20 km / h., Max 18 km / h. in cruise control
Energy saving mode: max speed 18 km / h., With smooth acceleration for beginner
Max torque: 16 N.m
Motor power: 250W
Max instantaneous power: 500 W
Motor control mode: vector sine-wave and control current + indirect speed control system
Max inclination: approx 10º
Applicable terrain: cement, asphalt, flat dirt floor, shoulders and stairs of less than 1 cm. high and less than 3 cm wide
Panel height: approx. 87.5 mm.
Resistance: IP54 resistance to dirt, dust and splashes

Energy

Battery capacity: 5100 mAh
Travel distance: 20 km
Charger power: 71W
Charger voltage input: 100-240V ~, 50 / 60Hz
Battery voltage limit: 42V
Charging time: approx. 5 hours
Intelligent power management: short-circuit protection, over-current protection, double over-charge protection, double over-discharge protection, temperature resistance and undervoltage auto-off protection
Normal energy consumption: 1.1 kWh per 100 km

Braking

Braking distance: 7.35 m. on dry asphalt
Braking: Regenerative + brake disc
Tire material: inflatable rubber

Lights

Headlights: Ultra-bright 1.1W; 6 m. outreach
Taillights: LED
Power indicators: 4 LED indicators
Indicator mode: Under the power button. White for normal mode, green for power saving mode

Led screen

Speed
Battery
Cruise mode

APP

Xiaomi Mi Home APP (Android and iOS)
Connection: Bluetooth v4.1 BLE
Compatible with Android 4.3 or iOS 9.0

Package content

1 x Xiaomi Mi Electric Scooter Essential Black
1 x Power Adapter
1 x Key
1 x Nozzle for tire pump
4 x Hexagonal screws
13 Xiaomi Mi Electric Scooter Essential Black reviews
13 customers have already reviewed the article
the Xiaomi Mi Electric Scooter Essential Black
What do you think?
13 global reviews

Review and win!
Every month we give away
300€ among all
the comments
We have no reviews in English
Select other languages
to see reviews of
Xiaomi Mi Electric Scooter Essential Black.