Electric Scooter CyberSoul X3 Pro Black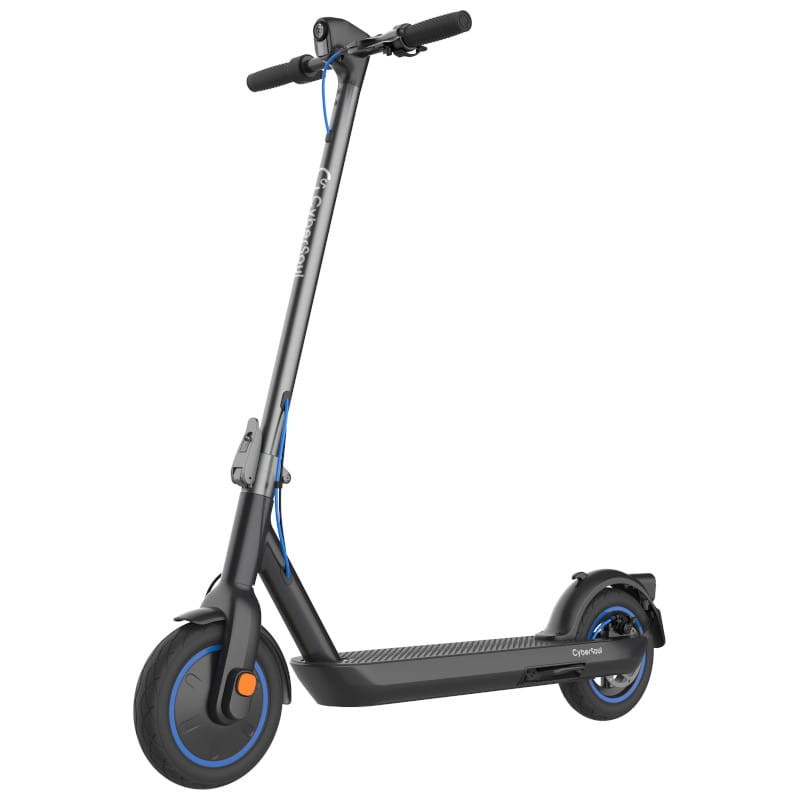 ---
Electric Scooter CyberSoul X3 Pro Black, up to 50 km on a single charge
50 km ride on a single charge - Easy folding design - Dual braking system - Shock absorbing tyres - LED display - 25 km/h maximum speed - Two speed systems - 24% hill climb - 120 kg maximum load
Getting around town has never been easier than with the new CyberSoul X3 Pro electric scooter. This model is built for durability, as one charge will give you up to 50 km of use.
Adapt it to every location with its two speed modes: the normal mode is 25 km/h and its pedestrian mode moves you at 5 km/h.
Let's learn more about it.
Powerful in use
The new CyberSoul X3 Pro electric scooter has a powerful motor. It maintains a stable capacity of 300W and reaches up to 600W. This allows you to climb surfaces up to 24%, you will climb very steep slopes.
In addition, you will be able to see all the data of your movement with its front display. On it you will have the speed, bluetooth connection and battery information in real time. And it has a button to switch between speed modes.
As for its bluetooth connection, it will allow you to connect it to your APP for, among other things, it will allow you to block or unblock the skateboard.

And you'll be safer with its double braking system. It has an electric brake on the front wheel, which you activate with the lever, and a disc brake on the rear wheel.
Classic and foldable design
Many times you will have to get off the scooter or store it at home or in a car. With its classic folding design, you can take it wherever you need it, and it's easy to fold and carry.
It has 10 inch wheels designed for use on all routes and in all conditions. They will cushion all possible shocks, making it more comfortable every time you use them. It can carry a maximum load of 120 kilograms.
High-performance battery
Finally, the new CyberSoul X3 Pro electric scooter integrates a 40-cell battery that will give you a longer time of use than other scooters. Just by keeping it charged for up to 7 hours, you'll get all the power you need. And it has fast-charging. Plug it in for 1 hour to get up to 12 kilometres of transport.
This battery is also one of the most durable ones. It has several protections such as circuit breaker, overheating, fast discharge and charging, and overcurrent protection. You'll be safer with the new CyberSoul X3 Pro electric scooter. Buy it now!
How to use a scooter
Before getting a scooter, we should know the rules of circulation that each city council has stipulated.
Here you will find the instructions given by the UK government for the correct circulation of scooters in cities without any problems.
Regulation on scooters UK GOV.
Technical specifications Electric Scooter CyberSoul X3 Pro Black:
General parameters

Brand: CyberSoul
Model: X3 Pro
Colour: Black
Type: Electric Scooter / Scooter Format / Urban Tour
Recommended age: 16-50 years
Recommended height: 120-200 cm
Max load: 120 kg
Structure: aerospace aluminum
Simple folding (Standard EN17128)

Dimensions and weight

Tyre size: 10 inches
Weight: Approx. 16.8 kg
Dimensions (unfolded): Approx. 118.1cm x 51.4 cm x 119.4 cm
Dimensions (folded): Approx. 118.1 cm x 54.4 cm x 51.9 cm

Speed ​​

Max speed: 25 km / h, 5km / h (pedestrian mode)
Motor power: 300W
Motor power (max): 600 W
Max incline: approx 24º
Applicable terrain: concrete, asphalt, flat dirt floor, ledges and stairs less than 1 cm. high and less than 3 cm wide
Resistance: IP55 resistance to dirt, dust and splashes

Energy

Battery capacity: 40 battery cells (432Wh / 1200 mAh)
Travel distance: 50 km
Charger: 42V, 2A
Charger input voltage: 100-240V ~, 50/60 Hz
Charging time: approx. 7 hours
Quick charge: with 1 hour of charging, you have 12 km of use

Braking

Braking: Dual: electric on the front wheel and disc brake on the rear
Tyre material: inflatable rubber

Lights

Headlights: warm light at the front
Rear lights: LED

LED screen

Speed ​​
Battery
Bluetooth
Package content
1 x Electric Scooter CyberSoul X3 Pro Black
Electric Scooter CyberSoul X3 Pro Black Reviews
We have no reviews
of Electric Scooter CyberSoul X3 Pro Black
Be the first!

Review and win!
Every month we give away
300€ among all
the comments