Eachine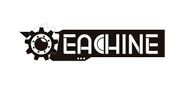 Looking for a custom racing drone? Then Eachine is your brand. Get your cheap Eachine FPV and start enjoying it now. With Eachine racer it's possible, thanks to its great variety of racing drones. Don't run out of your racer drone at the best price.

Eachine H8
Eachine's best-selling drone racer, with which you can record all your flights thanks to its 2MP camera. Besides, it is so small that you can even carry it in your pocket. You can buy cheap Eachine H8 3D racing drone in our store. In addition, the Eachine racer H8 comes in two different versions: the Eachine H8C and the Eachine H8 mini, so you can buy a racing Eachine according to your needs.

Eachine Racer 250 ARF
And if you're looking for a rugged drone to practice your favorite aerial adventures with, the Eachine Racer 250 is your drone. The entire frame is made of carbon fibre, making the Eachine Racer 250 ARF one of the most robust drones on the market. And if you like to fly at night, this drone will let you do so, as it has LED front and rear lights in 7 different colours, which you can adjust and set as you like so you can take your Eachine Racer 250 as you like. It also includes a 1000TVL camera, which will allow you to record in high definition even at night.

Now buying a cheap drone Eachine isn't just for kids.