Dyson V7 Animal - Bagless / Cordless Vacuum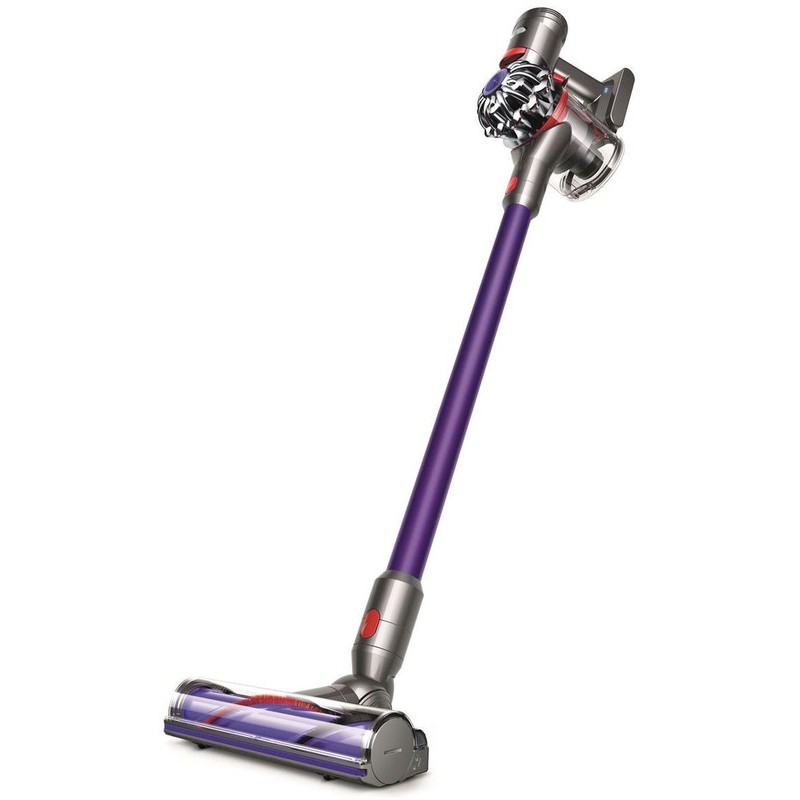 ---
Dyson Cyclone V7 Animal - Bagless and Cordless Vacuum Cleaner
Vacuum cleaner without bag - Without cables - 100W of power - Cyclonic technology - Convertible into a hand vacuum - 30 minutes autonomy

The unprecedented comfort that you get from a vacuum without wiring or bag is a real pleasure: Greater mobility and functionality to reach inaccessible areas. Dyson has no rival in the field of domestic vacuum cleaners. With Dyson V7 Animal is a vacuum cleaner loaded with versatile accessories and a suction power capable of cleaning any accumulated residue. No matter the type of surface, obstruction, carpet or accumulation: Its adjustable power and its set of accessories are prepared for hard surface floors, granulations and leftovers, pet hairs, dust accumulated in carpets and inaccessible nooks. You feel resistance? Slide the switch and activate the maximum power for the most persistent dirt.
Digital Motor
The Dyson V7 Animal engine generates more suction power than other conventional vacuum cleaners to remove all dirt in less time.
Various Brushes for different types of dirt and surface
The Dyson Cyclone V7 Animal comes with several types of brush included in the package. On the one hand, you have the Direct Drive brush, which removes dirt embedded in carpets and carpets. Carbon fibre filaments remove fine dust from hard floors. The bristles are distributed throughout its contact surface, which allows a thorough cleaning. The motorized brush, on the other hand, removes the hair of your pets on other surfaces. It also has an accessory for corners, multifunction to collect crumbs or larger particles, as well as a larger brush.
Versatile and Comfortable
In addition to being a vacuum cleaner without a bag that you can use with a tube to clean floors, you can also remove the tube to turn it into a hand vacuum and clean surfaces and other areas where you need more mobility. Light and balanced for easy cleaning from floor to ceiling. Cleans in high, low and mid height areas.
Cyclonic Technology
Dyson cordless vacuums employ patented cyclone technology. Powerful centrifugal forces that separate dirt and pet hair from the air and end up collected in the bucket. This patented cyclone technology is combined with the Dyson digital engine and a redesigned battery to ensure powerful suction. From the moment you start to clean, until you finish.15 cyclones placed in two parallel rows to increase the air flow and capture the fine dust. It captures allergens and expels cleaner air than we breathe, thanks to its HEPA filter.
Simple use
It is a vacuum without a bag and emptying your dirt deposit is very easy. With a single touch the dirt will be ejected to the outside so you can empty it in the wastebasket, without needing to touch it. To store or charge it is also very easy. Use the charging port to store it on the wall at the same time you charge it again. This way you will always know where you keep it and it will always be ready for a new cleaning session. 30 minutes of autonomy without loss of suction power.
Features Dyson V7 Animal - Bagless / Cordless Vacuum Cleaner:
Cyclonic suction technology. Thanks to its cyclonic technology, it achieves incredible suction power.
Deposit without a bag. Bagless vacuum cleaners allow us a greater flexibility, because we will not have to worry about the replacement of bags and allow us to wash the vacuum cleaner much faster.
Metallic telescopic tube. Thanks to its built-in telescopic tube you can reach everywhere.
Cordless vacuum Thanks to its battery we can enjoy cleaning without wires as never with a range of up to 30 minutes.
Brushes of all kinds. Includes several brushes with which to reach any corner of our home.
Convertible to hand vacuum. Remove your telescopic tube and convert it into a hand-held vacuum cleaner to clean the car or smaller spaces.
Technical specifications Dyson V7 Animal - Bagless / Cordless Vacuum:
Suction power: 100 AW max
Bucket capacity: 0.54 liters
Cyclonic technology: 15 cyclones radial root
Filtration: Permanent washable filter
Brush type: Direct Drive cleaner head

Autonomy: up to 30 minutes
Dimensions: 739 x 154 x 271 mm
Weight: 2.40 kg
Box contents:
1 x Dyson V7 Animal
1 x Direct Drive Brush
1 x Multifunction Accessory
1 x Corner

1 x Mini-motorised Brush
1 x Soft Brush
1 x Charging port with UK charger

1 x EU Adapter
Dyson V7 Animal - Bagless / Cordless Vacuum Reviews
We have no reviews
of Dyson V7 Animal - Bagless / Cordless Vacuum
Be the first!

Review and win!
Every month we give away
300€ among all
the comments