DDPAI MINI 3 3K Dash cam - Camera for Car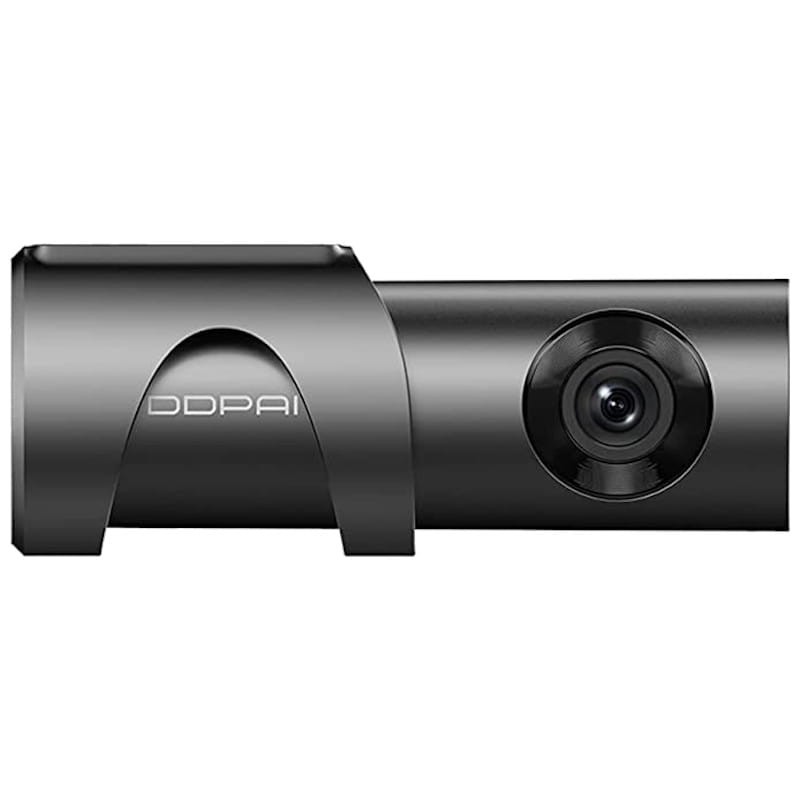 ---
DDPAI MINI 3, 1600px video encoding, with WiFi and parking monitoring
Dash Cam - Resolution up to 1600 px - WiFI 2.4GHz - SR2.0 technology - 24-hour monitoring - 360º photo - Recording of accidents
The new DDPAI MINI 3 is a dash cam that will allow you to watch your camera. See what's happening in front of your car in high definition. Its OV05A10 sensor offers you a resolution of 5 million Ultra HD pixels, which will capture your images. Images in up to a resolution of 2688 x 1944 px, giving you great quality images.
16:10 aspect ratio
In addition, it offers you videos at 2560x1600 px WQXGA quality, an international resolution standard of 16:10. This with a sensitive WDR with its camera that has an f/1.8 aperture, capturing 20% ​​more light. You'll see overexposed and underexposed images with great clarity.
Accident recording and 24-hour parking monitoring
As the new DDPAI MINI 3 has a 6-axis gyroscope with which, when an accident happens, it will be activated. the camera and will capture. a video, saving the images of the accident and preventing you from losing them. On the other hand, it will also allow you to monitor the parking of your car 24 hours a day. Its IPS energy control technology will take care of your energy. At the same time you don't have any power failure neither for the camera nor for your car battery.
Remote control
And in its box you will find a remote control button to activate the video, photos or retouch both from your smartphone. With its specific APP, you can even upload the images to social networks. With its 360º you can even take some selfies just by turning it.
Virtual reality
Finally, with its SR2.0 technology you can feel yourself in Need For Speed. Because with its high-precision gyroscope and specific algorithms, it will create a virtual reality experience in which you will know the speeds of the cars around you or the times it takes to get to work. All this being able to upload this data to the DDPAI On The Road community.
Technical specifications DDPAI MINI 3 3K Dash cam - Camera for Car:
Brand: DDPAI
Model: Mini 3
Processor:

H.264 codec
Video encoding: 1600px@30fps HD
Low power consumption
RAM: 1GB

Lens:

5 MPx CMOS sensor OV05A10
Resolution: 3K
Lens: 6 lenses
Infrared filter
Viewing angle: 140º
Aperture: f/1.8
Video resolution: 2688x1944 px
Photo resolution: 1600 px

WiFi module:

Wi-Fi 2.4GHz
Online video output
Compatible with Android/iOS
APP incorporated in the manual

Storage capacity: eMMC Flash memory, loop recording
Features:

6-axis gyroscope
Parking monitoring
Adjustable sensitivity
SR2.0 technology

Colour: Black
Content of the box:
1 x DDPAI MINI 3 3K Dash cam - Car Camera
1 x Stand
1 x Camera Remote Control
1 x USB Charger
1 x 3.5mm Jack Power Cable
1 x User Manual
1 x Installation Tool
1 x Sticker for remote control
1 x Adhesive for support
DDPAI MINI 3 3K Dash cam - Camera for Car Reviews
We have no reviews
of DDPAI MINI 3 3K Dash cam - Camera for Car
Be the first!

Review and win!
Every month we give away
300€ among all
the comments