Cycling Computer Garmin Edge 530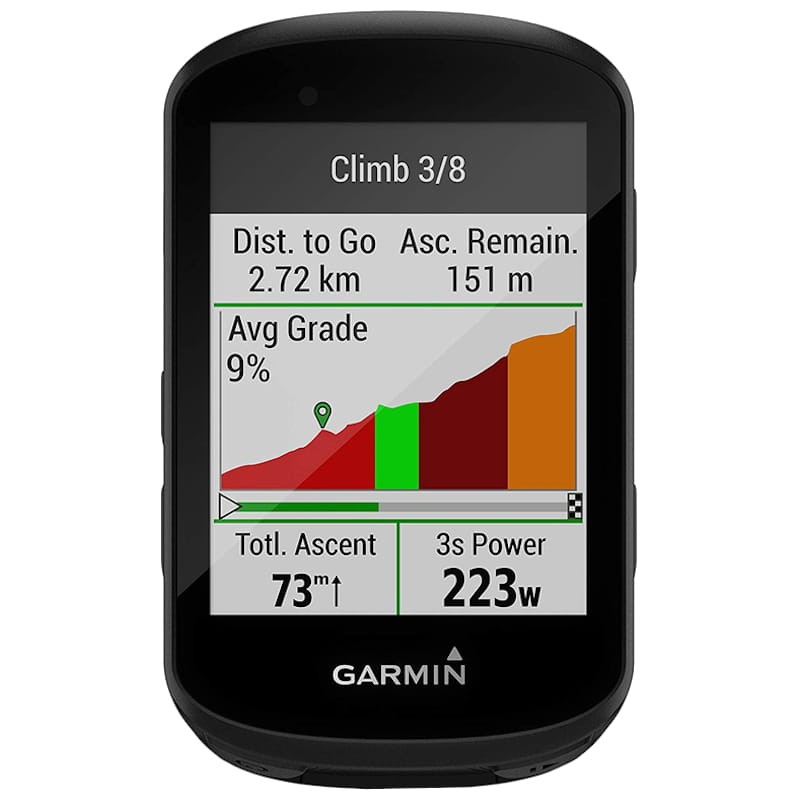 ---
Garmin Edge 530 cycling computer, accept and reject calls from the handlebars of your bike
2.6 display - Internal Memory - Triple GPS connection - Altimeter and accelerometer - Bluetooth v4.0/ANT+/WiFi - Light sensor - Advanced training sessions - Climbpro feature - Incident detection - Accept/reject calls - Connect IQ - Up to 20 hours of battery life
It matters to you that the new Garmin Edge 530 cycling computer is the brand's most complete device, because it will give you the most valuable and accurate dynamic performance information to help you improve. On its 2.6-inch display you will be able to have more information such as the tracking of your practice, the maximum oxygen consumption (VO2 max), the recovery time, the training load, the focus you want, the distance covered...
Climbpro function, the great revolution from Garmin
All cyclists are talking about it. The Gamin Edge 530 will let you know how much ascent there is left on the slope you are climbing with its Climbpro function. Download the map where you want to ride and it will know how much climbing you need to do to go back home like a champion. So, when you are climbing, it will tell you how many metres you have left and the size of the slope you are climbing, and it will also allow you to better manage your breathing and your strength to reach the top and the end of the road without giving up.
Grit, Flow and advanced cycling dynamics
It also has more features that cyclists will love. Like its Grit function, which, once downloaded, will tell you the difficulty of the route you've chosen or the paths you're taking. Or Flow, which lets you know how smoothly you're going down the trail and at which points of the ride you could have done better and achieved better times or done it with less effort. Add to this the advanced cycling metrics, which will give you information about the changes in your ride's performance in conditions such as position, your own bike, the length of the ride... And if the mountains are your thing, you'll also have unique metrics for experts that give you insights into the trail you're going through or the jumps and distance you're making on each one.
Specific maps to go riding
Whether you prefer going out to the mountains or riding on the road, you can see key map information depending on the route type with the new Garmin Edge 530 cycling computer. With the Trailforks app, you can track the details of each route, with specific metrics, plus specialised difficulty and flow metrics that score the routes and your smoothness when descending. You'll also get turn-by-turn directions so you'll never get lost. It's smart enough to get you back on the road or back to where you started if you get sidetracked or want to return earlier than expected.
You'll know how you hold up to different environments
Want to know how effective your training is? Garmin Edge 530 lets you automatically evaluate your recent exercise history and performance metrics to see if your time was productive. It'll even track your body's acclimatisation to heat (you'll need specialised sensors) and altitude with its built-in altimeter.
A battery life you can charge on the road
The Garmin Edge 530 also gives you up to 20 hours of battery life when used with GPS and up to 40 hours when used with the optional Garmin Charge battery. You can even use it for longer with its power-saving mode.
Much safer than other cycling computers
This new Garmin Edge 530 will automatically send your location to predefined emergency contacts with its incident detection. Plus, its PIN-protected bike alarm will send a notification to your smartphone if the bike moves out of place when you go somewhere to make a pit stop. You'll also be able to keep in touch with your teammates because it has Bluetooth v4.0, WiFi and ANT+ connectivity. Use LiveTrack to let friends and family follow your location in real time and even see your planned route.
Compatible with more apps
Other features of the Garmin Edge 530 include smart notifications to receive text messages and alerts when paired with a compatible smartphone. You can also download custom data fields and get apps and widgets from the Connect IQ shop. Or connect with other apps and social networks like Strava, Komoot, TrainingPeaks and more.
Technical Specifications Cycle Computer Garmin Edge 530:
Brand: Garmin
Model: Edge 530
Display:

Dimensions: 2.6 (45mm diagonal)
Resolution: 246 x 322 px

Data (some require external sensors):

% RHR per lap
% max. heart rate
% heart rate reserve
% FTP
% max heart rate per lap
% average RHR
% average max heart rate
Altitude
Sunrise
Sunset
Ascent until next route point
Remaining ascent
Total ascent
Change advice
Cadence bars
Power bars
Heart rate bars
Speed ​​bars
Gear battery
eBike Battery
Lap cadence
Cadence
Average cadence
Calories
Calories remaining
Combine marks
Compare training sessions
Performance condition
Odometer
Total descent
Difficulty
Lap difficulty
Difficulty in 60 s
Lap distance
Distance
Distance to rount point
Distance of the last lap
Distance to destination
Distance to next
Distance left to go
Remaining distance
Duration
Effectiveness of the torque
EPOC
Balance in 30 s
Lap balance
Balance
Balance n 10 s
Balance in 3 s
Average balance
Battery status
Beam angle status
ETA to destination
ETA to next
Right power phase
Maximum right power phase
Maximum lap right power phase
Average right power phase
Lap average right power phase
Maximum left power phase
Maximum average left power phase
Maximum lap left power phase
Average left power phase
Lap left power phase
Left power phase
HR
Last lap HR
Fluidity
Lap fluidity
Flow in 60 s
Remaining heart rate
Lap heart rate
Average heart rate
Respiratory rate
Height graph
Cadence graph
Heart rate graph
Speed ​​graph
Power graph
Heart rate zone graph
Time of day
GPS signal strength
Intensity Factor
Kilojoules
Lights connected
Forward gear
Gears
Average PCP
Average maximum right power phase
Assistance mode
Di2 shift mode
Light mode
Di2 battery level
Battery level
Normalized Power
Last lap NP
Lap NP
Objective
Training step
Lap PCP
Slope
Pedal compensation platform
Maximum power lap
Average power
Power
Power 10 s
Power 3 s
Lap power
Power in 30 s
Maximum power
Target power
Last lap power
Route range
Gear ratio
Remaining repeats
Roller resistance
Direction
Temperature
Time
Time until next
Last lap time
Lap time
Lap time standing
Lap time sitting
Time in zones
Time to destination
Time remaining
Sitting time
Elapsed time
Average lap time
Standing time
Time remaining
Aerobic Training Effect
Anaerobic Training Effect
TSS
Destination location
VAM
VAM of 30 s
Lap VAM
Watts / kg
Watts / kg per lap
Watts / kg in 10 s
Watts / kg in 30 s
Watts / kg in 3 s
Lap speed
Speed ​​
Last lap speed
Maximum speed
Average speed
Laps
Heart rate zone
Power zone

Memory:

Maps, with basemap
Internal memory
Waypoints: 200
Routes: 100
Activity history: Up to 200 hours

Sensors:

GPS / GLONASS / GALILEO
Barometric altimeter
Accelerometer
Ambient light sensor

Connectivity:

Bluetooth, ANT + and WiFi
Compatible with Android and iOS
Connect IQ connection: downloadable watch faces, data fields, widgets and apps
Text reply / phone call rejection (on Android)
Smart weather forecast
Compatible with remote control for VIRB
Compatible with EDGE remote control, Varia remote control, ANT + electronic shifting, Shimano DI2 Synchro Shift and Smart trainer control.

Tracking and security features:

Livetrack
Group Livetrack
Messages from rider to rider
Incident detection
Assistance
Bicycle alarm
Weather alert
INREACH compatible

Training, planning and analysis functions:

Customizable data pages
Auto Pause
Interval training
Advanced training sessions
Downloadable training plans
Auto Lap
VO2 Max (Run)
Training Effect (Aerobic)
Recovery control
Virtual Partner
Virtual Racer
Segments
Automatic screen change
Trueup for physiological data
Physiological measurements

Cycling functions:

Time / Distance alerts, alarm when you reach goal.
Courses (competition against previous activities)
Garmin Cycle Map (specific street map for cycling in which routes can be established)
Compatible cycling dynamics
MTB dynamics
Built-in data from Trail Trailforks
Compatible with power meters, displays power data from third-party ANT + Sport meters
Compatible with Varia Radar
Compatible with Varia Lights

Features:

IPX7 water resistance
It will mark the calories burned
Climpro slope planning function

Battery:

Type: Rechargeable lithium-ion
Battery life: 20 hours
Battery saving mode
Compatible with on-the-go power (Garmin Charge battery)

Dimensions: 41 x 63 x 16 mm
Weight: 75.8 gr
Colour: Black
What's in the box:
1 x Cycling Computer Garmin Edge 530
1 x Standard support
1 x Front support
1 x USB Cable
1 x Lanyard
1 x User Manuals
2 Cycling Computer Garmin Edge 530 reviews
2 customers have already reviewed the article
the Cycling Computer Garmin Edge 530
What do you think?
2 global reviews

Review and win!
Every month we give away
300€ among all
the comments
We have no reviews in English
Select other languages
to see reviews of
Cycling Computer Garmin Edge 530.