Contactless Digital Thermometer Berrcom JXB-178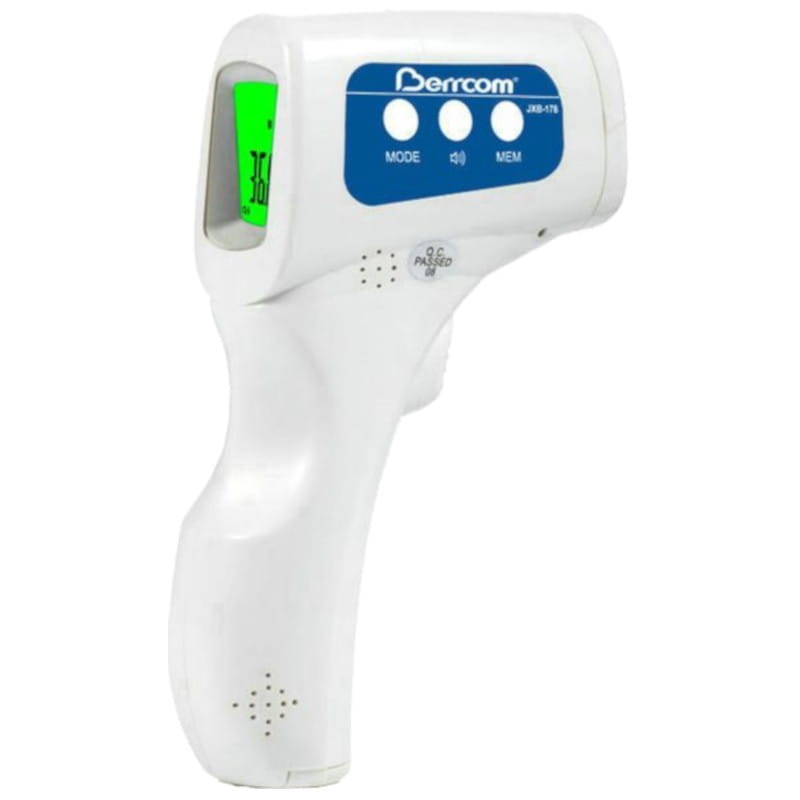 ---
BerrcomJXB-178 Digital Non-contact Thermometer, quick and easy-to-read measurement
Fast temperature measurement - For people and objects - Large LCD display with three colours - Long battery life - Measurement of people, rooms and environments
High quality digital non-contact thermometer, quick and easy to read on its LCD display. These days, a good thermometer is more than necessary. If you're looking for a precision, quality thermometer for your home, not just for your own, but for a thermometer that's right for your home, you're looking for the new BerrcomJXB-178 non-contact digital thermometer.
One of the most versatile and powerful ones, which will allow you to have clear what temperature is doing at all times.
Read on to learn more!
Ultra-fast temperature measurement to help you take care of your loved ones
It has an advanced measurement system capable of measuring temperature in 1 second clearly and thanks to its precise calibration be sure of the body temperature at all times.
With its LCD display that indicates the temperature thanks to the color that lights up: green if the patient is perfectly; yellow when it is above the ideal temperature; and red when it is necessary to treat this person.
Quick and easy to use, a safe and accurate non-contact thermometer
You will have clear what temperature the object, person or room is at. That is why this thermometer is able to measure your body temperature to find out if you have a fever, simply by pointing at your forehead.
It's safe and accurate. It is designed with a high-precision infrared sensor, which can quickly scan your body temperature. Since it is intelligent, it can also be used for objects and know what temperature they are at.
Save up to 32 measurements to keep track on our evolution
It is also created to be able to track the patients, with its ability to store up to 32 temperatures. You can set it to ºC and ºF. Do you have to renew the thermometer at home? Berrcom is one of the best options on the market — a wise choice!
Technical Specifications Contactless Digital Thermometer Berrcom JXB-178:
Brand: Berrcom
Model: JXB-178
Three-color LCD backlight display
Measuring range:

Body: 32º - 43.9ºC ((89.6 ° F to 109.4 ° F))
Room: 0 ° C ~ 60 ° C (32 ° F to 140 ° F)
Environment: 0 ° C ~ 40 ° C (32 ° F to 104 ° F)
Accuracy: ±0.3 ºC (0.6ºF)

Response Time: 1 second
Measurement distance: 3-5cm
Features:

Quick temperature measurement
Stores up to 32 temperatures for superior monitoring
ºC and ºF measurement
Screen of different colors for better knowledge

Operating temperature: 10º - 50ºC
Works with two AA batteries (Not included)
Colour: White
Weight: 80 gr
Package content
1 x Contactless Digital Thermometer Berrcom JXB-178
1 x User Manual.

96 Contactless Digital Thermometer Berrcom JXB-178 reviews
96 customers have already reviewed the article
the Contactless Digital Thermometer Berrcom JXB-178
What do you think?
96 global reviews

Review and win!
Every month we give away
300€ among all
the comments
Leave a review!