ChopBox Smart Cutting Board 5 in 1 Bamboo






---
ChopBox, cutting board made 100% in bamboo with double surface, scale, timer, knife sharpener and 254nm UV light for disinfection
100% organic bamboo - Double board design - Knife sharpener - Digital timer - 254nm UVC light - Groove for collecting juices - Water resistant - Food scale - Up to 30 days of battery life - Quick charging - Replaceable parts
One of the big problems of the 21st century is having too many gadgets in the kitchen, that's why the ChopBox simplifies the 5 most used and/or desired utensils into one great chopping board, including a UV light for disinfection, a scale, a timer and a knife sharpener. Don't miss out! Find out why you should buy the ChopBox Smart Cutting Board 5 in 1 Bamboo at Powerplanetonline. We'll tell you all about it below.
254 nm UV light for disinfecting knives and cutting surfaces
Did you know that drawers, knife holders and even cutting boards harbour tons of bacteria and germs? Well, it's true! They're there, well hidden.
However, after much research, scientists have thrown a "ray of light" (pun intended), claiming that a broad spectrum of ultraviolet light, with wavelengths between 200 and 400 nanometres, is effective in killing viruses and bacteria by destroying the molecular bonds that bind their DNA together.
For this reason, the ChopBox is equipped with a small but powerful 254 nm UV light, capable of killing 99.99% of germs and bacteria after 1 minute of exposure. It disinfects your knives and cutting surfaces before use, in a 100% safe way for you, given its size and the limited angle of emission between the two boards. The light will stop automatically as soon as you separate them, but you can also turn it off manually on the control panel.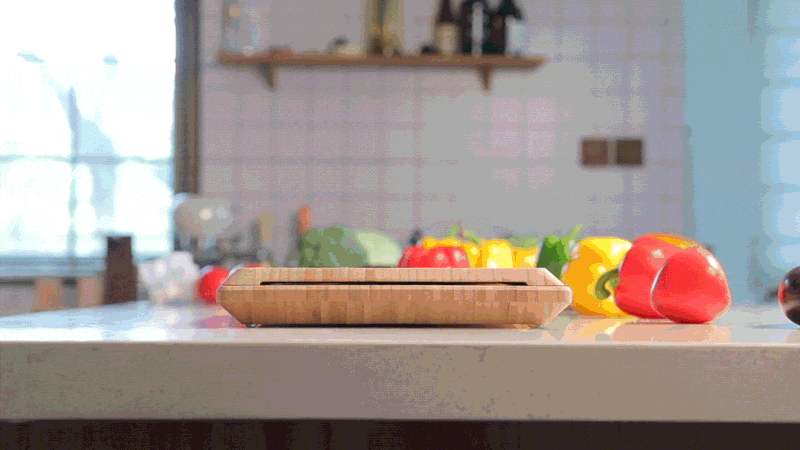 2 boards in 1: expand your space and avoid cross-contamination
In addition, the two cutting surfaces allow you to handle meat and fish separately to avoid cross-contamination of food. You can also use the small board for waste disposal, while using the entire main board area simply for cutting. This way you will avoid more mess and it will be more convenient to throw the contents of the first one in the trash and throw the contents of the second one directly into the frying pan.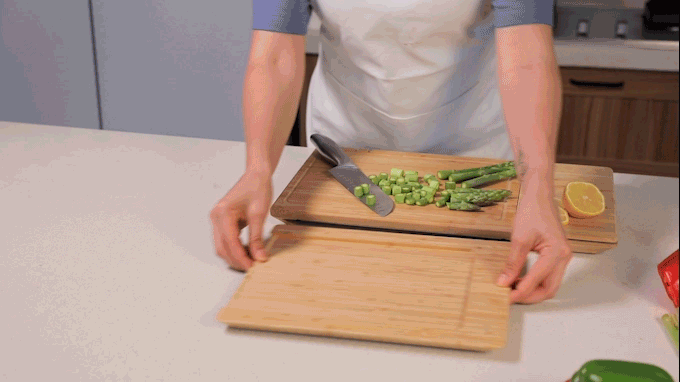 Built-in scale for weighing up to 3 kg
As if that wasn't enough, the ChopBox is equipped with a scale on the top left of the table, so you can weigh your food in grams and kilos (3 kilos maximum) as well as in ounces and pounds (6.6 pounds maximum). Choose the unit of measurement you prefer by pressing the central button on the panel, and always add the exact amount of each ingredient to your dishes. That's the way to make them tastier! It also includes a tare feature: place a bowl or container on the scale and put it at zero to weigh just the contents.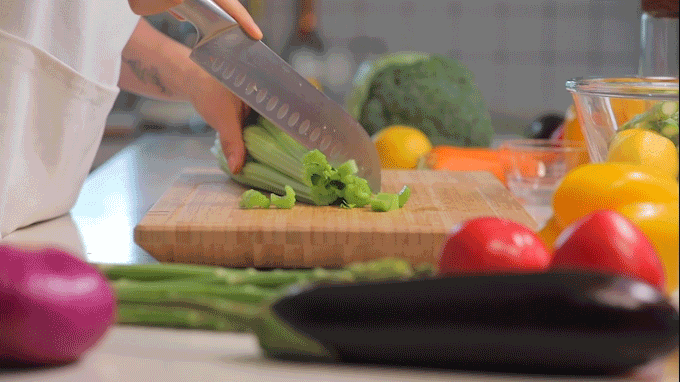 Digital timer of up to 9 hours
Do you know another way to make the perfect recipe? By using just the right amount of time to cook it. And to help you achieve this, the ChopBox has a built-in digital timer, which can be set for up to 9 hours, 59 minutes and 59 seconds, ideal for dehydrating fruit and vegetables or fermenting dough and yoghurt.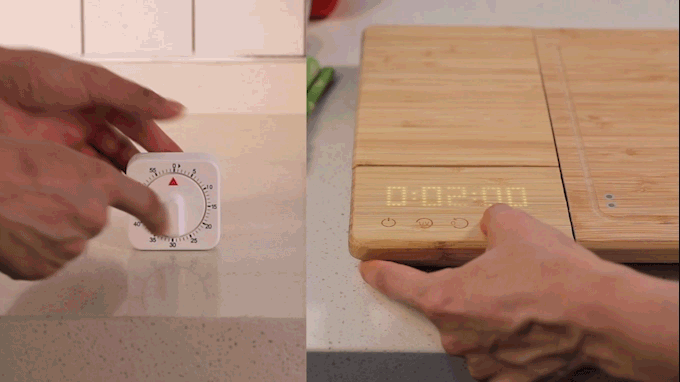 Double knife sharpener
But wait, the inventors of this board are not satisfied yet and have decided to add a double knife sharpener: one made of ceramic and one made of diamond stone, so you can use it with all kinds of knives. Your kitchen will no longer be cluttered!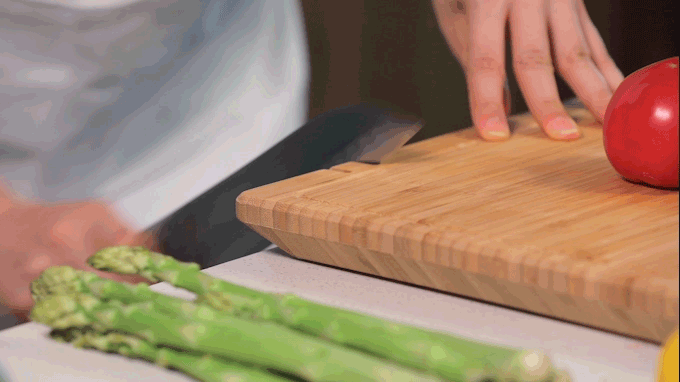 Battery life of up to 30 days
Best of all though, the ChopBox houses a large 3500 mAh battery inside, capable of up to 30 days of use. It can also be quickly recharged via Micro USB cable.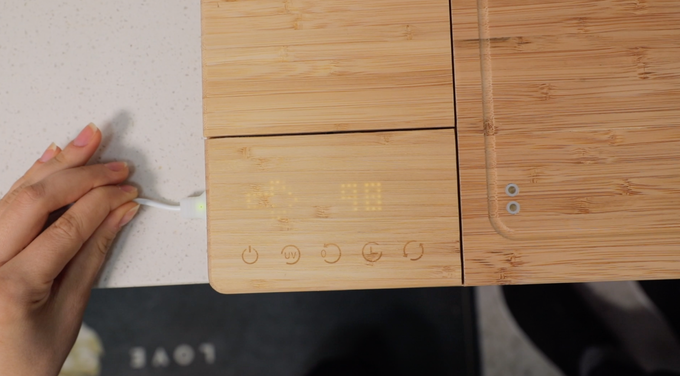 Completely waterproof for easy cleaning
But... with so many electrical features, how do I clean my ChopBox? Conveniently under the tap. Your new chopping board is IPX7 certified for water resistance, making it completely waterproof for easy cleaning. However, it cannot be submerged or put in the dishwasher.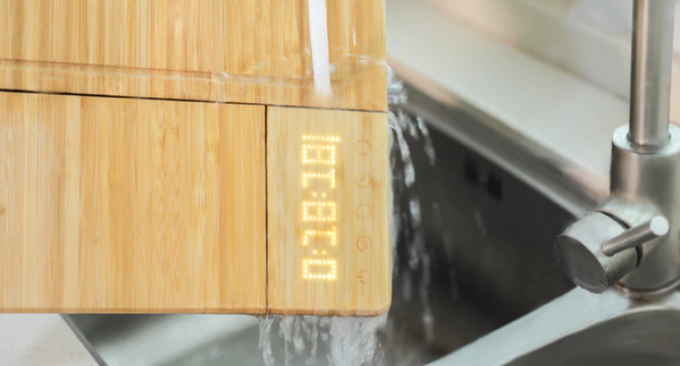 Made from 100% organic bamboo. Ecological and resistant
Finally, the ChopBox table boasts incredible resistance, withstanding loads of up to 68 kilos. It is made from 100% organic bamboo, which means it requires very little maintenance. This material is very thick and hard, so it does not absorb water or moisture, and is highly resistant to knife marks. It also integrates grooves on the edges to collect the juice released by the food. Both the cutting board surface and the knife sharpeners are replaceable.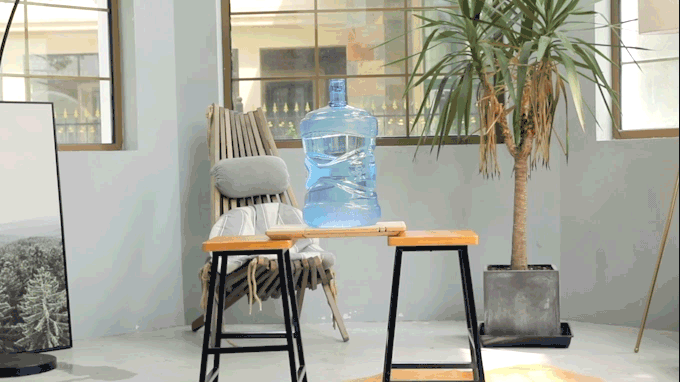 Technical Specifications ChopBox Smart Cutting Board 5 in 1 Bamboo:
UV wavelength: 254 nm
UV light lifespan: 8000 h
Time units: Hour, Minutes, Seconds
Maximum timer time: 9 hours, 59 minutes, 59 seconds
WEight units: Grams, Ounces
Battery: Lithium-ion, 3000 mAh
Charging connector: Micro USB
Material: Natural bamboo
Power consumption: 3 W
Input voltage: 5V 1A
Output voltage: 3.3 ~ 4.2 V 900 mA
Dimensions: 454.6 x 279.4 x 30.5 mm
Weight: 2.7 kg
Packaging content:
1 x ChopBox Smart Cutting Board 5 in 1 Bamboo
1 x USB Cable
1 x User Manual
1 ChopBox Smart Cutting Board 5 in 1 Bamboo reviews
1 customers have already reviewed the article
the ChopBox Smart Cutting Board 5 in 1 Bamboo
What do you think?
1 global reviews

Review and win!
Every month we give away
300€ among all
the comments
We have no reviews in English
Select other languages
to see reviews of
ChopBox Smart Cutting Board 5 in 1 Bamboo.