Blitzwolf BW-SPF1 Smart Automatic Pet Fountain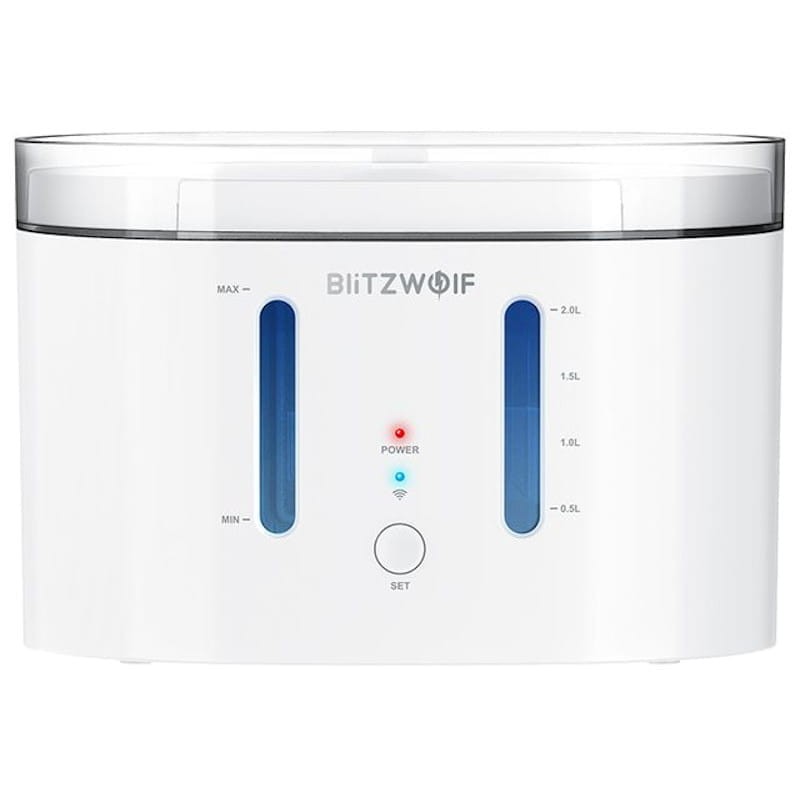 ---
Blitzwolf BW-SPF1 Smart Automatic Pet Fountain, Hydrate Your Pet in the Safest Way
Automatic water fountain - WiFi - 2.5 Litres capacity - App control - LED light - 3 level filter - Silent - Water circulation
Taking the utmost care of your pet is very easy. Just enter the Powerplanetonline website and you will get the best automatic fountains for pets and dogs. Like the new Blitzwolf BW-SPF1 automatic pet fountain which is a model capable of dispensing the water that our lovely pets need. You'll feel like you're taking care them even if you're not in the same place, always making sure they don't run out of water. Keep reading and you will know why it is one of the best models you will find.
Always Flowing Water
You do not want your pet to drink stagnant water, which is prone to getting dirty. This is one of the biggest fears of all those who work outside the home. This drinking fountain for pets ensures flowing water with 5% oxygen content only with this circulation. With its 3 level filter it manages to filter all the impurities from the water, giving it a better taste and safety of use. This version is designed with LED light to know the water level clearly, day or night, you will always know when water is running out. Plus, it runs silently.
Blitzwolf App — Full Control on Your Phone
In addition, this model supports WiFi connection so you can control it even if you are not at home. Thus, with the Blitzwolf app you will know all the data related to your water fountain, such as its level, program it to activate when you want and turn it on and off. All this with a capacity of 2.5 liters, designed for long-lasting use.
Keep you pet hydrated with Blitzwolf BW-SPF1 Smart Automatic Pet Fountain at Powerplanetonline
As for our advantages, we provide you with a 3-year warranty, shipping from Spain in a few days and our customer service.
Technical Specifications Blitzwolf BW-SPF1 Smart Automatic Pet Fountain:
Brand: Blitzwolf
Model: BW-SPF1
Capacity: 2.5L
LED light for maximum care
Communication:

WiFi 2.4GHz 802.11 b / g / n
Range: up to 30 meters

Functions:

Water circulation
3-level filter
Blitzwolf App Remote Control (Android and iOS)
Silent

Input voltage: DV 5V
Dimensions: 23 x 17.6 x 16 cm
Weight: 0.98 Kg
White colour
Box contents
1 x Blitzwolf BW-SPF1 Smart Automatic Pet Fountain
1 x Filter
1 x 5V adapter with cable
1 x User Guide
Blitzwolf BW-SPF1 Smart Automatic Pet Fountain Reviews
We have no reviews
of Blitzwolf BW-SPF1 Smart Automatic Pet Fountain
Be the first!

Review and win!
Every month we give away
300€ among all
the comments